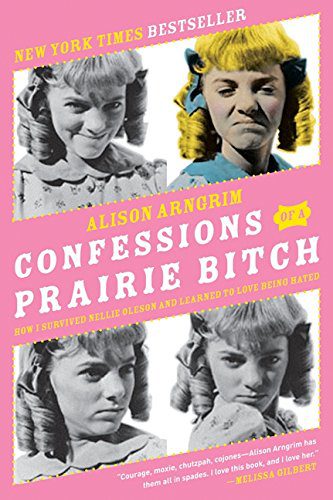 Author: Alison Arngrim
Publisher: It Books (June 14, 2011)
Synopsis:
For seven years, Alison Arngrim played a wretched, scheming, selfish, lying, manipulative brat on one of TV history's most beloved series. Though millions of Little House on the Prairie viewers hated Nellie Oleson and her evil antics, Arngrim grew to love her character—and the freedom and confidence Nellie inspired in her.
In Confessions of a Prairie Bitch, Arngrim describes growing up in Hollywood with her eccentric parents: Thor Arngrim, a talent manager to Liberace and others, whose appetite for publicity was insatiable, and legendary voice actress Norma MacMillan, who played both Gumby and Casper the Friendly Ghost. She recalls her most cherished and often wickedly funny moments behind the scenes of Little House: Michael Landon's "unsaintly" habit of not wearing underwear; how she and Melissa Gilbert (who played her TV nemesis, Laura Ingalls) became best friends and accidentally got drunk on rum cakes at 7-Eleven; and the only time she and Katherine MacGregor (who played Nellie's mom) appeared in public in costume, provoking a posse of elementary schoolgirls to attack them.
Arngrim relays all this and more with biting wit, but she also bravely recounts her life's challenges: her struggle to survive a history of traumatic abuse, depression, and paralyzing shyness; the "secret" her father kept from her for twenty years; and the devastating loss of her 'Little House husband' and best friend, Steve Tracy, to AIDS, which inspired her second career in social and political activism. Arngrim describes how Nellie Oleson taught her to be bold, daring, and determined, and how she is eternally grateful to have had the biggest little bitch on the prairie to show her the way.
About the Author: Alison Arngrim
New York Times Best Selling author of Confessions of A Prairie Bitch: How I Survived Nellie Oleson and Learned to Love Being Hated, Alison Arngrim is best known to viewers world-wide for her portrayal of the incredibly nasty "Nellie Oleson" on the much loved, long running hit television series Little House On The Prairie, and continues to amuse audiences through her many film, television, stage and multi-media appearances.
Her one woman show Confessions of a Prairie Bitch, which started at Club Fez in New York in 2002, has now become a world-wide phenomenon, having been performed to packed houses in New York, Los Angeles, Boston, Chicago, Philadelphia, Green Bay, San Francisco, Seattle, and in France, where Alison performs entirely in French to standing room only crowds in her all French version titled: Confessions d'une Garce de La Prairie and La Malle aux Tresors de Nellie Oleson. Similarly, you can also read the French version of the book: La Petite Garce dans la Prairie.
As a stand-up comedian, Alison has headlined at nightclubs such as the Laugh Factory, the Comedy Store and the Improv in Los Angeles; as well as the Laurie Beechman Theatre in New York and assorted comedy venues all across the United States and Canada.
Never one to forget her "Prairie" roots, Alison enjoys making appearances several times a year at various Little House on the Prairie historical sites for educational events and gatherings of fans. She has been a frequent visitor to the Laura Ingalls Wilder Museum in the real life Walnut Grove, Minnesota as well as Green Bay, Wisconsin's Heritage Hills, Mumford's Genesee Country Village, Laura Ingalls Wilder Historic Home and Museum in Mansfield, Missouri and many, many others.
Alison currently lives somewhere in the wilds of Tujunga with her husband of over twenty years, musician Bob Schoonover, (from the rock and roll band 'Catahoula') and their evil cat, Clarice. She takes pride in the fact that so many people enjoyed hating her as a girl and is more than happy to give them the opportunity to do so in the future.
Pick up your own copy of Confessions of a Prairie Bitch: How I Survived Nellie Oleson and Learned to Love Being Hated, or relive your favorite "Nellie" moments with your very own Nellie Oleson doll from the Queen's Treasures.
Check out our Recommended Reading for Adults and Recommended Reading for Children & Young Adults for more great books.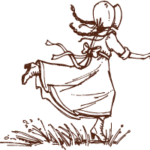 The editors of the Little House on the Prairie® website are pleased to bring you interesting articles, interviews, fan features, videos, and much more.