Laura Ingalls Wilder's Little House books have captured the imaginations and hearts of multiple generations. Almost from the moment Wilder's first novel was published in 1932, young readers responded enthusiastically to her characters and their stories. This History section showcases Wilder's evolving legacy across multiple subjects and audiences. You'll find a range of information here focused on Wilder's work, life, and family.
About Laura Ingalls Wilder
About Laura's Family, Friends and Historic Places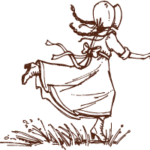 The editors of the Little House on the Prairie® website are pleased to bring you interesting articles, interviews, fan features, videos, and much more.