Our articles about recently released books are good resources for readers interested in Laura Ingalls Wilder and Little House on the Prairie. Here is a brief overview of Reconsidering Laura Ingalls Wilder: Little House and Beyond.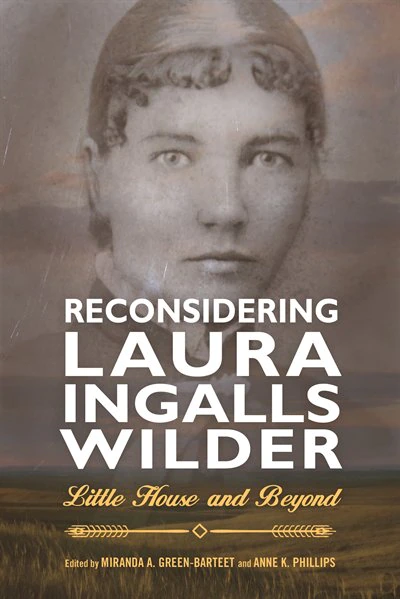 Co-editor: Miranda A. Green-Barteet
Co-editor: Anne K. Phillips
Publisher: University Press of Mississippi (June 17, 2019)
Synopsis:
Reconsidering Laura Ingalls Wilder: Little House and Beyond is a thoroughly researched and critical examination of Wilder's entire body of work and problematic legacy with contributions from numerous authors and scholars.
Co-edited by Miranda A. Green-Barteet and Anne K. Phillips, the volume offers a sustained, critical examination of Wilder's writings, including her Little House series, her posthumously published and unrevised The First Four Years, her letters, her journalism, and her autobiography, Pioneer Girl. The collection also draws on biographies of Wilder, letters to and from Wilder and her daughter, collaborator and editor Rose Wilder Lane, and other biographical materials. Contributors analyze the current state of Wilder studies, delineating Wilder's place in a canon of increasingly diverse U.S. women writers, and attending in particular to issues of gender, femininity, space and place, truth, and collaboration, among other issues.
The collection argues that Wilder's work and her contributions to U.S. children's literature, western literature, and the pioneer experience must be considered in context with problematic racialized representations of peoples of color, specifically Native Americans. While Wilder's fiction accurately represents the experiences of white settlers, it also privileges their experiences and validates, explicitly and implicitly, the erasure of Native American peoples and culture. The volume's contributors engage critically with Wilder's writings, interrogating them, acknowledging their limitations, and enhancing ongoing conversations about them while placing them in context with other voices, works, and perspectives that can bring into focus larger truths about North American history. Reconsidering Laura Ingalls Wilder examines Wilder's strengths and weaknesses as it discusses her writings with context, awareness, and nuance.
About the Co-Editor: Miranda A. Green-Barteet
Miranda A. Green-Barteet is assistant professor in both the Department of Women's Studies and Department of English and Writing at University of Western Ontario. She is coeditor of Female Rebellion in Young Adult Dystopian Fiction, Reconsidering Laura Ingalls Wilder: Little House and Beyond, and Race in Young Adult and Speculative Fiction. Her work has appeared in Canadian Review of American Studies, South Central Review, and the Encyclopedia of African American Women Writers. Her research focuses on examples of resistance and empowerment in 19th-century American literature written by women, specifically African American women. She explores the ways women writing in this period manipulate public and private spaces as a way to resist societal and familial norms and to empower themselves. Green-Barteet received her PhD in English from Texas A&M University in 2009.
About the Co-Editor: Anne K. Phillips
Anne K. Phillips is professor of English at Kansas State University and specializes in American children's and adolescent literature. She is co-editor of Critical Insights: Louisa May Alcott and Critical Insights: Little Women. Her work has appeared in Frontiers in American Children's Literature, the James Fenimore Cooper Society Journal, and Children's Literature Association Quarterly. Her academic studies continue with research of illustrations and children's literature, including the images associated with works such as L. Frank Baum's The Wonderful Wizard of Oz, Wilder's Little House series, and Carol Ryrie Brink's Caddie Woodlawn, among others. At Kansas State University, she was awarded the Kappa Delta Pi Teacher of the Year Award (2004), the inaugural Ronald N. Gaches Lifetime Teaching Award (2016), and the Presidential Award for Outstanding Undergraduate Advising (2010).
Pick up your own copy of Reconsidering Laura Ingalls Wilder: Little House and Beyond here.
Check out our Recommended Reading for Adults and Recommended Reading for Children & Young Adults for more great books and be sure to subscribe to our newsletter for information and recommendations about interesting reading and activities.