"Ma turned the strips of muslin and pinned them together and Laura whipped the new seam, over and over with tiny stitches."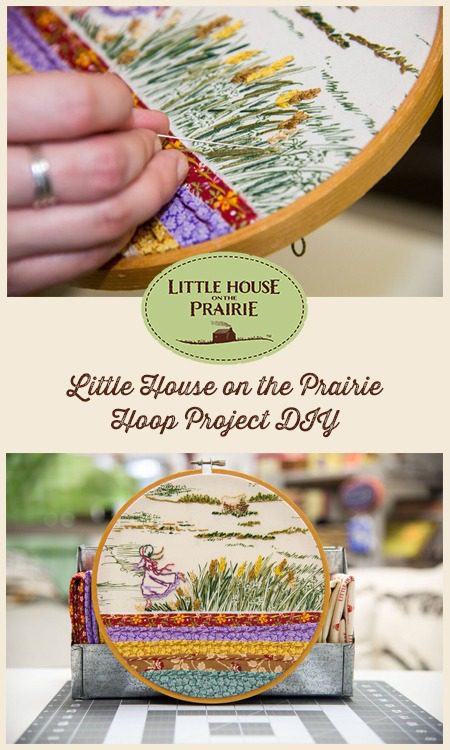 Laura, who didn't like to sit and make fine stitches as a young girl, became very good at her handicrafts later in life. She made beautiful quilts, lovely buttonholes for a job in town, and handicrafts to help earn money to send Mary to the blind school. Sewing was part of her life and now we celebrate that lovely tradition with this hoop project. Follow the directions by @wildboho and create your own Laura Ingalls Wilder-inspired sampler project.
Unfortunately, the specific fabric for this project is no longer available from Andover.  Please check with your local fabric store to see if they can help you find something similar.
Directions for the Little House on the Prairie Hoop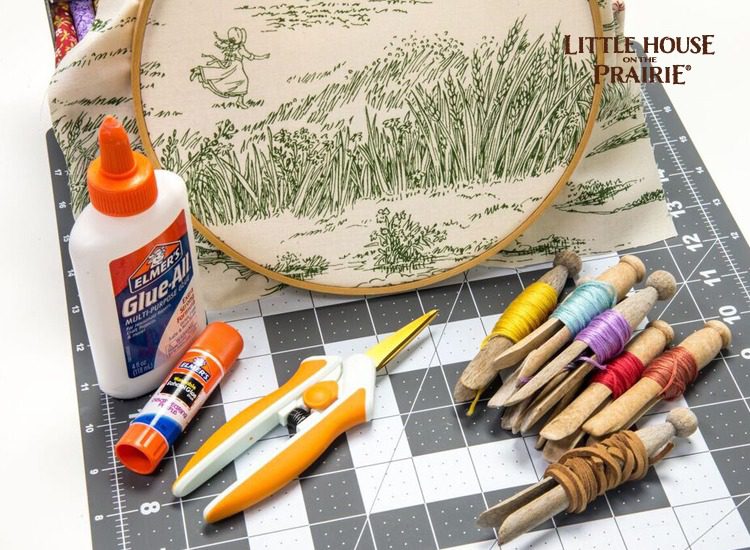 Step 1: Place hoop where desired on the background fabric and trim, leaving approximately 1-2" excess fabric all the way around your hoop. Set aside.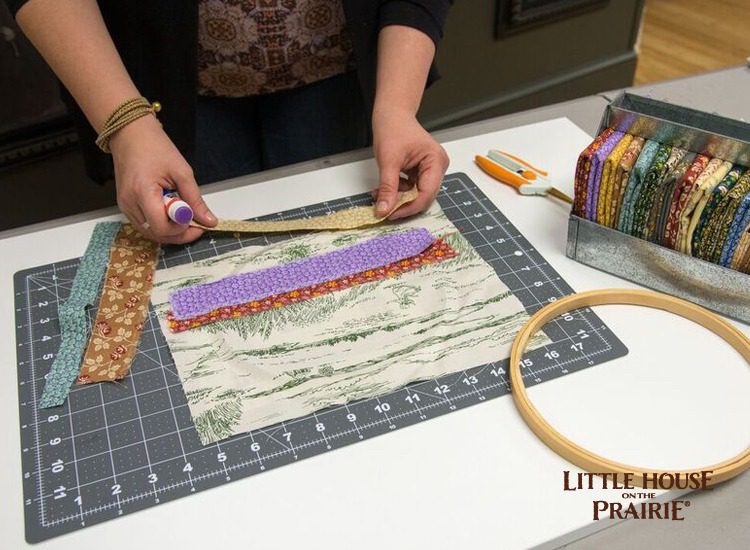 Step 2: From the 5 Fat Quarters, cut or rip 5 strips of fabric approximately 1-½" wide by 9" long.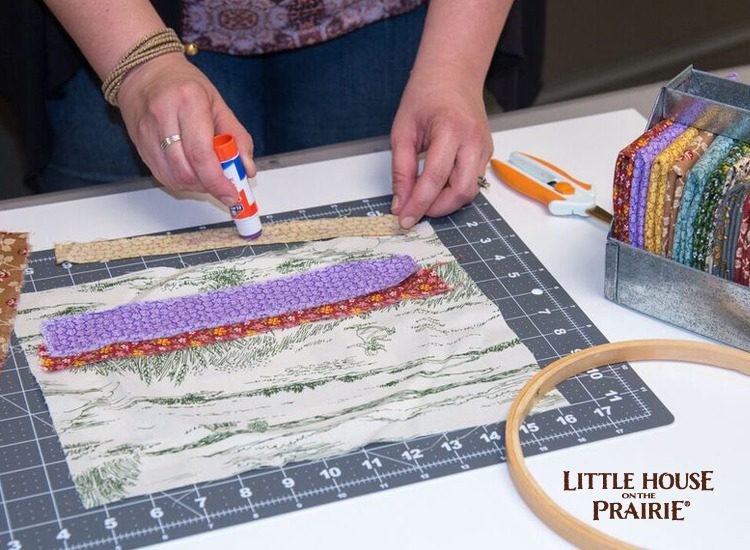 Step 3: To each fabric strip, apply glue from the glue stick and press on to the fabric. Begin with the top strip and layer all 5 pieces of fabric, working towards the bottom of the hoop.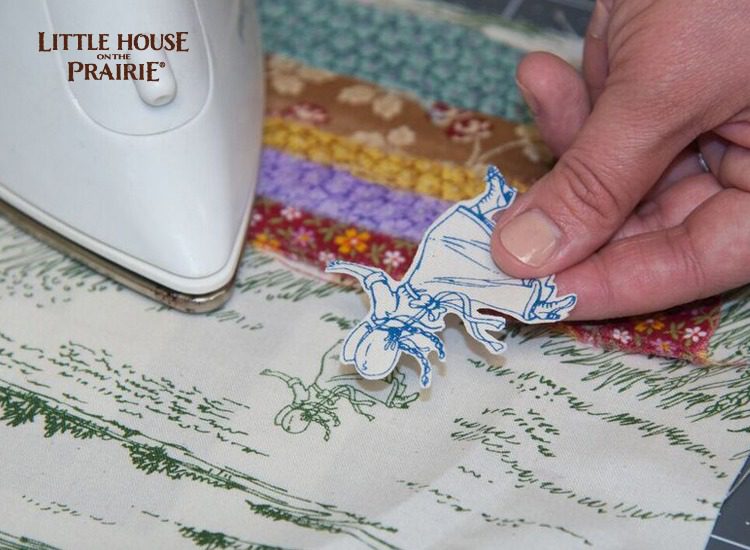 Step 4: From the Laura Ingalls fabric, choose one "Laura" and trim out of the fabric. Do not cut too close to the design at this point.
**Depending on the cut of fabric that you have for the background fabric, your placement of "Laura" will vary. Be sure to purchase the fabrics with "Laura" going in the same direction.**
Once you have cut out "Laura," trim a piece of Heat 'N' Bond to her size and follow the directions for applying that to the fabric. You want the paper-backed side of this to be on the back of Laura. Peel off the paper and place her where you want her to be on the fabric. Iron her to the fabric. Secure the hoop onto the fabric, tightening the fabric as you tighten the hoop.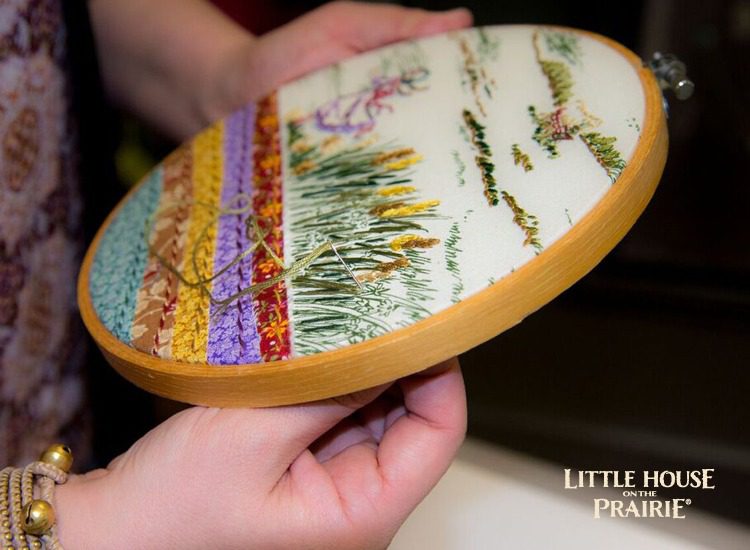 Step 5: Embroider your hoop using the below stitches.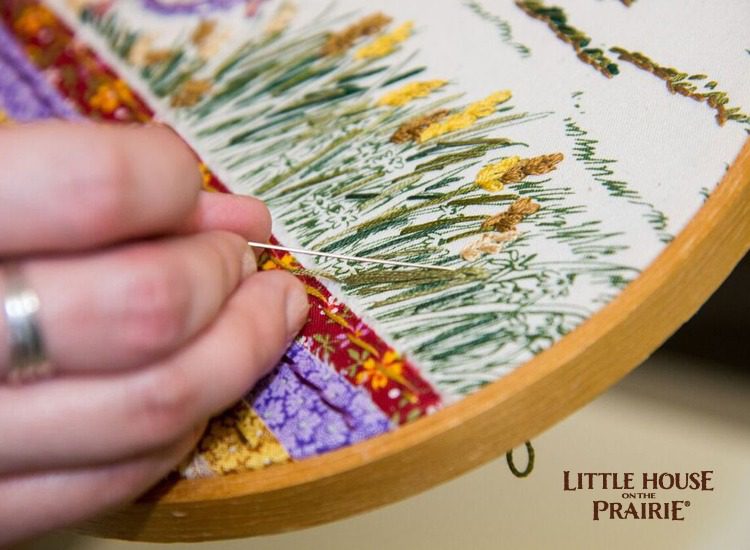 Fabric Strips: Laced Running Stitch
(DMC colors from top to bottom):
347, 3820
209, 3834
420, 725
738, 3777
501, 598
Landscape (from top of the fabric to bottom):
Trees: Detached Chain Stitch
DMC 730, 3012
Ground: Back Stitch
DMC 420
Wagon: Back Stitch
DMC 420, 738, 3777
Grass: Straight Stitch
DMC 730, 890
Wheat:
DMC 356, 420, 738, 3820
"Laura" Dress, Hair, Boots: Backstitch
DMC 209, 347, 356, 420, 520, 738, 3834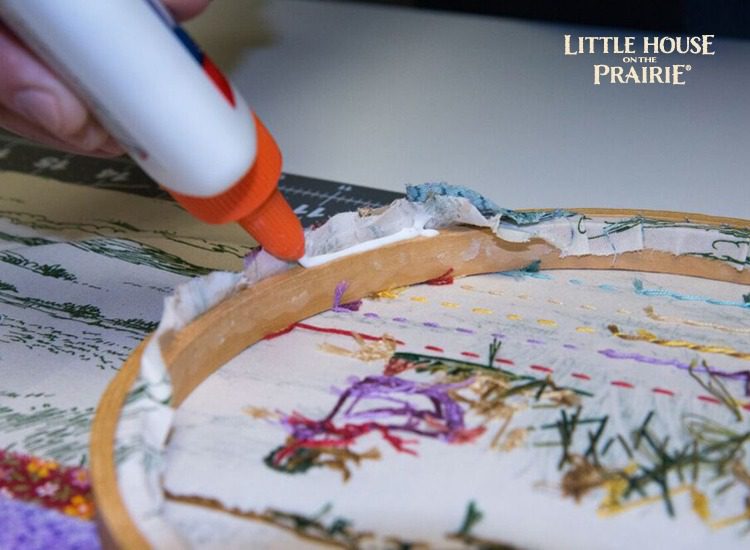 Step 6: When finished embroidering, trim the fabric around the hoop to approximately ¾" and glue the fabric to the wood hoop. Let the glue dry and hang your hoop with a piece of decorative ribbon or place it on a shelf!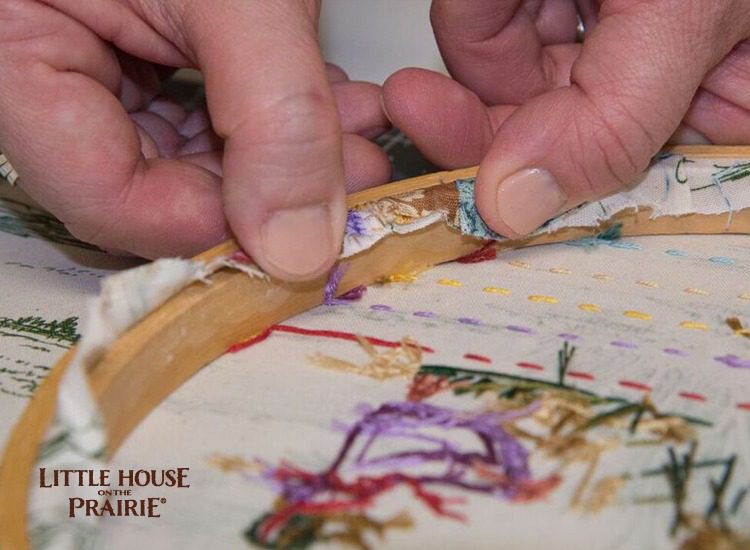 We can't wait to see what you created. Please share it with us on our Facebook page and on Twitter/Instagram using the hashtag #LittleHouseMoment!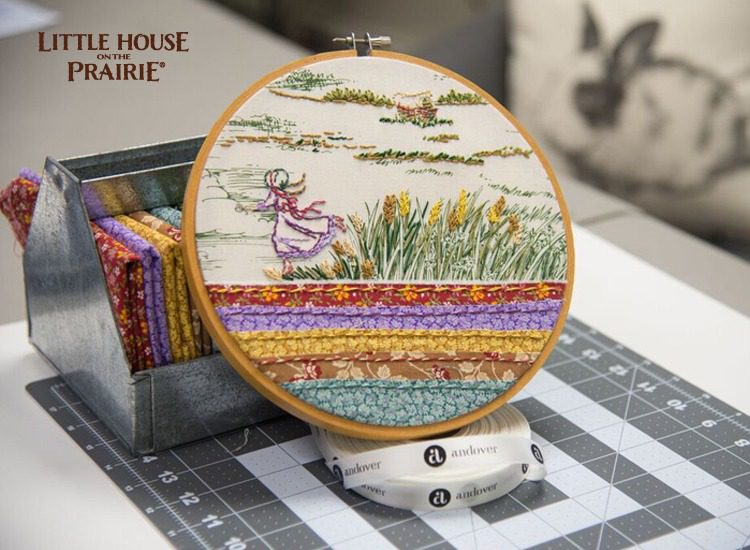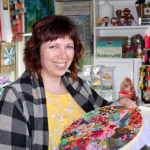 An avid stitcher, thrifter and coffee drinker, Nichole is a self-taught embroidery and textile artist. A collector of threads and fabrics, she loves to combine color and texture and pattern into hoop-shaped palettes. Located in Bucks County, Pennsylvania, she spends her non-stitching time with her husband and two small boys, discussing gardening and trains and Minecraft, usually all at the same time.