Books and articles by and about the actors who starred in the Little House on the Prairie TV series provide a behind-the-scenes look at the show and how it affected the lives of the people making it. Here is a brief overview of A Prairie Devotional.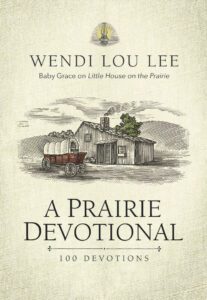 Author: Wendi Lou Lee
Illustrator: Steven Noble
Publisher: Thomas Nelson (August 6, 2019)
Synopsis:
Written by Wendi Lou Lee who portrayed Baby Grace Ingalls in the NBC television series "Little House on the Prairie," A Prairie Devotional is a collection of stories which hopes to encourage and inspire people to live the way Charles and Caroline Ingalls lived: devoted to their faith in God, love for their family, and to spreading kindness to the people around them. It is an inspirational compilation of heartwarming stories much like what the writers and producers of the television series hoped to tell and similar to what Laura Ingalls Wilder wrote in her books. Wendi Lou Lee blends personal anecdotes with stories and quotes from the TV show, inviting contemplation of the ideas and values that made the books and series so popular.
About the Author: Wendi Lou Lee
Best known for her role as Baby Grace in the television series "Little House on the Prairie" (shared with her twin sister, Brenda), Wendi Lou Lee née Turnbaugh has faced many challenges in life including brain cancer. Her strong faith has carried her through life, a faith which was strengthened and inspired by the values of God, love, and family in the works of Laura Ingalls Wilder. Married and with children of her own she watches "Little House" reruns with them, realizing what a blessing it was to share in that experience. In A Prairie Devotional, she shares stories which reinforce the values she learned: faith in God, love for family, treating people with kindness.
About the Illustrator: Steven Noble
An internationally recognized artist, Steven Noble's wide-ranging style has received numerous awards including the Meade Show Award for Excellence (2001 Best Corporate Conceptual Illustration) and in Communication Art Magazine (1996 Best Advertising Spot for Beaulieu Vineyards). He has created highly visible ad campaigns and logos for clients including Coors, Exxon-Mobil, JP Morgan, and Mercedes-Benz. In 2005 he created an illustration for the children's book Zathura by Chris Van Allsburg.
Pick up your own copy of A Prairie Devotional here.
Check out our Recommended Reading for Adults and Recommended Reading for Children & Young Adults for more great books and be sure to subscribe to our newsletter for information and recommendations about interesting reading and activities.