While the Ingalls family didn't have much, they delighted in selecting or making thoughtful gifts for each other. We want to celebrate that giving spirit with our Little House on the Prairie gift guide for adults, teens, and children. Something for every fan on your list! For even more Little House on the Prairie gift ideas be sure to check out our General Store.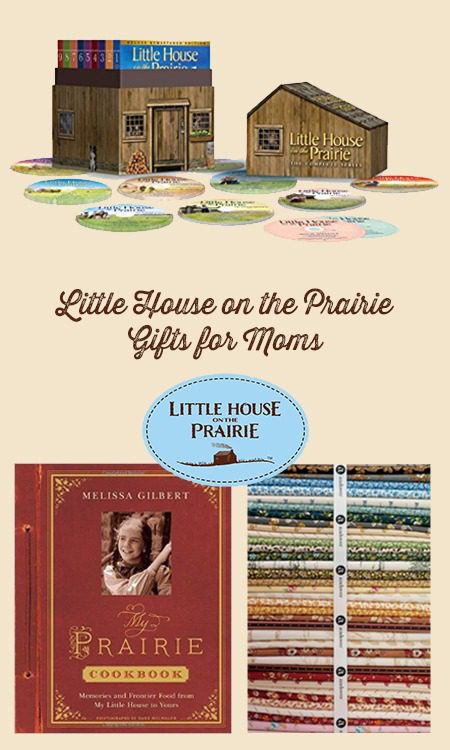 Little House on the Prairie Gift Guide for Adults
There are so many inspirations for amazing gifts in the "Little House on the Prairie" shows that we had trouble narrowing our list down. Here are ten favorites that will entertain, educate, and inspire the women in your life.
1. The Deluxe Remastered Complete Collection DVD Set – This collector's set is a must-have item for any Little House on the Prairie fan!
2. Little House on the Prairie® Fabrics – These three collections of beautiful, high-quality fabrics by Andover Fabrics are perfect for a wide variety of sewing, home decor, quilting, and crafting projects. Find your nearest store location or view the collection and buy them online here.
3. Quilting with Laura – If you've ever wanted to start a quilt, but weren't sure how to go about it, Linda Halpin's book is the one for you. You'll learn about Laura Ingalls Wilder's connection to quilting and pick up tips for beginning an inspired quilt of your own!
4. The Legacy of Laura Ingalls Wilder DVD – This one-hour documentary brings the true story of one of America's most iconic authors to life. It was directed and narrated by Dean Butler who played Almanzo Wilder on the TV series.
5. Alison Arngrim's Autobiography – Best known as Nellie Oleson, Alison Arngrim will have you laughing and crying as you get to know your favorite TV villain better.
6. Seasons 1-9 on Digital HD – Enjoy these digitally remastered versions of the classic "Little House on the Prairie" episodes downloadable to your tablet or computer for mobile entertainment.
7. Woodworker's Apron – Keep the tools you need close at hand with this best-selling tool carrier whether you are working with wood or tackling some other project around the house.
8. My Prairie Cookbook by Melissa Gilbert – This book is a charming mix of favorite recipes and Little House on the Prairie trivia and memorabilia by Melissa Gilbert who brought Laura Ingalls to life on the television series.
9. The Heirloom Life Gardener: The Baker Creek Way of Growing Your Own Food Easily and Naturally – Our Pioneer Kitchen Garden post proved how many of you are interested in gardening, and this book by Jere Gettle, Founder of Baker Creek Heirloom Seed Company, will help you cultivate an heirloom garden of your own!
10. Craftsy Quilting Class – This wonderful Craftsy class will help you learn how to Simplify Traditional Quilt Blocks. That means you'll be able to learn easy ways to make some of the same quilt blocks Laura made. Craftsy also offers the Little House on the Prairie Quilt Kits by Andover Fabrics including the iconic Prairie Life Quilt.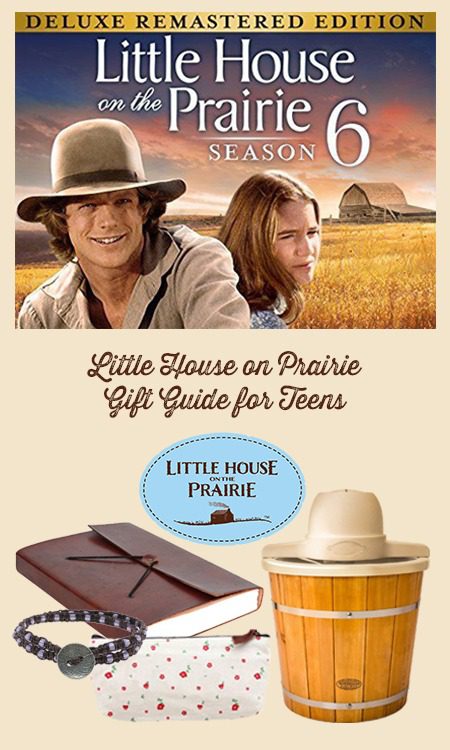 Little House on Prairie Gift Guide for Teens
Teens are growing up fast, but you can still inspire them to take a moment to enjoy the simple things in life and celebrate their pioneering spirit. From entertainment to entrepreneurship, we've got your teen covered!
1. Seasons 1-9 on Digital HD – Digitally remastered for the next generation, these classic "Little House on the Prairie" episodes are now available for teens to watch on-the-go with cell phones or tablets.
2. Jewelry Making Kit – In Little House in the Big Woods, we read about a jewelry piece that Laura's stylish aunt makes. Make your own stylish wrap bracelets with this leather wrapping kit or this pretty wrap bracelet kit!
3. Little House on the Prairie® fabrics collection by Andover Fabrics – You don't have to be an adult to appreciate the fine quality of this fabric or try your hand at learning something new. Teens have been making some fun fabric projects on the site and if you have a craftsy teen in your family, they will too!
4. Old-Fashioned Ice Cream Maker – One of our most popular posts is this Farmer Boy Inspired Ice Cream Recipe written by one of our teen contributors, so consider a vintage-style ice cream maker for delicious family fun.
5. Leather Bound Journal – Laura didn't start writing her first book until she was in her 60s, but it's never too early to start expressing yourself and sharing your story. Most successful authors and entrepreneurs developed journaling and writing habits early in life, so encourage that for teens in your life with this old-fashioned leather bound journal or classic moleskin option.
6. Fabulous Writing Instruments – Every journal needs the right writing tool! Don't forget the perfect writing accessories with these Prismacolor markers. Try these lovely fine tip markers, colored markers, and colored pencils.
7. Pencil Case – Why not choose a pretty pencil case to hold your pens and pencils for your journal – whether you go with a trendy case, vintage leather design, or cool denim design, it's perfect for on-the-go creativity.
8. The World of Little House – This hardcover book written by Carolyn Strom Collins and Christina Wyss Eriksson and illustrated by Deborah Maze and Garth Williams gives an in-depth view of Laura Ingalls Wilder and her family complete with maps, family trees, historic documents and more.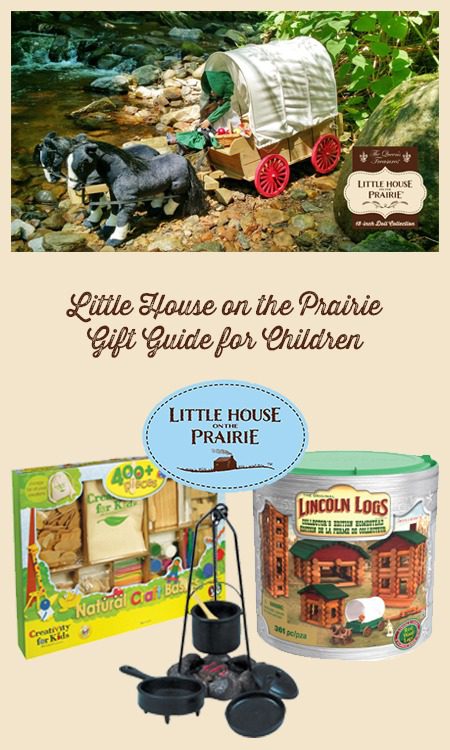 Little House on the Prairie Gift Guide for Children
Help children embrace the hands-on fun and learning that we saw Laura and Mary bring to life each week on the TV screen.
1. The Complete Little House Box Set (9 books) – These are the books that started it all – the stories that captured the hearts and imaginations of children and young adults worldwide. Written by Laura Ingalls Wilder and published by HarperCollins, these beloved books remain a favorite to this day.
2. The Queen's Treasures Little House on the Prairie® 18-inch Doll Accessories – Your child's favorite 18-inch dolls can join in their next pioneer adventure with these Little House on the Prairie® accessories! Everything from a full covered-wagon set to all the cooking and tool items the Ingalls family depended on.
3. My Little House Crafts Book – This book features eighteen projects that cover a variety of age ranges and skill levels from quick-and-easy air castles, to Bear Claw quilt block pillows. Enclose a bundle of Little House on the Prairie® fabrics with this gift to let your children express their creativity with some authentic materials. See our full review of My Little House Crafts book.
4. Little Author in the Big Woods – This book by Yona McDonough is a lovely biography for children to introduce them to Laura's life as a young pioneer.
5. Lincoln Logs Collector's Homestead Edition with storage tub – These classic building toys are now available in a deluxe sized kit with well over 300 pieces to allow your children to build whatever their heart desires. Also, the container is a reusable storage tub!
6. The Deluxe Remastered Complete Collection DVD Set – Introduce your children to the joy of Little House on the Prairie with this complete collection DVD set in the shape of the Ingalls family home! This house-shaped storage box is perfect for keeping the discs well organized in a child's room or entertainment area.
7. Woodworking Classic Wood Crafts Kit – Kids love learning new skills and this classic wood crafts kit will help them get started with woodworking just like Pa. Unleash their creativity and you never know what they will build!
8. Old-Fashioned Games and Classic Kids Toys – There are so many lovely pioneer games and toys that kids still enjoy playing today. These will give your child some old-fashioned fun!
Who do you know that would enjoy these Little House on the Prairie inspired gifts?
Remember to subscribe to our newsletter for future gift, game, and homemade fun ideas.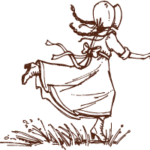 The editors of the Little House on the Prairie® website are pleased to bring you interesting articles, interviews, fan features, videos, and much more.