Roger Lea MacBride, the "adopted grandson" and heir of Rose Wilder Lane, was born in New Rochelle, New York in 1929. His father, Burt MacBride, was an editor for
Reader's Digest
when Rose wrote for the magazine, and he introduced his teenage son to the author. Roger loved to listen to Rose's stories and political theories, and the two became close.
MacBride received the rights to the Little House books upon Rose's death in 1968 and had several books published afterward, starting with Laura Ingalls Wilder's manuscript for The First Four Years in 1971, which is included amongst the first series of Little House novels.
Books Edited or Authored by Roger Lea MacBride:
The Lady and the Tycoon: The Best of Letters Between Rose Wilder Lane and Jasper Crane pulls together correspondence between the two while Rose was the editor of the National Economic Council's Review of books. The letters lend to the development of Crane's conservative philosophy. The collection was published in 1973.
West from Home, published in 1974 is a collection of letters sent from Laura to her husband Almanzo when she was sent to San Fransisco to write about the World's Fair in 1915. The letters detail her train trip and vividly record the sights of her journey and her destination. During the trip, she visited her daughter Rose, who had already left home and landed in San Fransisco.
Rose Wilder Lane: Her Story is a fictionalized description of the early heartaches of Rose Wilder Lane as she leaves home to become a telegrapher in California, following her first love, who she hoped to marry.
Following these publications, Roger Lea MacBride released a series of books tracing Rose's travels, starting with a childhood move away from the Ingalls farmstead to Missouri and as she becomes independent and leaves home.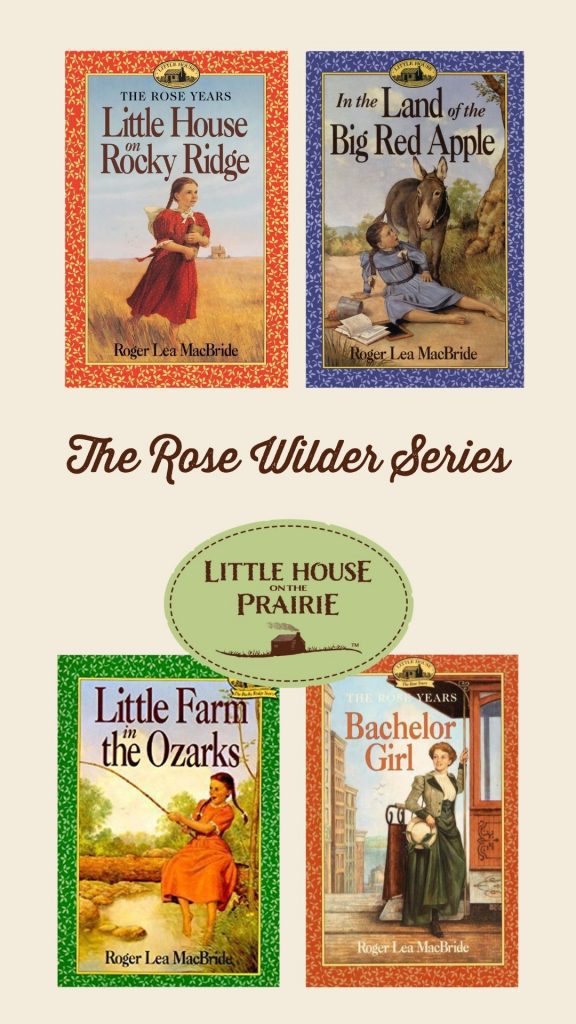 The Rose Series Includes:
The first book in the Rose series,
Little House on Rocky Ridge, traces the journey of Rose and her parents from the Ingalls farm in the drought-stricken Midwest to the lush green valleys of Missouri. The journey is long and not always easy, but at the end is the promise of a new home and a new life for the Wilders.
Little Farm in the Ozarks finds Rose and her parents settling in at Rocky Ridge Farm. Rose feels out of place as the new girl in her class but gradually gains confidence, and Rocky Ridge truly becomes her home.
In the Land of the Big Red Apple, 8-year-old Rose, is beginning to settle into her new life in Missouri. Her father is building their farmhouse and she dreams of the day they'll have their own bright crop to harvest. But before that can happen, she has a fierce ice storm to contend with and her first real Christmas in the Ozarks to enjoy.
On the Other Side of the Hill continues their story as the young Wilder family struggles to overcome a series of natural disasters that beset their little farm. A small cyclone doesn't cause much damage, nor does a fire, but the family realizes that things will be tight if they stay on the farm.
Hard times on the farm force Rose and her family to move to the town of Mansfield in Little Town in the Ozarks. Life in town is so different from living on Rocky Ridge Farm that Rose wonders if she will ever learn to like the hustle and bustle of town life.
New Dawn on Rocky Ridge is a time of new beginnings and a big year for thirteen-year-old Rose Wilder and her family as they witness the turn of the century and, after years of hard work, experience their first apple harvest. As Rose's feelings for Paul grow stronger, there are even signs of romance in the air.
Rose Wilder leaves Rocky Ridge Farm and moves to Louisiana to live with her aunt Eliza Jane in On the Banks of the Bayou. Rose is sixteen now, and she thrives in a city brimming with excitement and adventure. She even finds herself becoming an independent young woman with her own ideas, ambitions, and dreams.
Rose leaves Rocky Ridge Farm to become a Bachelor Girl in the big city. First, she heads to Kansas City to learn how to be a telegrapher, then on to San Francisco. Her dream is to work for a year or two, save a little money, and then marry Paul Cooley, her childhood sweetheart. But the big city has all sorts of surprises in store for Rose, and she finds that she's destined to travel a road she never imagined.