"I'm often overwhelmed by the thought that what I have written is reaching an audience of forty or fifty million people in a single night."
Blanche Hanalis in The Television Writer's Handbook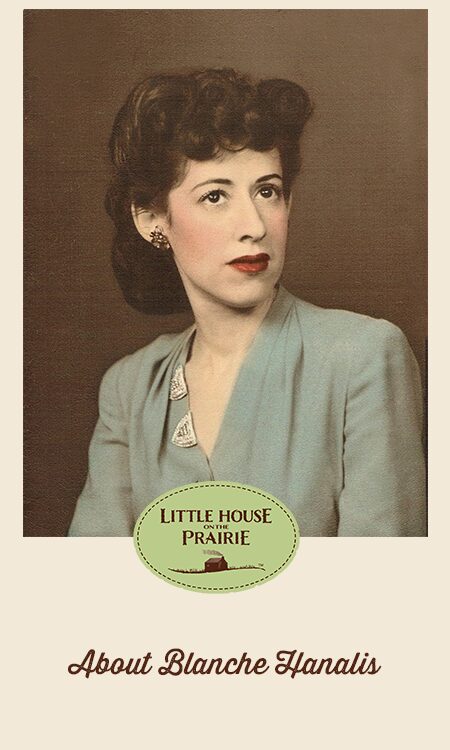 Early Life and Career of Blanche Hanalis
Blanche Hanalis was born December 11, 1915, in Ohio, but grew up in the Chicago area. According to her daughter, she was an avid writer: "Her first published writing was in high school. She wrote so much of her high school yearbook that the school told her she had to write some of the articles under another name." [2]
Blanche's father lost his candy business in the Depression and moved to New York after her graduation. She remained there, working to support the family rather than going to college. [3]
Her writing career started late in life. As she described it, "My husband was a struggling schoolteacher in New York and the day the youngest of my three children started school I pulled out the typewriter on the kitchen table and wrote a television script. I mailed it to the old Philco-Goodyear Playhouse and three days later they called me and said they wanted to produce it. I remember going to the first conference on changes when the script went into production. The producer asked: 'Anybody want any changes?' Everyone was silent. He said: 'Okay, let's go to lunch.' It's been like that almost ever since." She went on to add, "I called my husband at school and told him they were paying me $2,500 for the script. There was silence on the line. Then he said: 'Be careful crossing the street.'" [4]
That was "The Littlest Little Leaguer", broadcast on the Alcoa Hour in August 1957. [5] Blanche successfully wrote feature films, television movies, and series for three decades. Before "Little House on the Prairie" she had credits for feature films (Weddings and Babies, The Trouble with Angels, Where Angels Go Trouble Follows!, From the Mixed-Up Files of Mrs. Basil E. Frankweiler), plus several TV series (including "My Favorite Martian", "Family Affair", and "The Courtship of Eddie's Father"). [6]
Blanche Hanalis' work on Little House on the Prairie
In 1973 Blanche wrote two pilots: "A Tree Grows in Brooklyn", which was not picked up as a series, and "Little House on the Prairie", which was picked up and ran for nine seasons on NBC.
The script for the "Little House on the Prairie" pilot closely followed events described in Laura Ingalls Wilder's third novel and was described by executive producer Ed Friendly as being "…faithfully adapted for the screen by Blanche Hanalis." [7]
In his unpublished memoir, Friendly describes his working relationship with Blanche: "I spent the next many months in my Beverly Hills office and outlined in longhand all nine books. I then engaged a writer, Blanche Hanalis, with my own money, to write a script. Every morning Blanche, who lived about six blocks from me, would call at 7:00 or 7:30 am and tell me that she had written "x" number of pages (Blanche was one of these people that would get up at 4:00 am and do her best work between 4:00 and 7:00 am). She would bring over the pages she'd written and we would go over them together and then she would return home and make the changes. This went on for a couple of months. Let me say, modestly, that the script just turned out wonderfully." [8]
Creative Differences
Although the 2-hour pilot received one of the highest ratings for a NBC World Premiere, once "Little House on the Prairie" was picked up as a series, creative differences began to surface between star Michael Landon on the one hand and Blanche Hanalis and Ed Friendly on the other. Two points Blanche made about how they felt were:
"2. Our series should be a true piece of Americana – in these times we think audiences will respond to this – Laura's morals, ethics, struggles which made country great – Is truth dramatic – we think so –
3. Our concept is a departure from usual. In fact, we believe we can hold an even larger audience caught up in the contemporary story of a pioneer family who really lived it, even tho we know we must resolve each segment in some fashion." [9]
Friendly and Hanalis eventually left the show and Friendly was quoted as saying, "the network insists on substantial deviations from the authentic saga depicted in Mrs. Wilder's classic, best-selling books. This is not the series that we developed for television." The Los Angeles Times reported: "Rather than fight these day-today battles in which there are no real victors," he [Friendly] said he would prefer to work on fresh creative projects as he had acquired rights to several books and was "looking forward to a very productive year." [10] Although Hanalis received a "Developed for Television" credit on all subsequent "Little House on the Prairie" episodes, the pilot was the only episode she wrote. [11]
Young Pioneers and More
Following their departure from "Little House on the Prairie", Friendly and Hanalis collaborated on two television movies for ABC – "Young Pioneers" and "Young Pioneers Christmas", which were based on the novel Let the Hurricane Roar (later published as Young Pioneers) by Rose Wilder Lane, Laura Ingalls Wilder's daughter. Remaining faithful to the spirit of the books, they depicted the courage, perseverance, and tenacity of the pioneers on the Dakota plains. Both movies were praised ("…Miss Hanalis' script is both lean and substantial; [12] Blanche Hanalis' spare, uncompromising script, so beautifully realized by director Michael O'Herlihy…"). [13]
Hanalis continued her prolific career, writing television movies, including "A Home of Our Own", "The Children of An Lac", "Little Lord Fauntleroy", "Big Bend Country", "Camille", "Christmas Eve", and "I'll Be Home for Christmas". [14]
She may have been particularly interested in writing "Portrait of a Rebel: The Remarkable Mrs. Sanger" about the founder of Planned Parenthood [15] as Hanalis was "…passionate about civil rights and environmental causes…" and "…both Blanche and her husband, Irving Wodin, were involved very early on in civil rights organizations…" [16]
Awards Blanche Hanalis Received
Remarkably, Hanalis' first feature film, Weddings and Babies, won an Italian Cinema Club Award at the 1958 Venice Film Festival [17], and the film was eventually released in the United States in 1960. [18]
In 1978, for "A Love Affair: The Eleanor and Lou Gehrig Story", she was nominated for a Primetime Emmy in the category for Outstanding Writing in a Special Program – Drama or Comedy – Adaptation. [19]
Her 1987 teleplay, "The Secret Garden" (filmed at England's Highclere Castle of "Downtown Abbey" fame) won a Writers Guild of America Award in the category of Television: Children's Script. She did not collect the award until 1989 due to the 1988 WGA strike. [20]
Afterward
When interviewed for The Television Writer's Handbook, Hanalis described her working habits as follows:
"I'm a compulsive writer, I'm afraid, and I work seven days a week except for brief holidays. I love writing. I know there are some writers who don't, and it must be terribly painful for them. I'm a night worker, starting my "day" at 2:00 or 3:00 A.M. I usually work until noon and schedule my meetings in the afternoons.
Many times while I watch my work on the screen I'm filled with second thoughts, misgivings. I should have done it differently. It would have been better another way. It really never ends. I'm never completely satisfied and often dissatisfied. I'll probably always feel this way. Perhaps it's just as well. It's not the grasping but the reaching that matters." [21]
Blanche Hanalis passed away July 27, 1992 after a lengthy illness. [22]
[sc name="Ref Jump Links"]
References
[1] Nash, Constance and Virginia Oakley. The Television Writer's Handbook: What to Write, How to Write It, Where to Sell It. New York: Harper & Row, 1978
[2] Stojka, Leslie. Unpublished interview 2 August 2017
[3] Stojka, Leslie. Unpublished interview 2 August 2017
[4] Smith, Cecil. "A Writer's Own True-Life 'Tree'." Los Angeles Times 27 March 1974
[5] Shanley, J.P. "TV: A Delightful Play." New York Times 26 August 1957
[6] Blanche Hanalis: Writer. Internet Movie Database
[7] "Friendly Disassociates Himself From 'Prairie'." Los Angeles Times 2 August 1974
[8] Friendly, Ed. Undated unpublished memoir
[9] Hanalis, Blanche. "Notes on 'differences' with Mike Landon re 'Little House' series," "Little House on the Prairie," Blanche Hanalis Collection, Accession# 6025, American Heritage Center, University of Wyoming
[10] "Friendly Disassociates Himself From 'Prairie'." Los Angeles Times 2 August 1974
[11] Blanche Hanalis: Writer. Internet Movie Database
[12] O'Connor, John J. "TV: "Young Pioneers': Likable Young Newlyweds in Dakotas…" New York Times 1 March 1976
[13] Thomas, Kevin. "Heritage of Our Christmases." Los Angeles Times 17 December 1976
[14] Blanche Hanalis: Writer. Internet Movie Database
[15] "Margaret Sanger." Wikipedia Free Encyclopedia accessed 26 September 2017
[16] Stojka, Leslie. Unpublished interview 2 August 2017
[17] "19th Venice International Film Festival." Wikipedia Free Encyclopedia accessed 26 September 2017
[18] "Weddings and Babies." Internet Movie Database
[19] 30th Emmy Awards Nominees and Winners
[20] Weinstein, Steve. "In Film, Writers Pick 'Bull Duram'; TV, 'thirtysomething,' 'Wonder Years'." Los Angeles Times 21 March 1989
[21] Nash, Constance and Virginia Oakley. The Television Writer's Handbook: What to Write, How to Write It, Where to Sell It. New York: Harper & Row, 1978
[22] "Blanche Hanalis." TCM Turner Classic Movies