HOUSTON, TX (October 23, 2015) – Andover Fabrics is making a big splash at the International Quilt Market with the launch of its new Little House on the Prairie® fabrics for quilting and sewing.
"This is such an important launch for us, as well as the whole quilting industry," says Andover Fabrics President David Weinstein. "The rising popularity of Little House on the Prairie and of quilting went hand in hand. The brand is literally part of the fabric of our industry, and we've been inundated with interest from fans since we first announced our plans. They're excited to get their hands on these fabrics and we're excited by their enthusiasm."
To help launch its Little House on the Prairie line, Andover is hosting a "Schoolhouse Series" presentation on Friday morning, October 23, featuring special guests Alison Arngrim and Charlotte Stewart, actresses who starred in the long-running Little House on the Prairie television series. Arngrim played Laura's nemesis, "Nellie Oleson," while Stewart played schoolteacher "Miss Beadle."
Andover's new fabrics line features three different collections of prints inspired by the frontier lifestyle depicted in the classic Little House on the Prairie stories written by Laura Ingalls Wilder: "Walnut Grove" named for the town in Minnesota where Laura's family settled in 1874 and featuring prints from that era; "Prairie Flowers" featuring bright, bold calicos; and "Scenics and Icons" featuring iconic imagery on special, natural finish fabric. Fabrics will be available at independent quilt stores all over the U.S. starting early November, and available in Europe starting in February 2016.
"Andover has done a wonderful job capturing the pioneering spirit and enduring beauty of the brand in these fabric collections," says Friendly Family Productions CEO Trip Friendly. "We have seen an outpouring of enthusiasm for these collections from the multiple generations of Little House on the Prairie fans and look forward to seeing the beautiful quilts and DIY projects that these fabrics inspire."
Held annually in Houston, TX, the International Quilt Market is the largest and most influential quilt tradeshow in the world. Quilt Market is the nation's only wholesale tradeshow for the quilt industry and it is open to the trade only. Quilt Market runs from October 24–26, 2015 at the George R. Brown Convention Center in Houston, TX.
# # #
About Andover Fabrics
Andover Fabrics Inc., one of the world's leading quilt fabric manufacturers, has deep roots in the story of the American textile industry dating back to the roaring twenties. Our premier, quality fabrics are sold throughout the world with strong strategic partners in Europe, Australia, Canada, and Japan. Our company continues to grow with key licenses, designers, and unique finished products from Quilted Koala Ltd. Our commitment to preserving historical designs is customer driven. Andover Fabrics consumers avidly seek out period-style fabrics for their crafting and quilting.
About Little House on the Prairie® and Friendly Family Productions
Little House on the Prairie is a world-famous and beloved brand rooted in the stories of an American pioneer family. Written by Laura Ingalls Wilder for children and young adults, these classic books have sold over 60 million copies in 100 countries. Wilder's stories of her family's struggles and joys were adapted into one of television's most successful and long-running series.
Little House on the Prairie has been on television for forty-one years and is currently broadcast in the U.S. on the Hallmark Channel and INSP (The Inspiration Network) five days a week, and in over twenty-five countries worldwide. The series is now available for the first time ever in high definition on Blu-ray Disc and Digital HD. The Complete Collection DVD box set was launched October 6, 2015 and includes all nine fully restored and remastered seasons. It is presented in an iconic "Little House" package, featuring a recreation of the Ingalls family home. In addition to the HarperCollins books and NBC television series, there was a television miniseries on ABC's The Wonderful World of Disney and a stage musical which toured North America.
Friendly Family Productions is a Los Angeles-based entertainment company which owns film, television, merchandising, theme park and other rights in and to the beloved Little House on the Prairie books by Laura Ingalls Wilder, as well as the Little House on the Prairie® trademark. Friendly Family Productions recently launched the official Little House on the Prairie® website and has an active and engaged social media following on Facebook, Pinterest, Twitter, and Instagram. The Company also executive produced a documentary called "Little House on the Prairie: The Legacy of Laura Ingalls Wilder", which was released in February 2015. It has appeared as a #1 Best Selling documentary on Amazon.com. The Company is managed by Trip Friendly and Rebecca Friendly.
About Knockout Licensing
Spotlight Licensing is a dynamic, full-service boutique licensing agency that creates customized, innovative, and strategic merchandise programs for a varied portfolio including entertainment, digital media, fashion/trend, publishing, corporate brands, characters, and children's properties. Knockout Licensing delivers results with unmatched integrity and the highest level of client service and has received special industry recognition for its work on British television drama Downton Abbey™ (NBCUniversal International Television Production) by developing an unprecedented licensing program spanning various product categories with a classic lifestyle brand positioning. Client properties also include the best-selling book series turned popular television drama Outlander™ (Sony Pictures Television); social media canine celebrity Boo, The World's Cutest Dog™; beloved classic family franchise Little House on the Prairie®; the Smithsonian Institution Library Seed Catalog Collection, and more.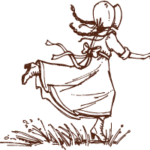 The editors of the Little House on the Prairie® website are pleased to bring you interesting articles, interviews, fan features, videos, and much more.