Laura's gift was a bracelet of blue and white beads strung on a thread and woven together, and Carrie's was a ring of pink and white beads interwoven.
—These Happy Golden Years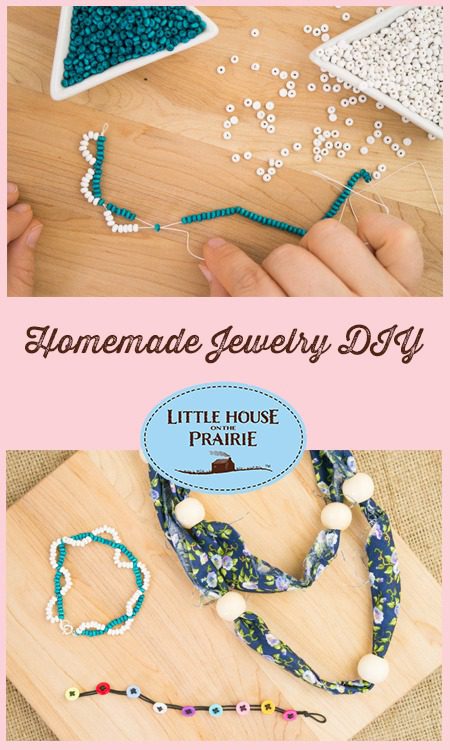 There are few things as precious and timeless as making beaded jewelry with kids. There's just something almost meditative to sitting with a young child and creating something together. As a parent, I feel that the jewelry is just an extra bonus to the lovely conversations that usually occur during our crafting sessions. Here are three fun homemade jewelry projects that range in difficulty for young children to teens. Hope you have a wonderful time crafting together!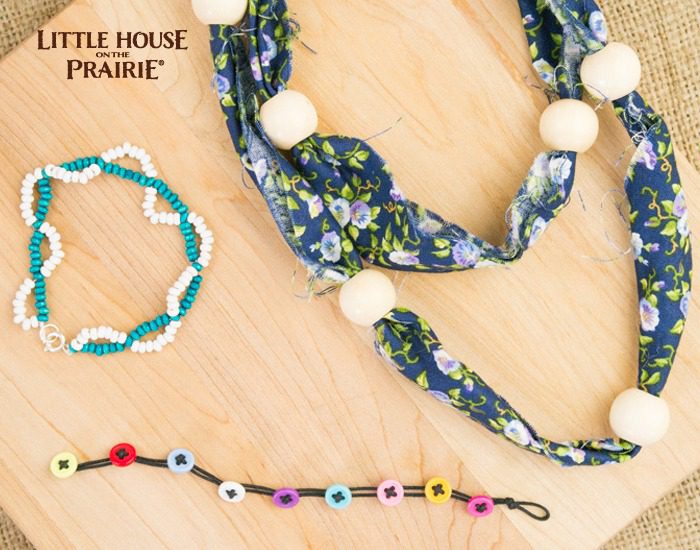 Materials Used in All Three Jewelry Crafts
Large wooden beads
Little House on the Prairie®

 

fabric
Variety of buttons (Choose

 

colorful buttons like our demo

 

or even old-fashioned wooden ones)
Seed beads (Blue and white

 

wood beads

 

are shown, but you can also get glass seed beads in a variety of colors)
Fabric and Wood Bead Necklace DIY – Beginner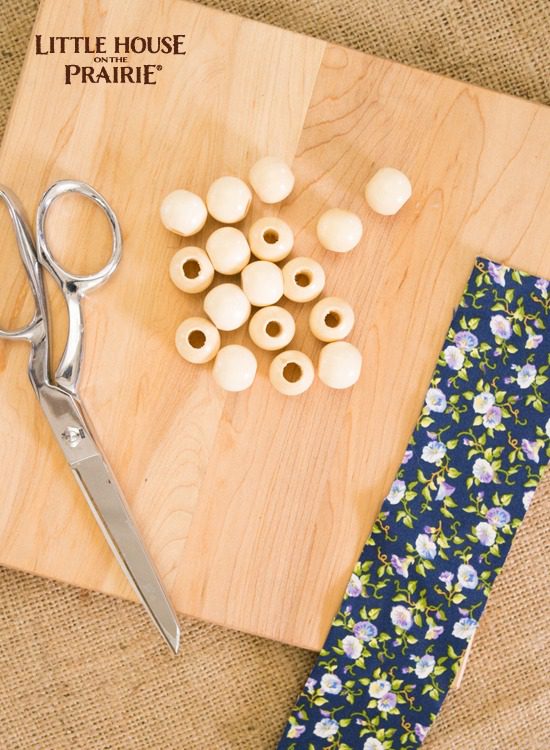 This necklace is something even preschoolers can help with. Large wooden beads and fabric to thread with instead of thin thread means even little hands can help make something beautiful.
Cut a 2" wide strip of fabric to any length necessary. A long adult necklace will be about 30" long.
Have the child lace the fabric strip through the wooden beads until happy with the number of beads on the necklace. Tie the ends in a knot to secure.
Depending on the size of the wood beads and the manual dexterity of your child, you may need to assist with inserting the fabric into the bead centers.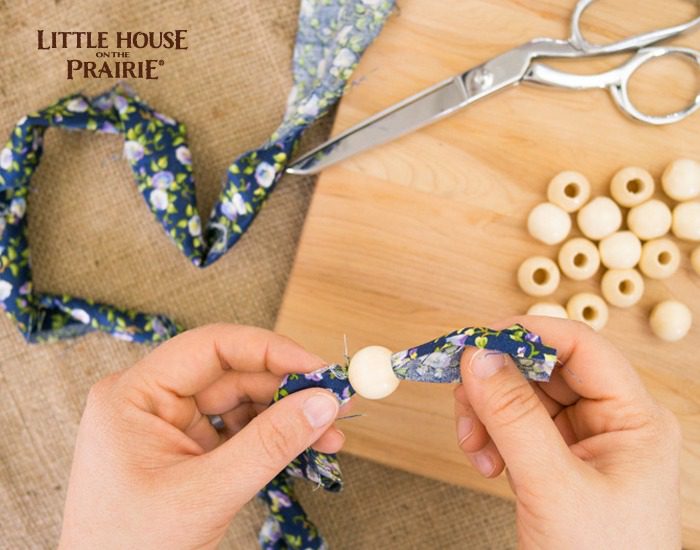 Button Bracelet DIY – Intermediate
Ma had saved buttons since she was smaller than Laura, and she had buttons her mother had saved when her mother was a little girl.
On the Banks of Plum Creek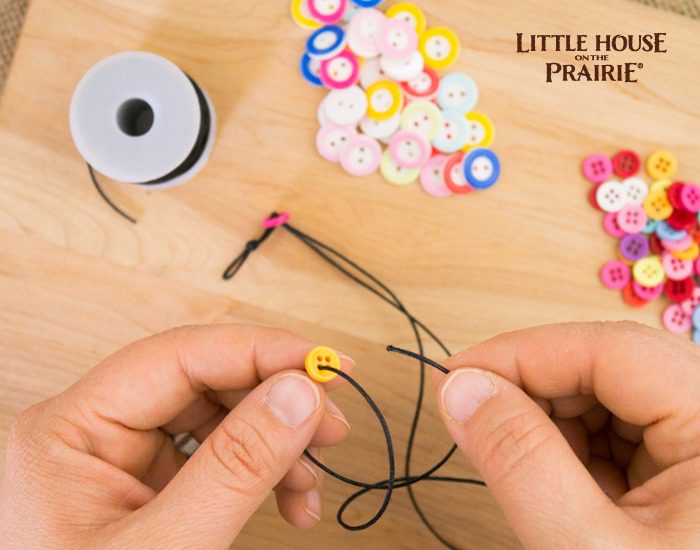 While Laura and her sister Mary made a button string as a necklace for Baby Carrie, we put a modern twist to it with a beautiful and stylish button bracelet.
Measure the distance around the wrist with your wax cotton cording and double before cutting.
Tie a knot ¼" away from the folded center to create a loop.
Feed one side of the string through the button holes, pull in place and then repeat with the other side.
Continue adding buttons until you are close to the end. Secure the cording with a knot on the back of the last button.
Use the loop and last button to secure the bracelet around the wrist.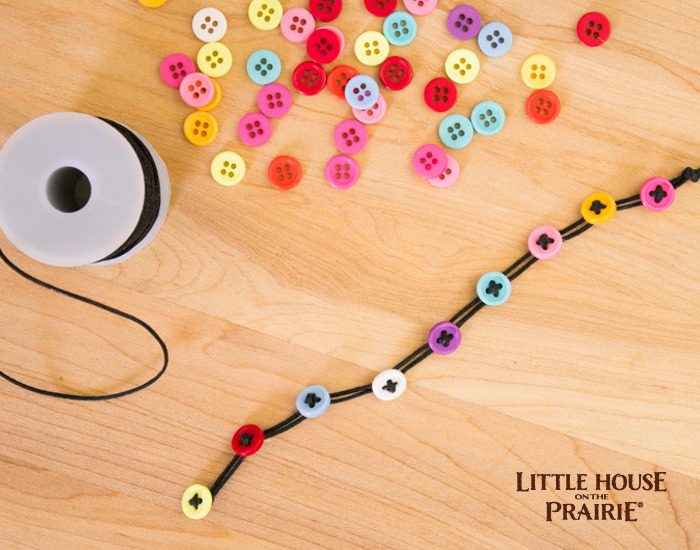 Wavy Blue and White  Beaded Bracelet DIY – Advanced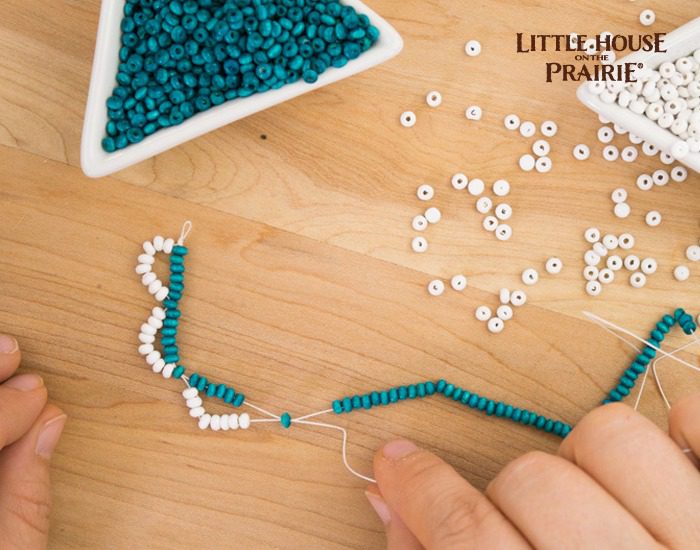 Like the bracelet Laura was gifted in the books, this bracelet features beautiful, small bead seeds that are more suitable for older children or adults to craft with.
Measure approximately 18" of jewelry beading thread and fold in half. You probably won't need this much but better to be safe than sorry. You'll just trim away the excess at the end.
Tie a small knot about 1/8" away from the folded center to create a small loop. You'll be attaching a jewelry clasp to this loop in a few steps.
String the initial line of blue seed beads with the beading thread. My thread was sturdy enough that I could string the beads without a needle but you may prefer a needle if your thread is thinner.
Continue with the blue line of beads until you're happy with the size around your wrist.
String 8 white beads onto the second strand of thread and insert it into the 7th bead from the beginning. Repeat this step until you've reached the end of the blue beads. This will create cool, interwoven loops on your final bracelet.
Tie the two end strands together in a knot.
Add clasps to the ends and enjoy!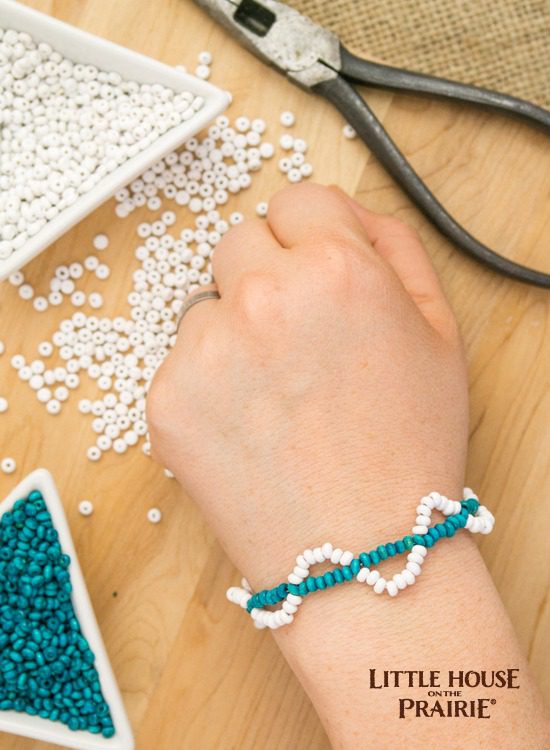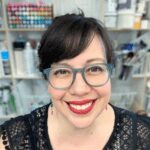 Vanessa Brady is the mother of two little boys and is an unabashed craft junkie. She is passionate about sewing, crafting, her children, and business. Find her original crafts at Tried and True blog.