These are the books that started it all – the stories that captured the hearts and imaginations of children and young adults worldwide. Written by Laura Ingalls Wilder and published by HarperCollins, these beloved books remain a favorite to this day.  These classics have sold over 60 million copies in more than 100 countries. The 85th anniversary of the first publication of the Little House on the Prairie novel in 1935 is marked in 2020.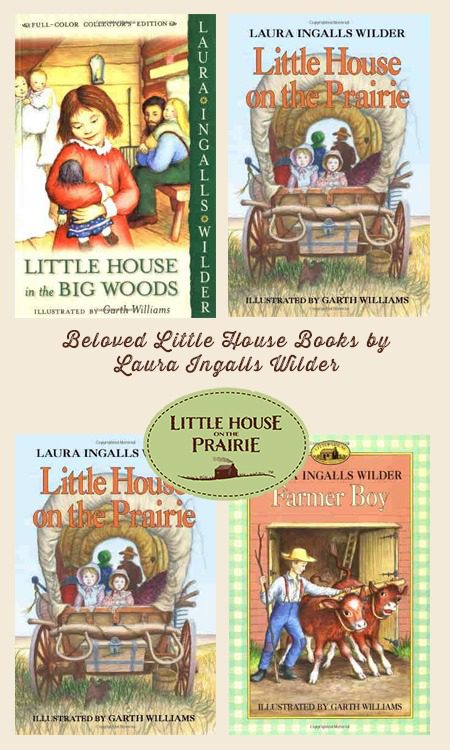 Click on the links below to read a brief synopsis of each book provided by HarperCollins. You'll also find some great 5-star fan reviews from Amazon and information about purchasing the books in different formats.
Laura Ingall's story begins in 1871 in a little log cabin on the edge of the Big Woods of Wisconsin. Four-year-old Laura lives in the little house with her Pa, her Ma, her sisters Mary and Carrie, and their trusty dog, Jack.
Pioneer life is sometimes hard since the family must grow or catch all their food as they get ready for the cold winter.  But it is also exciting as Laura and her folks celebrate Christmas with homemade toys and treats, do the spring planting, bring in the harvest, and make their first trip to town.  And every night, they are safe and warm in their little house, with the joyful sound of Pa's fiddle sending Laura and her sisters off to sleep.
And so begins Laura Ingalls Wilder's beloved story of a pioneer girl and her family.  The nine Little House books have been cherished by generations of readers as both a unique glimpse into America's frontier past and a heartwarming, unforgettable story.
"I have been teaching well over a decade now, and every year this is the first book I read aloud to my children. The writing is simple yet very descriptive. I feel it is my duty as an educator to introduce excellent literature to my students."
"Laura Ingalls Wilder has captured a snapshot of the past for readers to enjoy for years to come. It's a fantastic way to introduce pioneers' way of life and the hardships they endured."
While Laura Ingalls grows up in a little house on the western prairie, Almanzo Wilder is living on a big farm in New York State.  Here Almanzo and his brother and sisters help with the summer planting and fall harvest.  In winter, there is wood to be chopped and great slabs of ice to be cut from the river and stored.  Time for fun comes when the jolly tin peddler visits, or best of all, when the fair comes to town.
This is Laura Ingalls Wilder's beloved story of how her husband Almanzo grew up as a farmer boy far from the little house where Laura lived.
"With this work, the author covers the childhood of her future husband. Her storytelling continues to shine. Her simple prose is an absolute delight and wonder. I was first exposed to the work well over fifty years ago and still, to this day, give this book, and the others in the series, a read from time to time. I cannot think of better books to get kids interested in reading. Not only are they exposed to the work of a very skilled writer and storyteller, but they get a very vivid look at life as it was several generations ago, through the eyes of a child. I cannot recommend this work, and the other books in this series highly enough."
The adventures continue for Laura Ingalls and her family as they leave their little house in the Big Woods of Wisconsin and set out for Kansas.  They travel for many days in their covered wagon until they find the best spot to build their little house on the prairie.  Soon they are planting and plowing, hunting wild ducks and turkeys, and gathering grass for their cows.  Sometimes pioneer life is hard, but Laura and her folks are always busy and happy in their new little house.
"The details and accurate portrayal of frontier life is half of what makes this book tick. The other half is the warm and loving relationship between the Ingalls family, who cherish their little community far more than their meager possessions."
"…This is a beloved series that has withstood the test of time. …Parents and children have only so much time to read books together. This book should be a priority for them all."
The adventures of Laura Ingalls and her family continue as they leave their little house on the prairie and travel in their covered wagon to Minnesota.  Here they settle in a little house made of sod beside the banks of beautiful Plum Creek.  Soon Pa builds a wonderful new little house with real glass windows and a hinged door.  Laura and her sister Mary go to school, help with the chores, and fish in the creek.  At night everyone listens to the merry music of Pa's fiddle. Misfortunes come in the form of a grasshopper plague and a terrible blizzard, but the pioneer family works hard together to overcome these troubles.
"But what really sells this book is the authentic portrayal of the way of life that the Ingalls' live. Living in a dugout by a creek, cutting the grass to make hay, and knitting clothes during long and dreary days, the book's colorful details make a practically-extinct lifestyle come alive. In particular, the way that the Ingalls must observe nature and learn to live within the context of its rhythms and cycles was very interesting."
The adventures of Laura Ingalls and her family continue as they move from their little house on the banks of Plum Creek to the wilderness of the unsettled Dakota Territory.  Here Pa works on the new railroad until he finds a homestead claim that is perfect for their new little house.  Laura takes her first train ride as she, her sisters, and their mother come out to live with Pa on the shores of Silver Lake.  After a lonely winter in the surveyors' house, Pa puts up the first building in what will soon be a brand-new town on the beautiful shores of Silver Lake.  The Ingallses' covered-wagon travels are finally over.
"There is also much in this book that is warm and lovely. Pa's tender gesture to Ma of bringing some trees to plant on the homestead. A happy and coincidental reunion with Reverend Alden, and his sweet suggestion that Mary might someday attend college. Laura is making a new and adventurous friend in her cousin Lena at the camp. And of course, Pa's reassurance to Laura that Jack will be happy in dog heaven. The family also takes delight in making special Christmas gifts for each other, and sweet Ma gives up something special of her own to make an unexpected Christmas houseguest happy. We also see Laura honing her storytelling talents as she becomes Mary's "eyes," trying earnestly to help her sister share in everything the family experiences."
"As with the other Little House books, the historical context of Silver Lake is rich and detailed. Excellent reading for children and adults."
The adventures of Laura Ingalls and her family continue as Pa, Ma, Laura, Mary, Carrie, and little Grace bravely face the hard winter of 1880-81 in their little house in the Dakota Territory. Blizzards cover the little town with snow, cutting off all supplies from the outside. Soon there is almost no food left, so young Almanzo Wilder and a friend make a dangerous trip across the prairie to find some wheat. Finally, a joyous Christmas is celebrated in a very unusual way in this most exciting of all the Little House books.
"Only a writer like Laura Ingalls-Wilder can take an endless monotony of blizzards and darkness of that long winter of 1880-81 that she describes in THE LONG WINTER, and turn it into a wonderful book, filled with drama and beauty".
"Of course, her incredible and vivid recollection of the details of this long winter, as written in this book decades after the events occurred, adds the dazzle of masterful form, to the solid bedrock of substance that was her character. Of all her books, this is thus the most telling of what this woman was made of. It was very instructive for my son to read as well, and for all today's children, for they learn how privileged they are, but more surprisingly perhaps to them when they see Laura thankful for her family's strength and love, and grateful in spite of her misery, they see how this gratitude is what makes her happy, and is the real secret and blessing."
The little settlement that weathered the long, hard winter of 1880-81 is now a growing town. Laura is growing up, and she goes to her first evening social. Mary is at last able to go to a college for the blind. Best of all, Almanzo Wilder asks permission to walk home from church with Laura. And Laura, now fifteen years old, receives her certificate to teach school.
"Little Town on the Prairie is my favourite book out of all the "Little House" series by Laura Ingalls Wilder… Laura Ingalls Wilder does an exquisite job captivating all her readers with her refined choice of words, meticulous detail, and upbeat plot. This is absolutely the best piece she's written. She does an admirable job of describing the setting, so it makes you feel like you're right there, witnessing the whole scene."
Fifteen-year-old Laura lives apart from her family for the first time, teaching school in a claim shanty twelve miles from home. She is very homesick but keeps at it so that she can help pay for her sister Mary's tuition at the college for the blind. During school vacations, Laura has fun with her singing lessons, going on sleigh rides, and, best of all, helping Almanzo Wilder drive his new buggy. Friendship soon turns to love for Laura and Almanzo in the romantic conclusion of this Little House book.
" I love the writing style- it is simple and honest, like the lives of the characters. I couldn't help but feel the joy that Laura felt to be at home with her family, the dread with which she faced her first teaching assignment. The warmth on the weekends contrasting with the chill away from home at that horrible teaching assignment. …I found this book inspiring. Laura is able to have an independent mind and spirit and stay devoted to what matters in her life: family, faith, a strong work ethic, perseverance."
Laura Ingalls Wilder is beginning life with her new husband, Almanzo, in their own little house. Laura is a young pioneer wife now and must work hard with Almanzo, farming the land around their home on the South Dakota prairie. Soon their baby daughter, Rose, is born, and the young family must face the hardships and triumphs encountered by so many American pioneers.
And so Laura Ingalls Wilder's adventure as a little pioneer girl ends, and her new life as a pioneer wife and mother begins. The nine Little House books have been cherished by generations of readers as both a unique glimpse into America's frontier past and a heartwarming, unforgettable story.
"Laura Ingalls Wilder wrote from the heart and from her experiences of life on the prairie as a child. If it's been a long time since you've read a Laura Ingalls Wilder book, then I suggest you pick this one up and read the beautiful descriptions and let your mind paint the scenery with words." 
"Laura wrote what she saw, and she described life so well you can nearly smell the farm air and help her with sewing her new black cashmere dress or feel the threat of the thunderstorm rolling in. Make no mistake, you are there with Laura."