Season 3 of "Little House on the Prairie" is filled with love, courage, hardships, and tests of faith. Just as in seasons past, the Ingalls must come together to face decisions about their future and find the courage to overcome tragedies. Season 3 aired from September 27th, 1976 through April 4th, 1977 and led viewers on many adventures with the Ingalls family.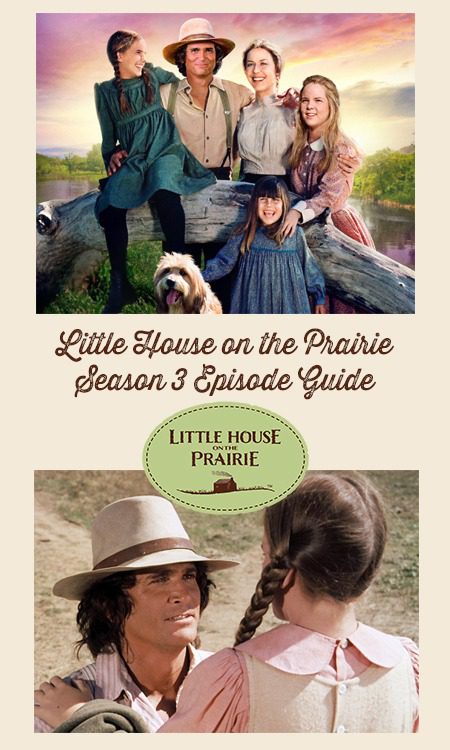 For the first time since their original TV broadcast, all 21 season 3 episodes are presented complete and uncut, and newly restored and remastered for optimal picture and sound quality! In this ultimate season 3 episode guide, you'll relive all of the heartwarming adventures and learn some new facts along the way. Some of our favorite facts and tidbits came from Alison Arngrim's autobiography and Melissa Gilbert's memoir. Below is a complete index with links to the Season 3 episodes:
Season 3, Episode 1 – The Collection



Buy Now!

Description:
Reverend Alden falls ill while collecting donations for a struggling town. He is taken in by an ex-convict named Caleb Hodgekiss and his wife. Caleb helps the Reverend by traveling to Walnut Grove and encourages everyone to donate money. He earns the community's trust with his sensitive and caring personality, but because of his dark past, it's hard to tell what he might do.
Favorite Quote:
Mary Ingalls: "Pa, can I go to town with Mr. Hodgekiss? I can kinda introduce him to everybody and let him know who's stingy and who's generous."
Did you know?
Johnny Cash and his wife June Carter Cash play the roles of Caleb and Mattie Hodgekiss in this episode. These are also the exact same first names of African American doctor Caleb Ledoux and his wife Mattie, five years later, in Season 8's Dark Sage.
Season 3, Episode 2 – Bunny



Buy Now!

Description:
Nellie's physical abuse toward Bunny leads to a dangerous riding accident, but as the little girl lies in bed with a concussion and possible paralysis, her distraught mother blames Laura and orders Nels to shoot the animal. Laura secretly takes Bunny home until she can figure out a plan, but her problems run even deeper when she begins to believe that she is responsible for Nellie's condition.
Fun Fact!
In this episode, Laura pushes Nellie down a hill and she gets soaked from head to toe. But in the final scene, which likely takes place the exact same afternoon, she is dry, her curls are intact and she is wearing the same blue nightgown that got drenched previously.
Did you know?
Bunny, the horse, was sometimes described as a male and sometimes as a female. Bunny was a male in "Christmas At Plum Creek", then female in "Bunny", then male in "The Race", then female again in "Journey Into The Spring".
Season 3, Episode 3 – The Race
Description:
Laura's beloved horse Bunny has officially been returned to her. She eagerly prepares to enter a local race. Jealous, Nellie throws a tantrum until Harriet agrees to buy her a thoroughbred without Nels' approval. Although Nellie and her horse are expected to win the race, Laura perseveres with her training. The stakes are higher than ever when Harriet donates a lavish prize for the winner.
Fun Fact!
You rarely hear any reference to Doc Baker's family, but in this episode, he tell's Laura he is going to Sleepy Eye to visit his mother for her birthday.
Did you know?
In this episode, Producer Kent McCray made a cameo appearance. He is the guy on the wagon during the race saying "Go, Nellie, go!"
Season 3, Episode 4 – Little Girl Lost
Description:
Frustrated that Carrie has insisted on tagging along for a school assignment, Mary and Laura fail to keep a close eye on her. They live to regret this when the little girl wanders off and falls into an underground mine shaft.
Fun Fact!
Michael Landon, who was always known for his wacky sense of humor, used to refer to episodes like this one as "Miss Beadle kills the kids again". Read more about Charlotte Stewart's (Miss Beadle) recollections of working with Michael Landon here.
Did you know?
Emotionally distraught after her little girl has fallen down a mine shaft, Caroline Ingalls instinctively blames someone else (in this case, Miss Beadle). Even considering the magnitude of the situation, this is incredibly out of character for Caroline. And you never see her do such a thing again.
Season 3, Episode 5 – The Monster of Walnut Grove
Description:
On Halloween night, Laura and Mary get permission from their parents to walk into town and pull off a little prank at the mercantile. Laura's imagination runs wild when she peeks into the Olesons' window and witnesses Nels committing an unspeakable crime. Scarred by what she has seen, Laura can't seem to get anyone to believe her.
Fun Fact!
In this episode and at least one other, restless tree branches are seen and heard right up against the front upstairs window next to the girl's bed. But there was never a point in the show where there was a tree that close to the house.
Did you know?
In the scene where Laura and Carl meet up at the cemetery, Laura spots Carl from a distance of about five feet and tentatively says, "Carl?" But if you will notice, Carl is standing in the open, and in the light of the full moon; in fact, the two of them comment on its brightness just a minute later.
Season 3, Episode 6 – Journey Into the Spring – Part 1
Description:
In the wake of his mother's death, a devastated Charles travels home with the intention of bringing his father back to Walnut Grove. Lansford Ingalls is devastated after his wife's death and would rather commit suicide than continue his life with someone else. Meanwhile, with Thanksgiving approaching, Mary and Laura aren't quite sure how to tell Carrie the truth about the turkey they just purchased.
Fun Fact!
Interestingly enough, in this episode, young Charles says he has two sisters, but in Season 4's "I Remember, I Remember", he only has one, Polly.
Did you know?
Charles' brother Peter has a daughter and son in this episode, Amelia and James. The real Peter and Eliza Ann Ingalls had six children, named Alice, Ella, Peter, Lansford, Edith, and Edmond.
Season 3, Episode 7 – Journey Into the Spring – Part 2
Description:
Although he is still struggling with his wife's death, Lansford adjusts well in Walnut Grove and bonds with everyone in the family, especially Laura. Unfortunately, another tragedy threatens to tear them all apart just when things are really starting to look up.
Favorite Quote:
Laura Ingalls: We got a problem, Pa.
Charles Ingalls: What is it?
Laura Ingalls: Carrie and the turkey.
Charles Ingalls: Looks alright to me. He'll look even better in a couple weeks on the dinner table.
Laura Ingalls: Well, that's the problem. Carrie doesn't know he's gonna be ON the table. She thinks he's gonna be AT the table.
Did you know?
We love the fact that there were three or four sets of siblings on the set of "Little House on the Prairie" every day and that many different roles were played by siblings or relatives of the actors.
Season 3, Episode 8 – Fred
Description:
After working temporarily for some neighbors, Laura decides to take their problematic billy goat instead of money. The neighbors are thrilled to have "Fred" off their hands, but now the Ingalls family is forced to deal with him – and he's not exactly the ideal family pet.
Fun Fact!
I think as parents, many of us can relate to what Caroline and Charles are going through in this episode. Laura's love for small animals got her in a bit of hot water with more than a few people!
Favorite Quote:
Laura Ingalls: I guess I just sort of feel sorry for Fred.
Charles Ingalls: Sorry for Fred? What about me? I didn't butt Fred!
Laura Ingalls: Well what I mean is… well… maybe Fred thought he was doing a good thing. Maybe he thought you were a robber and he was protecting the barn.
Season 3, Episode 9 – The Bully Boys
Description:
The townspeople of Walnut Grove have no idea what they're in for when the three Galender brothers settle in. The oldest two run up large bills at the mercantile and mill and the youngest boy causes problems at school. Everyone tries to take Reverend Alden's advice and give the Galenders a chance, but when their crimes turn violent, the community's religious loyalties are tested.
Fun Fact!
This episode features guest appearances from Geoffrey Lewis (Sam Galender) and Roy Jenson (George Galender). Lewis later returns in Season 9 as a cartooned version of Cole Younger. Lewis appeared in well-known shows such as "Law & Order: Criminal Intent", "In the Heat of the Night", and "My Name is Earl".
Did you know?
Early on in this episode, just before Bubba gives Mary a black eye, he throws the ball at a girl named Cindy. He knocks her to the ground, where she stays lying for quite some time. When this happens, instead of panic and chaos, which is normal of children, they calmly walk over and crouch down next to Cindy to see if she is okay. As children, they do not seem to realize that she could be seriously injured.
Season 3, Episode 10 – The Hunters
Description:
Despite being a bit too young, Laura convinces her father to help sweet-talk Caroline into letting her accompany him on a hunting trip. Laura delights in this rare one-on-one time with Charles, and everything is going beautifully until she accidentally knocks over his loaded gun. With her beloved father very close to death, Laura must find help all on her own.
Fun Fact!
If you will remember back to the pilot episode, there was a scene where Pa says to Laura "One of these days, I'll sweet talk your Ma into letting you go hunting with me." Now, four years later, that day has finally come.
Did you know?
If you will look closely at the scene where Sam and Laura are going to get help from Mr. Edwards, there is a shot where Laura's plaits are coming undone, and in the next shot they have been re-done and are neat and tidy.
Season 3, Episode 11 – Blizzard
Description:
On Christmas Eve, Miss Beadle decides to surprise the schoolchildren by letting them go home early. This proves to be a grave mistake when the kids are trapped by a vicious blizzard outside, and none of them can find their way home. As Doc Baker turns the school into a makeshift hospital for frostbitten victims, the men must brave the extreme weather conditions and track down their loved ones.
Fun Fact!
Little Carrie – who is about 5 years old here – comes to school on Christmas Eve with her older sisters as a "special visitor." She does not start school until the following year, Season 4. Today, most children start school at the age of 5.
Did you know?
This is the only Christmas episode on "Little House on the Prairie" that ends on a somber note. The pilot movie, Season 1's "Christmas at Plum Creek," Season 8's "A Christmas They Never Forgot," and Season 10's "Bless all the Dear Children" all had happy endings.
Season 3, Episode 12 – I'll Ride the Wind
Description:
Grace and Isaiah Edwards' adopted son, John receives a four-year scholarship to a university in Chicago. Isaiah would rather have a son to share his farming lifestyle. John and Mary have immediate marriage plans that will not be possible if John decides to follow his ultimate dream. Torn between two worlds, John is forced to make the most difficult decision of his life.
Fun Fact!
Mary becomes engaged to John Jr. at 13 and has Charles' permission to marry at the age of 15. Charles is considerably stricter with Laura, and when Almanzo proposes to her at the age of 16 in Season 6, Charles initially insists that she wait until she's 18.
Did you know?
The quilt on John Jr.'s bed is the same one that the Rev. Alden uses at the Hodgekiss' house in the previous episode, "The Collection."
Season 3, Episode 13 – Quarantine
Description:
Doc Baker assists with an outbreak of mountain fever in a nearby town. The people of Walnut Grove are hopeful that the disease will overpass their community. Grace and Isaiah's young daughter Alicia becomes seriously ill, so Isaiah takes her to an abandoned house in town to nurse her back to health. Laura appears to have the fever as well, and Charles frantically sets out to find Doc Baker.
Fun Fact!
As Charles tries to retrieve Doc Baker and attempts to get into the makeshift hospital, he is forced to jump off a second story balcony by the men chasing him. This scene was filmed at ground level and when Charles hits the "ground," you can briefly see the corners of the inflatable yellow "stuntman's pillow" pop up at both bottom corners of the shot. You can also hear the sound of air being forced out if you listen closely.
Did you know?
While "Little House on the Prairie" was a hit in its first season, the ratings in the second season dropped and the show was in danger of cancellation. NBC decided to move the series from Wednesday to Monday nights to attract a wider audience and the ratings recovered in its third season. NBC again intended to end the show after its fourth season but the ratings stayed high enough to renew the show for a fifth season. It remained in the top 30 until its cancellation in 1983.
Season 3, Episode 14 – Little Women
Description:
As a special school activity, Miss Beadle allows the children to create group skits that they will later perform for their parents. Mary and Laura team up with Nellie and Ginny Clark, a lonely young girl whose widowed mother has been neglecting her daughter's emotional needs. Meanwhile, Willie is having toruble getting the other boys to perform "Tom Sawyer" with him.
Fun Fact!
Laura, Mary, Mrs. Oleson, Mr. Mayfield, and just about everyone in this episode refers to the little girl as Ginny, but her mother clearly says, Jenny. Which pronunciation do you think is correct?
Did you know?
This is one of the first and only times that we see Harriet Oleson really get tough with Nellie, near the end of the episode when she refuses to be in the play with her ugly curled wig. Harriet even threatens to whip her if she doesn't come out of her room, which is quite shocking coming from her!
Season 3, Episode 15 – Injun Kid
Description:
The young son of a recently killed Sioux Indian, moves to Walnut Grove with his Caucasian mother Amelia. Amelia's father agrees to let them stay with him, but is ashamed that his daughter married a Native American and ostracizes the child. Spotted Eagle endures harsh treatment from his insensitive classmates, but the Ingalls girls become his only friends.
Fun Fact!
At the end of this episode, Miss Beadle gets extremely angry at a student, Seth, for beating up Spotted Eagle. She slams her hand down on his desk and screams in his face. This is an extremely rare bout of fury from Miss Beadle, who was usually very mild-tempered and calm, even when such issues arose in the classroom.
Did you know?
Did you notice that the bear claw that Laura gives Spotted Eagle is the one the Osage Indian Chief gave her in the pilot movie? This serves as a very nice continuity link.
Season 3, Episode 16 – To Live With Fear – Part 1
Description:
Mary is kicked in the stomach by one of the family's horses, but insists that she is fine. Her internal injuries worsen over time. Unable to be properly treated by Doc Baker, she is hospitalized in Rochester, where she must undergo surgery. As if this weren't stressful enough, Charles and Caroline are in a position where they may not be able to afford the mounting hospital bills.
Fun Fact!
Did you know that in the original book series (and in real life), Jack was described as a brindle bulldog. But Michael Landon fell in love with a different type of dog to play Jack who was soft and shaggy. Jack was played by two dogs named Barney and Jack! Sharon Lewis Evans worked as the show's Dog Trainer from 1976 to 1978.
Did you know?
In a previous interview, Melissa Sue Anderson (Mary) joked that when this episode aired on television during her adulthood, she was flipping channels with her young daughter Piper, and she couldn't for the life of her remember what Mary was in the hospital for. "All of a sudden, I saw myself packed in ice, and I couldn't remember why!" laughed Anderson.
Season 3, Episode 17 – To Live With Fear – Part 2
Description:
While Caroline stays with Mary, Charles sets out with Mr. Edwards to find work and send money back to the hospital. They eventually accept a mining job that involves building a tunnel for a railroad. Sick with fear over his daughter's illness, Charles disregards his own safety and faces serious danger.
Fun Fact!
Fans of the Die Hard movie may recognize actor James Shigeta, who portrays the Chinese crew leader, Wing, in this episode. He played the ill-fated company president Mr. Takagi in the original Die Hard film.
Did you know?
Did you notice, in the scene where Mary is in the hospital twisting and turning, she is sweating as Ma feels her forehead and runs for the doctor. But when the doctor comes in Mary is still and calm.
Season 3, Episode 18 – The Wisdom of Solomon
Description:
Solomon Henry, an 11-year-old child runs away from home to pursue his dream of attending school somewhere. He comes across Charles Ingalls in Mankato, hitches a ride in the back of his wagon. He eventually becomes a guest in the Ingalls home. As he helps out around the farm and goes to school in Walnut Grove, Solomon's optimistic attitude is an inspiration to the whole family.
Fun Fact!
It is roughly a three-day wagon trip from Mankato. How did Charles and Doc Baker not notice that Solomon was riding on the back?
Did you know?
Michael Landon had a unique way of inspiring child actors to cry when they needed it for a scene. Melissa Gilbert once described how he would work himself up emotionally, face her with his eyes full of tears and ask her, "Do you know how much I love you?" to which she would get all teary and emotional herself.
Season 3, Episode 19 – Music Box
Description:
Laura befriends a classmate named Anna, whose excessive stuttering affects her ability to make friends. Laura stands by the girl's side when she is excluded from Nellie's elite new club, but matters are complicated when Laura is caught stealing Nellie's music box. Nellie agrees not to tell anyone, but she has ulterior motives of her own that may threaten Laura's friendship with Anna.
Fun Fact!
Usually, Laura is the good girl and we see Nellie as the "bad" girl. But in this episode, Laura falls a bit out of character by deliberately stealing a toy from Nellie's bedroom. Of course, we are all human and make mistakes. Laura never stole before, and she never did it again after this.
Did you know?
Actress Alison Arngrim (Nellie) has said that the scene where Nellie engages in one of her meanest tricks yet by forcing stuttering Anna to say a tongue twister in front of a bunch of laughing classmates, gives her the creeps!
Favorite Quote!
"Laura: Mary, if I was to tell you something bad, would you tell Pa?
Mary: Yes.
Laura: Oh. Good night, then."
Season 3, Episode 20 – Election
Description:
When it comes time to elect a new classroom president, Mary and Nellie are first to compete for the position. To even things out a bit, the boys strategically elect a shy, mentally delayed classmate named Elmer Dopkins. The trouble is, Elmer's overprotective father is fully aware of the boys' ulterior motives, but how far can a parent go to protect their bullied child?
Fun Fact!
Michael Landon, Jr. plays Jim in this episode. He's the blonde boy who nominates Mary for class president. According to Melissa Sue Anderson, Michael Jr. had quite a crush on her at the time.
Did you know?
Did you notice that while there are only 20 children shown in class, there are 25 votes for class president?
Season 3, Episode 21 – Gold Country – Longplay
Description:
A heavy rain has been falling in Walnut Grove for two months, and shows no signs of stopping. Charles fears that his crops will suffer and his family will go hungry. He takes them on a 400-mile journey for a temporary new life in Gold Country. Caroline opens and teaches a school in a tent, right in the middle of town, but it proves to be a less-than-ideal learning environment for everyone.
Fun Fact!
In this episode the Ingalls are heading to Gold Country in their covered wagon, and we get a brief scene of them eating in the wagon one night while the rain is beating down. Did you notice that this little scene is taken directly from the pilot, which was filmed four years earlier? When the camera zooms in you can clearly see a very young Mary and Laura, as well as a younger Caroline and Charles, who are wearing clothes that they haven't worn since those early days.
Did you know?
Season 6, and Kyle plays a different character in Season 5 before reprising her role as Alicia for one more episode in Season 8. Brian, however, left the show for good after this season finale. This marks the final appearances of Bonnie Bartlett (Grace), Kyle Richards (Alicia) and Brian Part (Carl) as regular cast members. Bonnie returned for one more episode in Season 6, and Kyle plays a different character in Season 5 before reprising her role as Alicia for one more episode in Season 8. Brian, however, left the show for good after this season finale.
What is your favorite episode from this season? Be sure to subscribe to our free newsletter for all the latest show information!