Our Recommended Reading for Children & Young Adults and Recommended Reading for Adults articles have been popular resources for readers interested in Laura Ingalls Wilder and Little House on the Prairie. Here is a brief overview of Little House Treasury.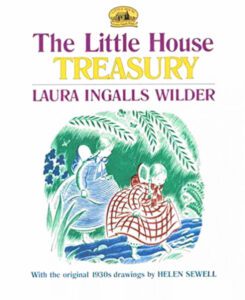 Author: Laura Ingalls Wilder
Illustrators: Helen Sewell and Mildred Boyle
Publisher: HarperCollins (August 27, 1998)
Synopsis:
The complete text and illustrations of three of Wilder's novels about American pioneer life. Contains: Little House in the Big Woods, Little House on the Prairie, and On the Banks of Plum Creek.
About the Author: Laura Ingalls Wilder
Laura Ingalls Wilder was born in 1867 in the log cabin described in Little House in the Big Woods. She and her family traveled by covered wagon across the Midwest. Later, Laura and her husband, Almanzo Wilder, made their own covered-wagon trip with their daughter, Rose, to Mansfield, Missouri. There, believing in the importance of knowing where you began in order to appreciate how far you've come, Laura wrote about her childhood growing up on the American frontier. For millions of readers Laura lives on forever as the little pioneer girl in the beloved Little House books.
About the Illustrators: Helen Sewell and Mildred Boyle
Helen Sewell was born June 27, 1896, in Mare Island, California; her father was William Elbridge Sewell, who later became Governor of Guam. She studied at the Pratt Institute, including classes with Alexander Archipenko. Her first illustrations were published in 1923 in The Cruise of the Little Dipper and Other Fairy Tales by Susanne Langer. She continued to illustrate throughout her life, including works for adults as well as children. Sewell was the first illustrator of the Little House books by Laura Ingalls Wilder (1932 to 1943), replaced by Garth Williams in 1953 and subsequent editions. She was a runner-up for the 1955 Caldecott Medal as illustrator of The Thanksgiving Story by Alice Dalgliesh. She died on February 24, 1957, in New York City.
Mildred Boyle was the co-illustrator with Helen Sewell of the last five of the Little House novels. Helen Sewell was extremely busy on other projects and the publisher brought in Mildred to help complete the books. She was born in Brooklyn, New York and worked for 50 years for Curtis Publishing Company until retiring in 1972, after which she moved to Lakewood, New Jersey where she died in May 1989. In addition to illustrating the Little House books, Mildred also created images for Marta (by Marguerite Vance, Harper and Brothers, 1937); Haensel and Gretel: The Authorized Edition of the Metropolitan Opera Guild (by Robert Lawrence, Grosset & Dunlap, 1938); High Timber (by Rhoda Nelson, Thomas Y. Crowell Company 1941); and A Yard for John (by Eleanor Clymer, Junior Literary Guild, 1943). She also designed Christmas cards and has had her work appraised on the Antiques Road Show.
Pick up your own copy of Little House Treasury here.
Check out our Recommended Reading for Adults and Recommended Reading for Children & Young Adults for more great books.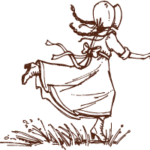 The editors of the Little House on the Prairie® website are pleased to bring you interesting articles, interviews, fan features, videos, and much more.