Stroudsburg, Pennsylvania (February 8, 2016) – The Queen's Treasures®, designer and manufacturer of high-quality doll clothing, furniture, and accessories, will unveil its first doll on February 13th, 2016 at Toy Fair in New York City. The 18-inch "half-pint" doll will be the first in its doll line spotlighting women who changed the world.
The doll version of an 8-year old "Laura Ingalls" of Little House on the Prairie fame was the company's first choice, spotlighting children who grew up to become women of influence. "My favorite author as a child was Laura Ingalls Wilder," said Joann Cartiglia, Founder and President of the company. The Little House on the Prairie book series, written by Wilder and based on her life, chronicles the Ingalls family as they travelled west into the prairie during the late 1800's. The still-popular TV Series is based on Wilders' books. "Laura Ingalls-Wilder lived a life that most children could never imagine and she wrote the enormously successful series of Little House on the Prairie books in her 60s and 70s. Her third novel, Little House on the Prairie, was published in 1935, and the series of nine books remain popular to this day. That is an amazing accomplishment!" adds Cartiglia.
"Laura" is a high-quality version of the popular 18-inch sized dolls, boasting hand painted features, vinyl shoulders with a soft body and a host of accessories. She will be dressed in a white cotton nightgown and night cap. The doll is packaged in a reusable fiberboard box that converts into a bed and also comes with a rag doll, quilt and pillow. The suggested retail price is $99.99. The Queen's Treasures has also developed a line of licensed doll clothing, furniture and accessories based on Little House on the Prairie, including an award-winning covered wagon that fits most 18" dolls, including the popular American Girl® brand.
The Queen's Treasures started their focus spotlighting "women who changed the world" in 2014 with the launch of their Salvation Army Doughnut Girl accessories and clothes. This line focuses on the courageous women who worked on the battlefields in France during WWI. 10% of the proceeds from this line are donated back to the Salvation Army.
For Christmas 2015, the company launched a line of 18-inch doll clothes, furniture and accessories inspired by the work of Dr. Jane Goodall, a modern day influencer. Their "Gombe Research Camp" provides children a way to "play out" and imagine what life would be like living in the Jungles of Africa and studying animals. The products come with information encouraging children to join "Roots and Shoots", Dr. Jane's youth-focused organization designed to get children involved in conservation projects in their own communities. The company will donate 10% of the proceeds from this line back to JaneGoodall.org.
"We want children to be inspired by these amazing women and create dreams of changing the world, themselves." says Cartiglia. "We can do anything we set our minds to. As a person who grew up in a blue-collar family and having no formal" education, I can tell you that you can make anything happen – if you want to! I want little girls to think about things other than phones, computers and all the electronic trappings of todays' society, and encourage them to use "human" power to change the world for the better!"
"Laura" will be available in July in toy stores across America, and online through ToysRUs, Sears, Zulilly, Hayneedle.com and Amazon and many more retailers as well as thequeenstreasures.com.
###
Contact:
Joann Cartiglia, President
The Queen's Treasures
Office: 570.424.7333/Cell: 570.977.3075
joann@thequeenstreasures.com
About The Queen's Treasures®
Founded by "Queen" Joann Cartiglia, this growing business based in historic Stroudsburg, Pennsylvania has expanded quickly creating award-winning 18″ doll clothing, accessories, and furniture with a "wow" factor. The not-so-small business was crowned one of the Top 30 Fastest Growing Companies in the Greater Lehigh Valley of Pennsylvania in 2013, 2014 & 2015. Find the royal wares at www.TheQueensTreasures.com.
About Little House on the Prairie® and Friendly Family Productions
Little House on the Prairie is a world-famous and beloved brand rooted in the stories of an American pioneer family. Written by Laura Ingalls Wilder for children and young adults, these classic books have sold over 60 million copies in 100 countries. Wilder's stories of her family's struggles and joys were adapted into one of television's most successful and long-running series.
Little House on the Prairie has been on television for forty-one years and is currently broadcast in the U.S. on the Hallmark Channel and INSP (The Inspiration Network) five days a week, and in over twenty-five countries worldwide. The series is now available for the first time ever in high definition on Blu-ray Disc and Digital HD. The Complete Collection DVD box set was launched October 6, 2015 and includes all nine fully restored and remastered seasons. It is presented in an iconic "Little House" package, featuring a recreation of the Ingalls family home. In addition to the HarperCollins books and NBC television series, there was a television miniseries on ABC's The Wonderful World of Disney and a stage musical which toured North America.
Friendly Family Productions is a Los Angeles-based entertainment company which owns film, television, merchandising, theme park and other rights in and to the beloved Little House on the Prairie books by Laura Ingalls Wilder, as well as the Little House on the Prairie® trademark. Friendly Family Productions recently launched the official Little House on the Prairie® website and has an active and engaged social media following on Facebook, Pinterest, Twitter, and Instagram. The Company also executive produced a documentary called "Little House on the Prairie: The Legacy of Laura Ingalls Wilder", which was released in February 2015. It has appeared as a #1 Best Selling documentary on Amazon.com. The Company is managed by Trip Friendly and Rebecca Friendly.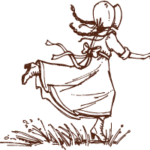 The editors of the Little House on the Prairie® website are pleased to bring you interesting articles, interviews, fan features, videos, and much more.