The adventures of the Ingalls Family continue in Season Two of "Little House on the Prairie". The original episodes of Season Two aired from September 10, 1975, to March 31, 1976. These heart-warming stories captured the attention of fans around the world and garnered two Emmy nominations for the episode "Remember Me, Part 1 and 2". With the challenges that Charles, Caroline, Laura, Mary, and their friends face, the family must come together in new ways this season.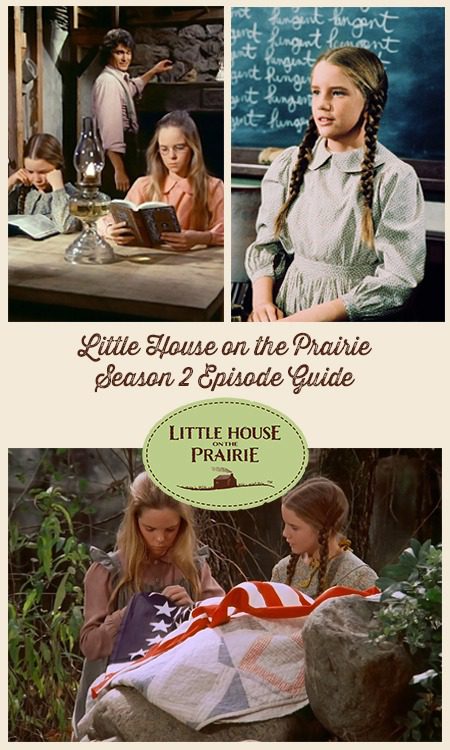 Some of our favorite facts and tidbits came from Alison Arngrim's autobiography and Melissa Gilbert's memoir. Below is a complete index with links to the Season Two episodes:
Season 2, Episode 1 – The Richest Man in Walnut Grove
Description:
When the mill closes due to bankruptcy, Charles loses out on two months' worth of crucial wages that would have officially cleared his account at the Mercantile. With a large bill left unpaid Charles takes on several odd jobs at once. Mary quits school temporarily to work overtime with seamstress Mrs. Whipple, while Laura does all the chores and assists, Caroline, with the crops.
Fun Fact!
In the scene where Laura and Charles were in the barn (when Laura is crying over Nellie and Willie's cruel words), it is supposed to be nighttime. However, it almost looks as if the sun is shining in as they are talking.
Did you know?
When Charles is at home counting the money to give to Harriet, he can be seen counting coins. But when Harriet accepts the money from him, she takes the money with only two fingers, which means he did not give her any coins.
Season 2, Episode 2 – Four Eyes
Description:
Mary is excited to receive a pair of brand-new glasses, but her excitement fades when other students relentlessly tease her, even after Miss Beadle points out her own pair of glasses. Mary decides to "lose" her glasses until Miss Beadle unwittingly shows her that she does not need to worry about her glasses making her look unattractive.
Fun Fact!
Many fans wrote in after this episode to share how 'Four Eyes' had helped their children cope with similar situations in their own lives.
Did you know?
Mary's optometrist, Dr. Burke, makes his debut appearance in this episode.
Favorite Quote:
"My Pa says that grades aren't everything. It's the learning that counts. Even eggs get graded." -Laura Ingalls (See more quotes from the TV series here)
Season 2, Episode 3 – Ebenezer Sprague
Description:
When Walnut Grove builds its very first bank, the cold and heartless Mr. Sprague settles in to run it. Charles tries to get on the man's good side right off the bat, but Mr. Sprague has been in the banking business long enough to sniff out these kinds of things, and after refusing to take the bait, he proceeds to turn Charles down flat when he requests an important loan.
Did you know?
The scene where viewers see Laura and Mary walking up the hill is repeated later in the Season 2 episode "For My Lady".
Favorite Quote:
Ebenezer Sprague: "Young lady, I have been fishing for more years than you have been alive! My lures are perfect for this area, and I've read all the books on the matter!"
Laura Ingalls: "Well, maybe the problem is that the fish just haven't read the books."
(See more quotes from the TV series here)
Season 2, Episode 4 – In The Big Inning
Description:
It's time to play ball in Walnut Grove! After losing badly the previous year, the team knows that they need to find a more reliable pitcher and Mr. Mumford's golden arm seems to be heaven-sent. Everything is going beautifully until bets are made, prompting Mr. Mumford's no-nonsense wife to forbid letting him play amidst such silly gambling.
Fun Fact!
This episode is shot with all the players on the Sleepy Eye team wearing gloves when fielding. However, this was a time period costuming error, because all fielders didn't start wearing gloves until the late 1890s.
Did you know?
In this episode, Laura writes the number "2" on the scoreboard, but when they show the scoreboard in a later scene, the shape of the "2" changes.
Season 2, Episode 5 – Haunted House
Description:
Laura goes into a haunted house when Nellie dares her to do it. She becomes a friend of the old man that lives there, Mr. Pike. She finds out that he is waiting for his wife to return. After Laura learns that Mrs. Pike died years ago, she helps Mr. Pike cope with the death of his wife.
Fun Fact!
This haunted house is the same house that was used later as the blind school.
Did you know?
Alison Arngrim's ("Nellie Oleson") parents both worked in the entertainment industry. Her father represented the famous pianist, singer, and actor, Liberace. Her mother was a voice actress, best known for voicing characters such as Casper the Friendly Ghost and Gumby. For more information check out Alison's autobiography.
Favorite Quote:
Amos Pike: "You're a regular snippety snap. Ain't ya?"
Laura Ingalls: "What's a snippety snap?"
Amos Pike: "People like you!"
Season 2, Episode 6 – The Spring Dance
Description:
Laura and Grace Snider are both in low spirits when they are left with no dates for the spring dance. Feeling that Grace is under-appreciated by Isaiah Edwards, Caroline uses memories of her courtship with Charles to provide her friend with strategies to make Isaiah jealous. Laura overhears their conversation and applies it to her own experiences.
Fun Fact:
Laura convinces Willie to help her make Henry jealous and then gets irritated with him because he will not hold her hand all the time. His excuse? He has to go to the outhouse, a lot.
Did you know?
Henry (Actor Clay O'Brien) was one of John Wayne's favorite child actors which led him to garner many roles in westerns. He grew up to become a champion rodeo rider and holds seven records in Free Roping.
Season 2, Episode 7 & 8 – Remember Me – Parts 1 & 2
Description:
A widowed mother named Julia Sanderson learns she has a terminal illness and has no close relatives to care for her three children, John Jr., Carl, and Alicia. Charles promises Mrs. Sanderson the children will find a new home. Meanwhile, the relationship between Mr. Edwards and Grace Snider begins to really blossom.
Fun Fact!
Michael Landon (Charles 'Pa' Ingalls) wrote the poem "Remember Me" that is read at Julia's funeral. Melissa Gilbert went on to read this poem at Landon's funeral years later.
Did you know?
"Remember Me Part 2" is the first of many episodes in which Charles Ingalls takes on the role of finding homes for orphaned children.
Season 2, Episode 9 – The Campout
Description:
When Ms. Beadle assigns a leaf-gathering project to her students, Mary and Laura are excited to find unique leaves on an upcoming camping trip with the family. Harriet convinces her husband to let their family go with the Ingalls. Although the two families have a difficult time adjusting to this extended period of time together, they gradually come to have a deeper respect for one another.
Fun Fact!
Michael Landon (Charles 'Pa' Ingalls) can be heard to say "wow" when Harriet Oleson arrives in the woods. The word "wow" was banned from the set because it was too modern for the time period.
Did you know?
The water was so cold that both Melissa Gilbert and Alison Arngrim wore wet suits under their dresses. Alison Arngrim remembers this episode fondly.
Season 2, Episode 10 – At The End of the Rainbow
Description:
While fishing in a stream, Laura and a friend discover something shiny in the water. Believing that it is gold, Laura and Jonah take many secret trips to this spot to gather it all. Laura fantasizes about all the wonderful things she can afford for her family, but when she and Jonah haul their findings to the bank, they are both heartbroken and humiliated to learn that it is only fool's gold.
Fun Fact!
In this episode Laura dreams that her family is wealthy and that the Oleson family is poor. This is the only episode where we see the Oleson family depicted as being poor and where the Ingalls family dresses up in fancy white clothing.
Did you know?
In this episode, viewers have the rare occasion of seeing Alison Arngrim without her wig on, and what's more, her hair is not done in curls.
Season 2, Episode 11 – The Gift
Description:
Reverend Alden's birthday is coming up, and the Sunday School children have raised enough money to purchase a gift. School treasurer Mary is elected to order the gift and present it to the Reverend, but with only $1.67 to spend, it's obvious that they can't afford anything fancy…until Laura coaxes Mary into taking a dangerous gamble to double the money.
Fun Fact!
Lauren Tuttle, the actress who plays Mrs. Molson, was also a very well-known radio actress. Later in life, she became an acting coach. Her only daughter married the famous movie score composer John Williams ("Star Wars", "Superman", and many others).
Did you know?
If you look closely at where Doctor Baker is sitting in the Church scene at the end of this episode, you can see a heart shape that says "Jason Loves Laura" from the Season 2 episode "The Talking Machine." However, this particular episode was aired before "The Talking Machine" episode.
Season 2, Episode 12 – His Father's Son
Description:
Isaiah and Grace Edwards are both delighted with their new family, but trouble soon begins between Isaiah and his oldest adopted son John. Isaiah does not understand the boy's interest in books and poetry, and he would much prefer a son with whom he could farm and hunt. That clearly is not the kind of life John enjoys, but Isaiah keeps pushing it.
Fun Fact!
As they are celebrating John's birthday, pay close attention to the writing on the chocolate cake before Grace puts it on the table. "Happy Birthday John" is spelled out perfectly. Then, once he blows out the candles, look at the cake closely again. There is no "H" in the word birthday!
Did you know?
In this episode, Mr. Edwards is attacked by a bear. It is not a real bear though; it is actually Michael Landon himself, in a bear suit!
Favorite Quote:
"Emerson wrote about it in that book you're bringing to John. He said there are two classes of poets. Poets by education and practice, those we respect, and poets by nature, those we love." -Charles Ingalls (answering Mary's question about whether poets have to go to college)
Season 2, Episode 13 – The Talking Machine
Description:
Nellie and Laura both begin clamoring for the affections of a boy at school. Angered when Jason indicates a preference for Laura over her, Nellie attempts to sabotage their relationship by using her brand-new talking machine as a malicious tool for blackmail.
Fun Fact!
Nellie uses a "talking machine" to secretly tape the confidential conversation between her and Laura about Jason. Magnetic wire recording and magnetic tape recording were first developed by Valdemar Poulsen in the 1890s.
Did you know?
This is one of the first episodes where Nellie and Laura are rivals for the affections of a classmate, Jason. But Jason only has feelings for Laura and is too shy to admit it to anyone until the end, where they share a kiss.
Season 2, Episode 14 – The Pride of Walnut Grove
Description:
Mary is thrilled to learn that she has qualified for a state-wide mathematics competition, but the excitement is halted when Charles cannot afford the expenses for the trip. When Mary silently forfeits, the school board recognizes the problem and agrees to finance the whole thing. Caroline accompanies Mary on the trip, while Laura steps in at home to care for both Charles and Carrie.
Fun Fact!
Surprisingly enough, the school board's unanimous decision to finance Mary's trip for the math competition included a "yes" vote from Mrs. Oleson.
Did you know?
Pay close attention to the girls' clothing when Mary tells Miss Beadle she is forfeiting her spot in the math competition. Mary has on a solid purple dress and Laura has on a green flowered calico. A bit later, Laura runs back into the school yelling for Miss Beadle while wearing a white pinafore that she did not have on in the scene a few seconds earlier.
Season 2, Episode 15 – A Matter of Faith
Description:
Caroline decides to stay home while Charles takes the girls on a trip, but this rare alone time is aggravated when a minor scratch on her leg flares into a major infection. Caroline is close to death when Charles finally gets home to her, and in the wake of this terrifying event, the family realizes – more than ever – the invaluable role of this beloved wife and mother in their lives.
Fun Fact!
Author Laura Ingalls Wilder wrote a special tribute to her mother in 1921 called "Mother, A Magic Word". In this poem, she honors her mother's loving guidance and caring spirit.
Did you know?
"A Matter of Faith" is Karen Grassle's ("Ma" Ingalls) favorite episode from Season 2.
Season 2, Episode 16 – The Runaway Caboose
Description:
Mary, Laura, and Mr. Edwards' adopted son Carl long to get a first-hand look at the kinds of trains they learn about in school. The kids eventually con their parents into letting them go on a business trip with them. While messing around on a caboose at the train station, the children are in for the ride of their lives when it detaches from the rest of the train and runs loose.
Fun Fact!
"The Runaway Caboose" is Brian Part's (Carl Edwards-Sanderson) favorite episode.
Did you know?
The locomotive used in this episode, Sierra Railroad #3, actually appeared in many movies and TV shows. One of them being "Petticoat Junction."
Season 2, Episode 17 – Troublemaker
Description:
Despite Miss Beadle's continued kindness and effective teaching, the school board calls an emergency meeting as her deteriorating classroom management hits an all-time low. It is agreed that a male teacher will be hired in her place, but the mean-spirited Mr. Applewood immediately clashes with Laura, blaming her unfairly for several incidents in his classroom.
Fun Fact!
Richard Basehart, who guest-starred as Mr. Applewood in this episode, was best known for his future narration on the "Knight Rider" TV series, in 1982.
Did you know?
Charlotte Stewart (Miss Beadle) is publishing her memoir Little House in the Hollywood Hills: A Bad Girl's Guide to Becoming Miss Beadle, Mary X, and Me in June of 2016. In her book, she writes about the experience of making the "Little House on the Prairie" TV show – the challenges, the joys, and the sometimes turbulent behind-the-scenes relationships.
Favorite Quote:
"You owe my wife a thank you. She asked me to be nice to you." -Charles Ingalls
Season 2, Episode 18 – The Long Road Home
Description:
Charles, Mr. Edwards, and two other men take a job that involves handling and transporting explosives. They must deal with many things along the road, including prejudice.
Fun Fact!
The intolerant driver Murphy is played by Richard Jaeckel. The actor appears again in Season 7's "Sylvia" as town blacksmith Irv Hartwig.
Did you know?
This is one of several episodes dealing with not only pioneer hardships but prejudice. On the train ride home, when the black man is refused a seat in first class, all four men agree to ride together on a lowly freight car.
Season 2, Episode 19 – For My Lady
Description:
When Charles agrees to do some handy work for Widow Thurman, he forfeits any monetary compensation and works instead for Thurman's old china set – a gift that he knows Caroline would love. This does require some sneakiness on Charles' part, and as he spends increasing amounts of time at the Widow Thurman's house, Caroline struggles to maintain her trust in her husband.
Fun Fact!
Sidney Greenbush played Carrie Ingalls on the TV show along with her twin sister. Sidney was a member of the Women's Professional Rodeo Association and was a top-ranked barrel racer on the West Coast in 2001.
Did you know?
The shot of Laura and Mary walking up a hill toward a flock of sheep was reused from the episode "Ebenezer Sprague".
Season 2, Episode 20 – Centennial
Description:
Everyone in Walnut Grove is excited about the upcoming 100th birthday of the United States of America, and to commemorate the occasion, the town is planning a community picnic, complete with games, fireworks, and a brand-new flagpole. Unfortunately, everyone's spirits plummet in the wake of a drastic tax increase, which creates problems for hard-working families like the Ingalls.
Fun Fact!
William Schallert, noted role actor, plays a character named Snell in this episode. He appears again as Reverend Dean Harmon (and former love interest of Harriet Oleson) in the Season 6 story "The Preacher Takes a Wife."
Did you know?
In 1876 the Governor of Minnesota was John Pillsbury. However, the news of new road construction in the papers originated from the office of Governor Applewood in this episode.
Season 2, Episode 21 – Soldier's Return
Description:
Mrs. Whipple is beside herself with excitement when her only son returns home. After fighting in the Civil War, Granville does his best to re-adjust to the outside world, but with so much emotional trauma to deal with, he tries to avoid it, which affects more than just himself.
Fun Fact!
This is the only episode where Queenie Smith (Mrs. Whipple) has a prominent role.
Did you know?
Mrs. Whipple's son, Granville, is the first of three Little House characters with a morphine addiction. In Season 9 of the show, Albert Ingalls and Mr. Edwards' adopted son Matthew Rogers each go through withdrawal.
Season 2, Episode 22 – Going Home
Description:
Feeling pleased and hopeful about the success of his current crop, Charles and his family must confront serious devastation when it is completely destroyed by a tornado. Never one to get discouraged and throw in the towel after facing adversity, Charles stuns his wife and children with his reaction to this loss, and he makes a life-changing decision without consulting them first.
Fun Fact!
Charles, who is generally known to be upbeat and motivating, displays a rare, defeated attitude in this episode. If you think back to recent episodes, it makes sense. His crop had failed to sell ("The Long Road Home"), and his property taxes were doubled ("Centennial"). The tornado in this episode, and the damage it causes, justifiably seems to push him over the edge.
Did you know?
Sharing their first kiss in this episode, Mary and John Jr. (Sanderson) Edwards, also admit to one another that they are in love. John Jr. was played by Radames Perá who is also well known for his role as "Grasshopper" in the 1972-1975 television series "Kung Fu".
What is your favorite episode from this season? Be sure to subscribe to our free newsletter for all the latest show information!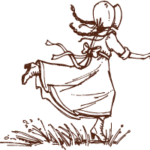 The editors of the Little House on the Prairie® website are pleased to bring you interesting articles, interviews, fan features, videos, and much more.