Mr. Edwards was taking sweet potatoes out of his pockets. He said they had helped to balance the package on his head when he swam across the creek. He thought Pa and Ma might like them, with the Christmas turkey.
There were nine sweet potatoes. Mr. Edwards had brought them all the way from town, too. It was just too much. Pa said so. "It's too much, Edwards," he said. They never could thank him enough.
—Little House on the Prairie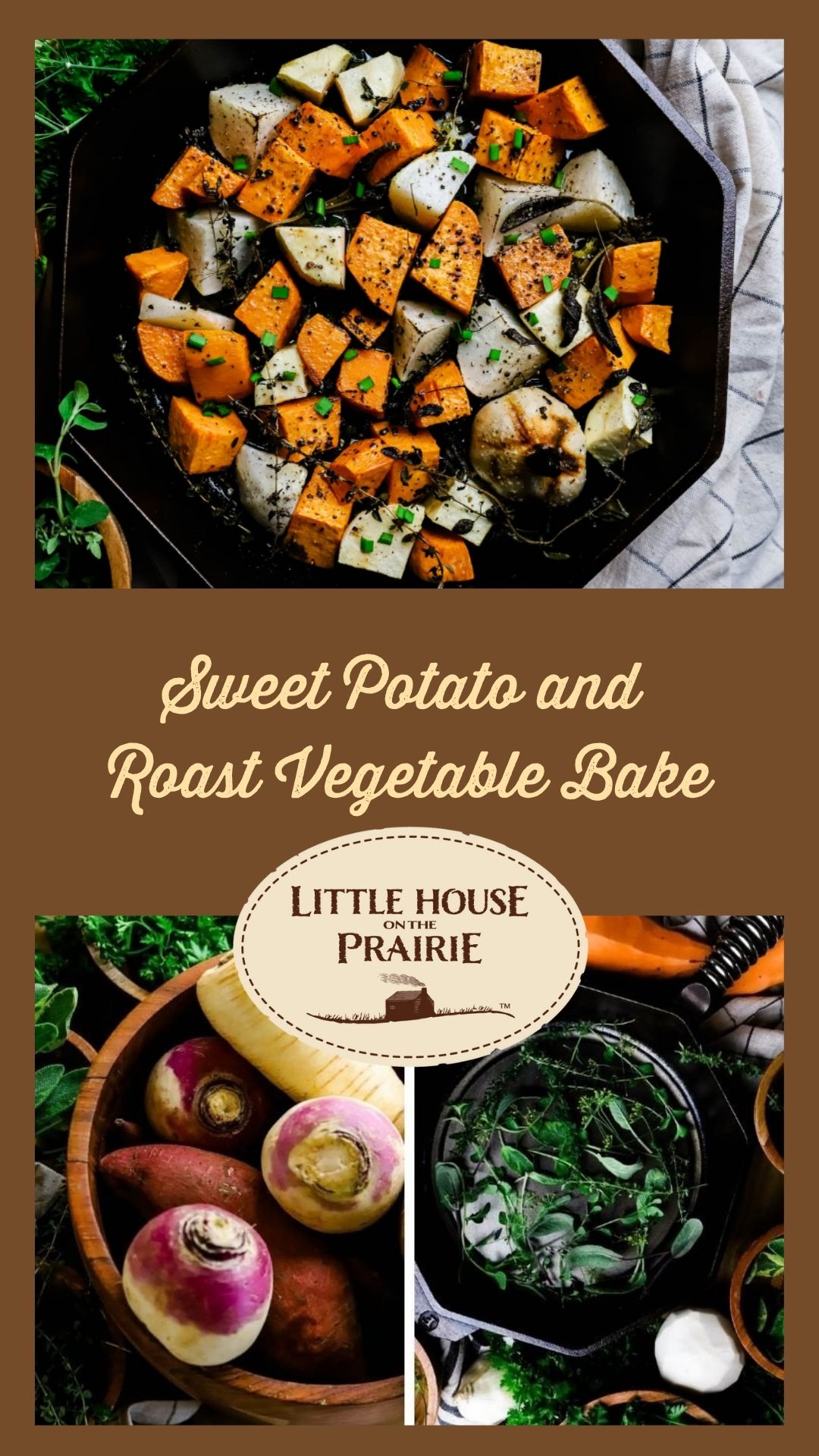 "For Christmas dinner, there was tender, juicy, roasted turkey. There were the sweet potatoes, baked in the ashes and carefully wiped to that you could eat the good skins, too. There was a loaf of salt-rising bread made from the last of the white flour."
This easy and savory Sweet Potato and Root Vegetable Bake recipe would be an ideal dish and perhaps even commonplace in the Ingalls' home in Walnut Grove, Minnesota, during the late 1800s.
Imagine, the scene is set: Pa carries an assortment of root vegetables up from the root cellar to Ma, Mary, and Laura who wash, scrub, and slice sweet potatoes, turnips, and a few parsnips for a favorite holiday dish.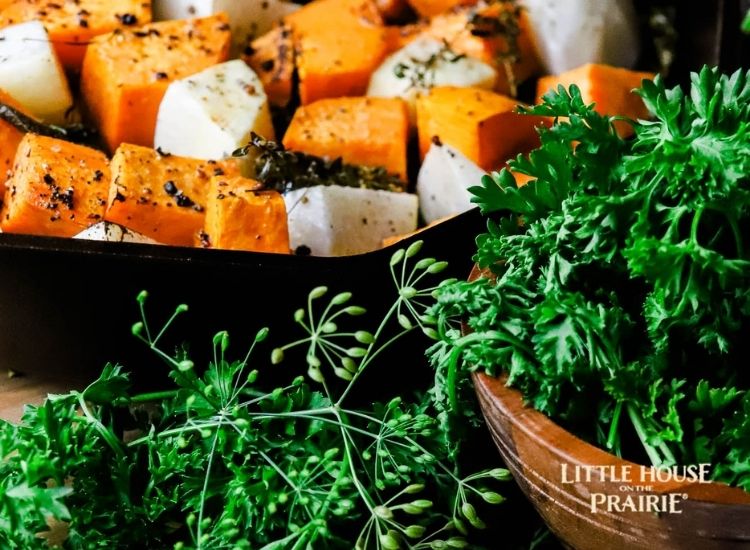 And since sage and thyme are perennial evergreens, they can be grown and harvested year round. Although oregano is not as hardy as sage and thyme, it can often thrive in late November and early December. All three can be dried and stored for use all year long. When the herbs are dried, the flavors intensify, leading to even more flavorful dishes.
For this easy and delicious rustic recipe, I prepared sweet potato, turnips, and parsnips in a simple yet satisfying dish that pairs well with roast chicken, turkey, quail, country ham, or venison.
And that's not all; additional root vegetables like carrots, beets, garlic, ginger, onions, potatoes, and rutabagas were just as likely to be found in root cellars throughout the midwest.
These conventional food staples are what kept families going throughout the long and frigid winter months.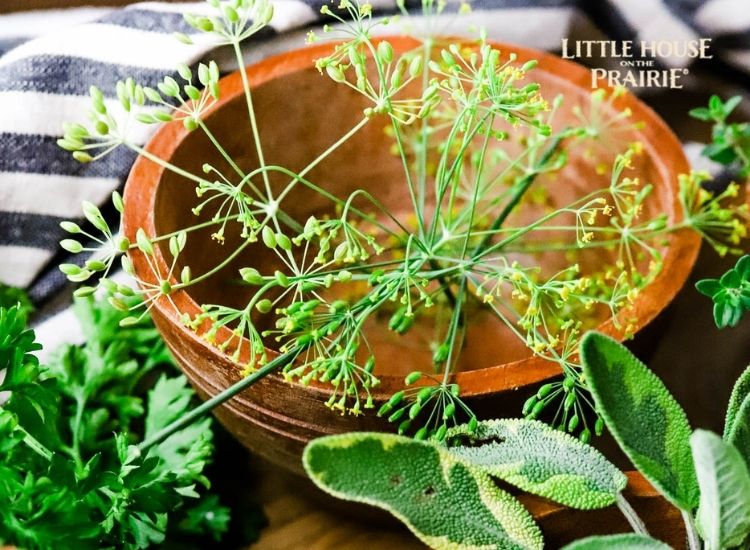 How to make Sweet Potato and Root Vegetable Bake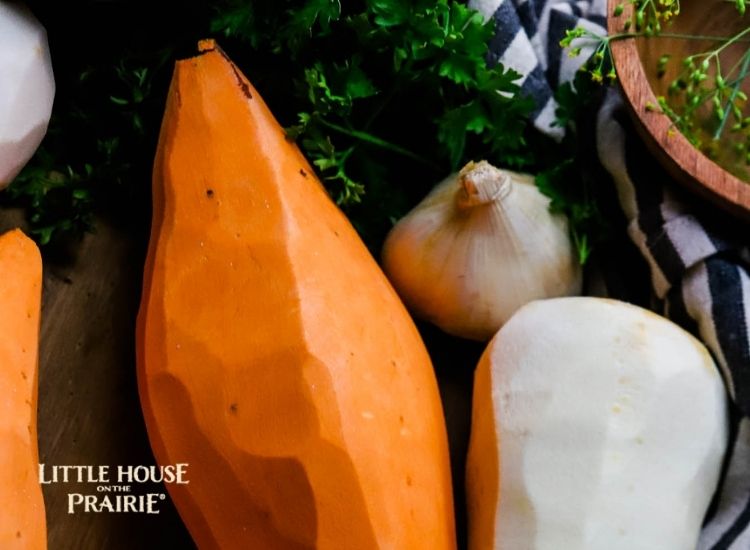 Ingredients:
2 large sweet potatoes
2 medium turnips
1-2 medium parsnips
1 large garlic clove
2 tbsp rendered bacon grease
2 tsp coarse sea salt or Kosher salt
1 tsp freshly cracked black peppercorns
1 small bunch of fresh sage
5-6 sprigs of fresh thyme
5-6 sprigs of fresh oregano
2-3 stalks of fresh green onion or chives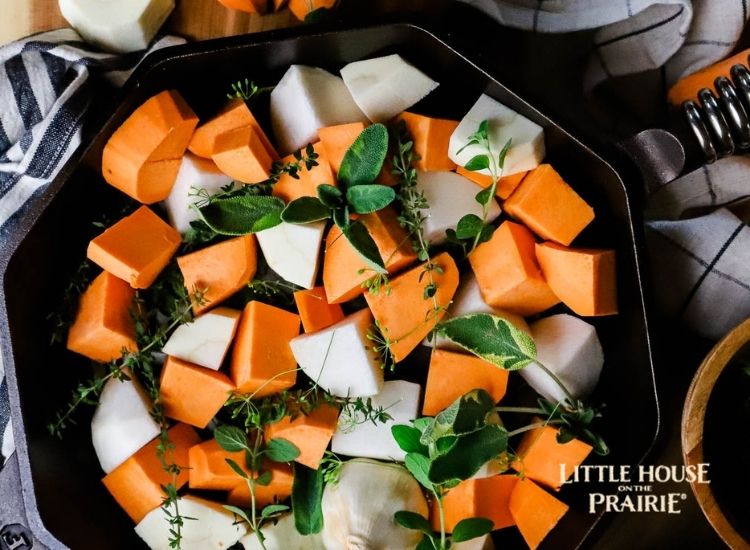 Directions:
Preheat the oven to 375°F.
Prep sweet potatoes and turnips by quartering the vegetables, cutting the parsnips into one-inch slices, and then cutting the slices in half.
Place the root vegetables into the bottom of a cast-iron skillet and toss with two tablespoons of rendered bacon fat.
Arrange fresh sage, thyme, and oregano in-between the assorted root vegetables. Scatter with coarse sea salt and freshly ground black peppercorns.
Place the skillet onto the center rack of a preheated oven.
Cook the root vegetables for 40 minutes. Remove from the oven, top with fresh green onion or chives, and serve.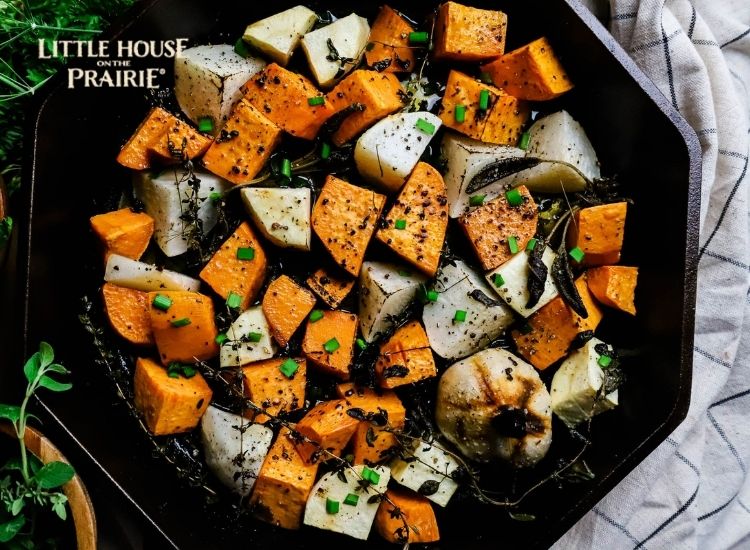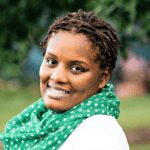 Tatanisha plays a Super-Fun Mom to three active & handsome boys. A Foodie at heart and Wife to an awesome Chef.
When she's not blogging about ways to save money or about autism, she loves to travel and try new food. You can find her creating new tablescapes over at A Worthey Read, as well as saving you money on A Mitten Full of Savings.