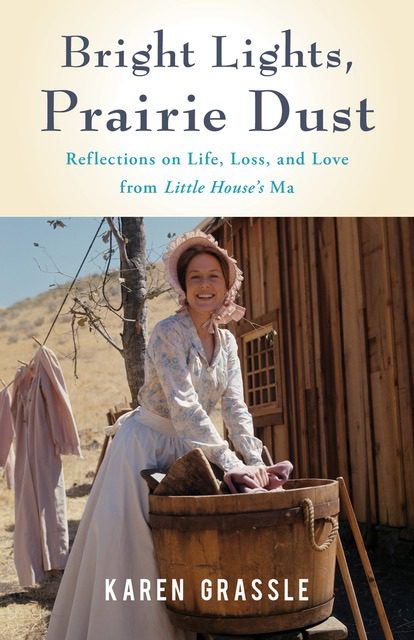 Author: Karen Grassle
Publisher: She Writes Press (November 16, 2021)
Synopsis:
Karen Grassle, the beloved actress who played Ma on Little House on the Prairie, grew up at the edge of the Pacific Ocean in a family where love was plentiful but alcohol wreaked havoc. In this candid memoir, Grassle reveals her journey to succeed as an actress even as she struggles to overcome depression, combat her alcohol dependence, and find true love. With humor and hard-won wisdom, Grassle takes readers on an inspiring journey through the political turmoil on '60s campuses, on to studies with some of the most celebrated artists at the famed London Academy of Music and Dramatic Arts, and ultimately behind the curtains of Broadway stages and storied Hollywood sets. In these pages, readers meet actors and directors who have captivated us on screen and stage as they fall in love, betray and befriend us, and don costumes only to reveal themselves. We know Karen Grassle best as the proud prairie woman Caroline Ingalls, with her quiet strength and devotion to family, but this memoir introduces readers to the complex, funny, rebellious, and soulful woman who, in addition to being the force behind those many strong women she played, fought passionately―as a writer, producer, and activist―on behalf of equal rights for women. Raw, emotional, and tender, Bright Lights celebrates and honors womanhood, in all its complexity.
About the Author: Karen Grassle
Karen Grassle, known around the world for her iconic role as "Ma" on Little House on the Prairie, grew up in Ventura, California. Raised by hardworking parents whose relationship was undercut by the alcoholism of her father, Karen graduated from UC Berkeley and attended the London Academy of Music and Dramatic Art on a Fulbright. She went on to a career in New York as well as in theatres all over the US. She co-wrote and starred in the TV film Battered and is known for her advocacy on behalf of equality for women. In the last fifteen years, she has appeared in plays nationwide, as well as in three indie films. She resides in the San Francisco Bay Area and takes pleasure in her relationship with her son, Zach Radford, and spending free time in the garden. She lives in El Cerrito, CA.
Pick up your copy of Bright Lights, Prairie Dust: Reflections on Life, Loss, and Love from Little House's Ma here.
Check out our Recommended Reading for Adults and Recommended Reading for Children & Young Adults for more great books and be sure to subscribe to our newsletter for information and recommendations about interesting reading and activities.