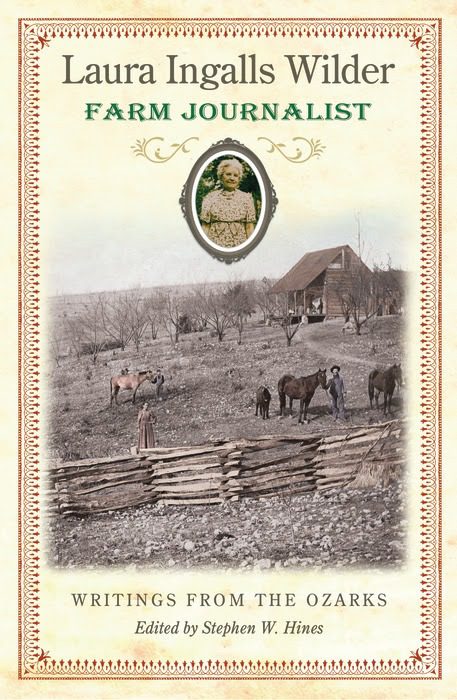 Author: Laura Ingalls Wilder
Editor: Stephen Hines
Publisher: University of Missouri Press (April 30, 2008)
Synopsis:
Before Laura Ingalls Wilder found fame with her Little House books, she made a name for herself with short nonfiction pieces in magazines and newspapers. Read today, these pieces offer insight into her development as a writer and depict farm life in the Ozarks—and also show us a different Laura Ingalls Wilder from the woman we have come to know. This volume collects essays by Wilder that originally appeared in the Missouri Ruralist between 1911 and 1924. Building on the initial compilation of these articles under the title Little House in the Ozarks, this revised edition marks a more comprehensive collection by adding forty-two additional Ruralist articles and restoring passages previously omitted from other articles. Writing as "Mrs. A. J. Wilder" about modern life in the early twentieth-century Ozarks, Laura lends her advice to women of her generation on such timeless issues as how to be an equal partner with their husbands, how to support the new freedoms they'd won with the right to vote, and how to maintain important family values in their changing world. Yet she also discusses such practical matters as how to raise chickens, save time on household tasks, and set aside time to relax now and then. New articles in this edition include "Making the Best of Things," "Economy in Egg Production," and "Spic, Span, and Beauty." "Magic in Plain Foods" reflects her cosmopolitanism and willingness to take advantage of new technologies, while "San Marino Is Small but Mighty" reveals her social-political philosophy and her interest in cooperation and community as well as in individualism and freedom. Mrs. Wilder was firmly committed to living in the present while finding much strength in the values of her past. A substantial introduction by Stephen W. Hines places the essays in their biographical and historical context, showing how these pieces present Wilder's unique perspective on life and politics during the World War I era while commenting on the challenges of surviving and thriving in the rustic Ozark hill country. The former little girl from the little house was entering a new world and wrestling with such issues as motor cars and new "labor-saving" devices, but she still knew how to build a model small farm and how to get the most out of a dollar. Together, these essays lend more insight into Wilder than do even her novels and show that, while technology may have improved since she wrote them, the key to the good life hasn't changed much in almost a century. Laura Ingalls Wilder, Farm Journalist distills the essence of her pioneer heritage and will delight fans of her later work as it sheds new light on a vanished era.
About the Author: Laura Ingalls Wilder
Laura Ingalls Wilder was born in 1867 in the log cabin described in Little House in the Big Woods. She and her family traveled by covered wagon across the Midwest. Later, Laura and her husband, Almanzo Wilder, made their own covered-wagon trip with their daughter, Rose, to Mansfield, Missouri. There, believing in the importance of knowing where you began in order to appreciate how far you've come, Laura wrote about her childhood growing up on the American frontier. For millions of readers, Laura lives on forever as the little pioneer girl in the beloved Little House books.
About the Editor: Stephen Hines
In the last twenty-four years, Stephen Hines has published seventeen books with over 600,000 copies in print. Using his skills as a literary prospector, Hines has researched and developed four bestsellers: Little House in the Ozarks (1991), I Remember Laura (1994), The Quiet Little Woman: A Christmas Story (1999), and Laura Ingalls Wilder, Farm Journalist: Writings from the Ozarks (2007).
Little House in the Ozarks was a Publishers Weekly bestseller and The Quiet Little Woman landed on the USA Today gift book list. Hines spends his time in magazine and reference archives, on the Internet, and in university, libraries to make his discoveries. His Ozarks book republished over 140 forgotten columns of the famous children's author Laura Ingalls Wilder. It was the first time these columns had been published in book form. It was also a major Christian Booksellers Association title, though most of the sales were in regular trade stores. The Quiet Little Woman was a significant success for Honor Books. These Christmas stories by Louisa May Alcott reintroduced the nineteenth century's most popular writer for children to a whole new generation of readers and have led to the publication of two more books: Kate's Choice (2001) and Louisa May Alcott's Christmas Treasury (2002). A release for 2006, Writings to Young Women From Laura Ingalls Wilder helped to revive interest in Mrs. Wilder's biography from those years that followed her childhood as she continued to pioneer on the Ozark hill farm she shared with her husband Almanzo and daughter Rose. This three-book series honored Mrs. Wilder's birth 140 years earlier (in 1867) in Pepin, Wisconsin. The University of Missouri released in 2007 Laura Ingalls Wilder, Farm Journalist: Writings from the Ozarks collected all of Mrs. Wilder's writings for the old Missouri Ruralist farm paper and published them just as they originally appeared between 1911 and 1925. Hines's eighteenth book was released September 1, 2011: Titanic: One Newspaper, Seven Days, and the Truth That Shocked the World. The work memorialized the 100th anniversary of the sinking of the RMS Titanic on the night of April 14/15, 1912.
As a graduate student at Ball State University in Muncie, Indiana, Hines started his career by editing and writing for the Indiana Oral History Newsletter. After graduation, Hines moved to Asheville, North Carolina, to work as a copy editor for The Presbyterian Journal, now called World magazine. From Asheville, Hines and his family moved to Nashville, Tennessee, to work for Thomas Nelson Publishers where he eventually became managing editor. After several years at Thomas Nelson, he went to work as an editor for Wolgemuth Hyatt, Publishers, and then went to M. Lee Smith Publishers. Now he writes and edits from his home. Hines and his family live near Nashville. His hobbies include compulsive reading, competitive running, and songwriting. From 2001 to 2003 he was founding Director of Communications for the Tennessee Department of Children's Services. A website, LiteraryProspector.Com, gives would-be writers advice and ideas on how to get started in publishing and relates the latest information on his Titanic book. His poetry has appeared in The Tennessean, The Nashville Scene, InReview, and Hills & Hamlets. He currently writes a column for The Nolensville Dispatch.
Pick up your own copy of Laura Ingalls Wilder, Farm Journalist: Writings from the Ozarks here.
Check out our Recommended Reading for Adults and Recommended Reading for Children & Young Adults for more great books.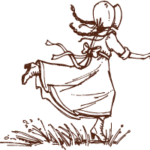 The editors of the Little House on the Prairie® website are pleased to bring you interesting articles, interviews, fan features, videos, and much more.