Our Recommended Reading for Children & Young Adults and Recommended Reading for Adults articles have been popular resources for readers interested in Laura Ingalls Wilder and Little House on the Prairie. Here is a brief overview of Laura: The Life of Laura Ingalls Wilder.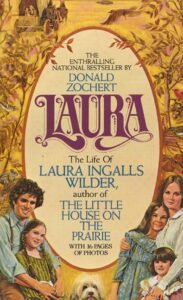 Author: Donald Zochert
Publisher: Avon (May 1, 1977)
Synopsis:
From a little house set deep in the 'Big Woods' of Wisconsin, across Indian territory and into the Dakotas, Laura's family moved westward right along the frontier. Their true-life saga, beloved by countless millions of TV viewers and readers of the bestselling Little House books, is one of spirit and devotion in the face of bitter-cold winters, wilderness trails, and heartbreaking personal tragedy. Here, for the first time, and drawing on her own unpublished memoirs is the endlessly fascinating full account of Laura's life — from her earliest years through her enduring marriage to Almanzo Wilder, the "farmer boy" of her stories.
About the Author: Donald Zochert
Donald Paul Zochert, Jr. was born in 1938 in Oak Park, Illinois.  He began his career with United Press International as a reporter and went on to work for the Chicago Daily News until 1978 when he became a freelance writer full time.  Other works include Murder in the Hellfire Club (Penguin 1980), The Man of Glass: A Nick Caine Adventure (Holt Rinehart and Winston 1981), and Yellow Dogs (Atlantic Monthly Press 1989).  Donald now resides in the Western Suburbs of Chicago.
Pick up your own copy of Laura: The Life of Laura Ingalls Wilder here.
Check out our Recommended Reading for Adults and Recommended Reading for Children & Young Adults for more great books.