Our Recommended Reading for Children & Young Adults and Recommended Reading for Adults articles have been popular resources for readers interested in Laura Ingalls Wilder and Little House on the Prairie. Here is a brief overview of Laura's Album: A Remembrance Scrapbook.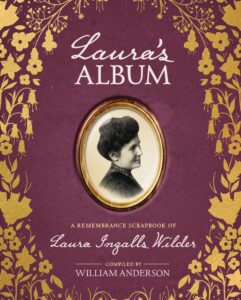 Editor: William Anderson
Publisher: HarperCollins (October 13, 1998)
Synopsis:
Though best known as the author of the Little House books, Laura Ingalls Wilder led a full, rich life that spanned almost a century of American history. All through her life Laura saved mementos of her past, including early writings, letters, drawings, and photographs, which have been lovingly preserved in private and public collections across the country. Now, for the first time ever, these photographs, writings, and memorabilia have been gathered together in one incredible volume by noted Little House historian William Anderson. Each gorgeous page of Laura's Album is a doorway into the private world of Laura Ingalls Wilder, and offers a unique glimpse of what her life was like. Here is the fascinating true story of this remarkable pioneer woman's life as well as an unforgettable tale of our own American past.
About the Editor: William Anderson
William Anderson (born 1952) is an American author, historian and lecturer. He is a specialist in the subject of Laura Ingalls Wilder and her times. His interest in the American frontier began after reading Little House on the Prairie. He is a director of the Laura Ingalls Wilder Home and Museum in Mansfield, Missouri, and he lives and works as a teacher in Michigan. He has received many recognitions for his writings, including the Western History Association's Billington Award, the Robinson award of the South Dakota State Historical Society, National Endowment for the Humanities awards and National Council of Social Studies.
Pick up your own copy of Laura's Album: A Remembrance Scrapbook here.
Check out our Recommended Reading for Adults and Recommended Reading for Children & Young Adults for more great books.