Our Recommended Reading for Children & Young Adults and Recommended Reading for Adults articles have been popular resources for readers interested in Laura Ingalls Wilder and Little House on the Prairie. Here is a brief overview of Libertarians on the Prairie.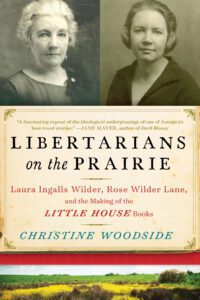 Author: Christine Woodside
Publisher: Arcade Publishing  (September 6, 2016)
Synopsis:
Generations of children have fallen in love with the pioneer saga of the Ingalls family, of Pa and Ma, Laura and her sisters, and their loyal dog, Jack. Laura Ingalls Wilder's Little House books have taught millions of Americans about frontier life, giving inspiration to many and in the process becoming icons of our national identity. Few realize that this cherished bestselling series wandered far from the actual history of the Ingalls family and from what Laura herself understood to be central truths about pioneer life.
In this groundbreaking narrative of literary detection, Christine Woodside reveals for the first time the full extent of the collaboration between Laura and her daughter, Rose Wilder Lane. Rose hated farming and fled the family homestead as an adolescent, eventually becoming a nationally prominent magazine writer, biographer of Herbert Hoover, and successful novelist, who shared the political values of Ayn Rand and became mentor to Roger Lea MacBride, the second Libertarian presidential candidate. Drawing on original manuscripts and letters, Woodside shows how Rose reshaped her mother's story into a series of heroic tales that rebutted the policies of the New Deal. Their secret collaboration would lead in time to their estrangement. A fascinating look at the relationship between two strong-willed women, Libertarians on the Prairie is also the deconstruction of an American myth.
About the Author: Christine Woodside
Christine Woodside is a Connecticut-based writer and the editor of Appalachia, a journal of mountaineering and conservation. She grew up in a large family in Princeton, New Jersey, where she started reading Laura Ingalls Wilder's books in the mid-1960s. She earned an American civilization degree from the University of Pennsylvania, has published hundreds of articles on history and environmental subjects, worked for years as a newspaper reporter and magazine editor, and walked the entire Appalachian Trail from Georgia to Maine in one season. Her writing credits include author of Energy Independence (Lyons Press/Globe Pequot), and editor of Living on an Acre (Lyons Press/Globe Pequot) and No Limits But the Sky: The Best Mountaineering Stories from Appalachia Journal (Appalachian Mountain Club Books, 2014). Christine lives in Deep River, Connecticut with her husband. He and their two (now grown) daughters patiently accompanied her across the plains chasing the story of Libertarians on the Prairie.
Pick up your own copy of Libertarians on the Prairie here.
Check out our Recommended Reading for Adults and Recommended Reading for Children & Young Adults for more great books.