There are many challenges that come from life on a farm, but there's a big payoff, too. Food on the table at a farmhouse is as good as it comes.
In Farmer Boy, the third book in the Little House on the Prairie series, we learn about life on the Wilder family farm in Upstate New York. Food was plentiful, and Almanzo's mother was known for her cooking.
At one meal, "Almanzo ate four large helpings of apples 'n onions fried together. He ate roast beef and brown gravy, and mashed potatoes and creamed carrots and boiled turnips, and countless slices of buttered bread with crab-apple jelly" (chapter 6, Filling the Ice-House). That was before dessert, which he gobbled up as well.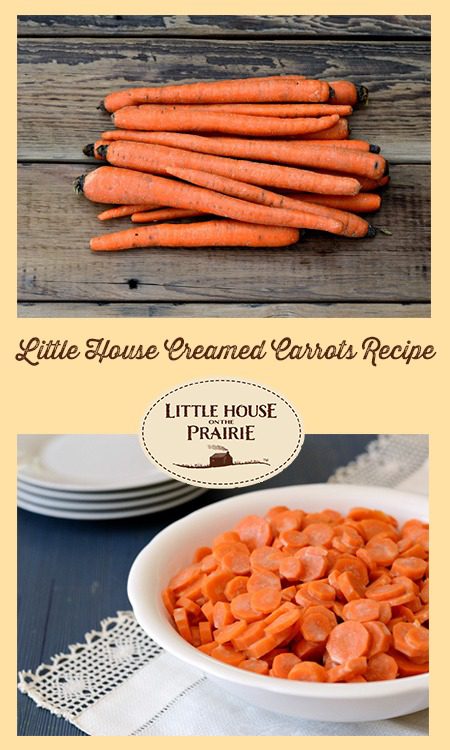 Carrots remain a farming staple in modern times. This recipe for Creamed Carrots comes from The Little House Cookbook. The creamy, savory topping is the perfect complement to the sweet carrots. Watch the carrots closely, so you don't overcook them. They should be just tender when you remove them from the stove.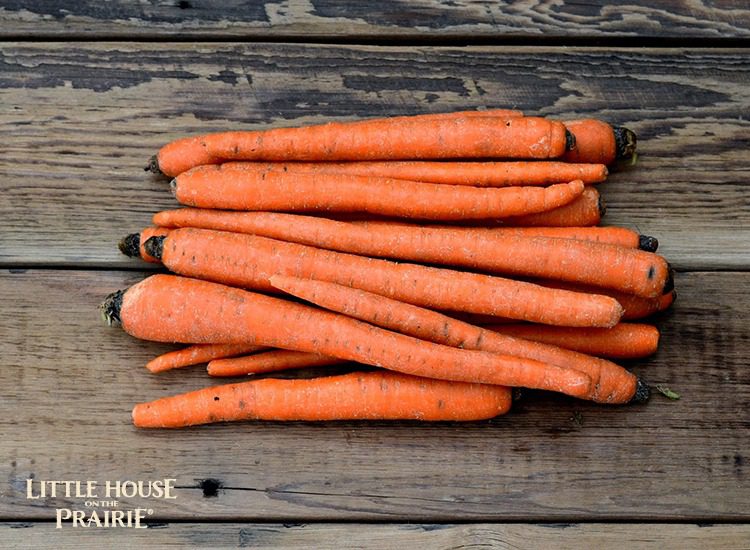 This recipe yields at least six servings. If necessary, the ingredients can be prepared ahead of time and reheated before serving.
Little House Creamed Carrots Ingredients
3 lbs. carrots
1 cup chicken broth or water
2 tbsp. butter, softened
2 tbsp. flour
¼ cup heavy cream or sour cream
salt and freshly ground pepper, to taste
Making Little House Inspired Creamed Carrots Recipe
Scrub the carrots and slice them into a 2-quart saucepan, cutting disks about ⅛- to ¼-inch thick. Add broth or water, cover, and simmer until almost tender (about 10 minutes).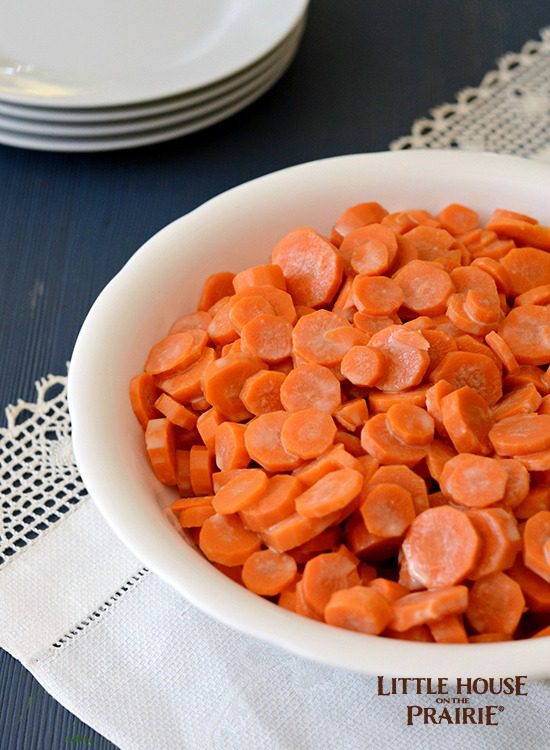 While the carrots are cooking, in a small bowl blend the butter and flour with a fork. Gradually add the cream to make a thin paste.
When the carrots are just tender, remove the pan from the heat and stir in the paste. Blend well with a wooden spoon, but be careful not to bruise the carrots. Return briefly to the stovetop to heat the sauce.
Turn into a serving dish and sprinkle with salt and pepper.
Do you plan to try out this recipe or read Farmer Boy to get additional cooking inspirations? Get more amazing recipes when you subscribe to Little House on the Prairie newsletter.
Note:
The author drew ideas and inspiration from The Little House Cookbook: Frontier Foods from Laura Ingalls Wilder's Classic Stories by Barbara M. Walker (New York: Harper & Row, 1979). You can read a review of this wonderful resource by clicking here.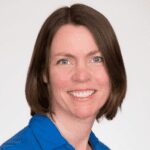 Annemarie Rossi is the creator of Real Food Real Deals and the author of Conquering Your Kitchen. Her website provides recipes and tips to help families eat healthy food on a budget. Annemarie's work has been featured in many places, including the Non-GMO Cookbook, Edible Boston magazine, Fox News Online, Babble, and Huffington Post. She lives in the Boston area with her husband and two children.