Our Recommended Reading for Children & Young Adults and Recommended Reading for Adults articles have been popular resources for readers interested in Laura Ingalls Wilder and Little House on the Prairie. Here is a brief overview of Little House, Long Shadow: Laura Ingalls Wilder's Impact on American Culture.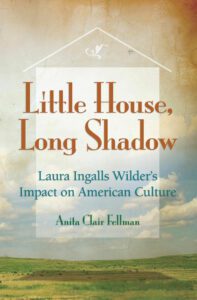 Author: Anita Clair Fellman
Publisher: University of Missouri Press (June 5, 2008)
Synopsis:
Beyond their status as classic children's stories, Laura Ingalls Wilder's Little House books play a significant role in American culture that most people cannot begin to appreciate. Millions of children have sampled the books in school; played out the roles of Laura and Mary; or visited Wilder homesites with their parents, who may be fans themselves. Yet, as Anita Clair Fellman shows, there is even more to this magical series with its clear emotional appeal: a covert political message that made many readers comfortable with the resurgence of conservatism in the Reagan years and beyond.
In Little House, Long Shadow, a leading Wilder scholar offers a fresh interpretation of the Little House books that examines how this beloved body of children's literature found its way into many facets of our culture and consciousness—even influencing the responsiveness of Americans to particular political views. Because both Wilder and her daughter, Rose Wilder Lane, opposed the New Deal programs being implemented during the period in which they wrote, their books reflect their use of family history as an argument against the state's protection of individuals from economic uncertainty. Their writing emphasized the isolation of the Ingalls family and the family's resilience in the face of crises and consistently equated self-sufficiency with family acceptance, security, and warmth. Fellman argues that the popularity of these books—abetted by Lane's overtly libertarian views—helped lay the groundwork for a negative response to big government and a positive view of political individualism, contributing to the acceptance of contemporary conservatism while perpetuating a mythic West.
Beyond tracing the emergence of this influence in the relationship between Wilder and her daughter, Fellman explores the continuing presence of the books—and their message—in modern cultural institutions from classrooms to tourism, newspaper editorials to Internet message boards. Little House, Long Shadow shows how ostensibly apolitical artifacts of popular culture can help explain shifts in political assumptions. It is a pioneering look at the dissemination of books in our culture that expands the discussion of recent political transformations—and suggests that sources other than political rhetoric have contributed to Americans' renewed appreciation of individualist ideals.
About the Author: Anita Clair Fellman
Anita Clair Fellman is Professor Emerita of History and Women's Studies at Old Dominion University and was Chair of the Women's Studies Department since 1988. Prior to joining the Old Dominion faculty, she held a similar position at Simon Fraser University in Burnaby, British Columbia. Under her directorship, the Women's Studies Program at Old Dominion became a department, offered a major and minor in women's studies, and offered undergraduate and graduate degrees in women's studies.
She earned her bachelor's degree from Oberlin College, her master's from the University of Michigan, and doctorate from Northwestern University. Her teaching career began at Barat College in Lake Forest, Illinois. She then taught at the University of British Columbia for two years. She joined the Simon Fraser University faculty in 1975, taking time out to lecture in the history department at the University of Haifa in Haifa, Israel, during 1980-1981. In addition to her teaching and writing careers, she also designed, co-produced, and wrote three television-program series on woman for British Columbia Knowledge Network.
Dr. Fellman received an "Award of Excellence" from the Canadian Association of University Continuing Education in 1985 for the independent education courses she designed and wrote for Continuing Studies at Simon Fraser University. Among the books she has authored or co-edited are: Rethinking Canada: The Promise of Women's History (3 editions); Ourselves as Students: Multicultural Voices in the Classroom; and Making Sense of Self: Medical Advice Literature in Late Nineteenth-Century America.
She currently lives in Norfolk, Virginia.
Pick up your own copy of Little House, Long Shadow: Laura Ingalls Wilder's Impact on American Culture here.
Check out our Recommended Reading for Adults and Recommended Reading for Children & Young Adults for more great books.