Laura and Pa went back to the house, carrying those flopping fish. Ma's eyes were round when she saw them. Pa cut off their heads and stripped out their insides and showed Laura how to scale fish. He scaled three, and she scaled almost all of one. Ma rolled them in meal and fried them in fat, and they all ate those good fish for supper…
—On the Banks of Plum Creek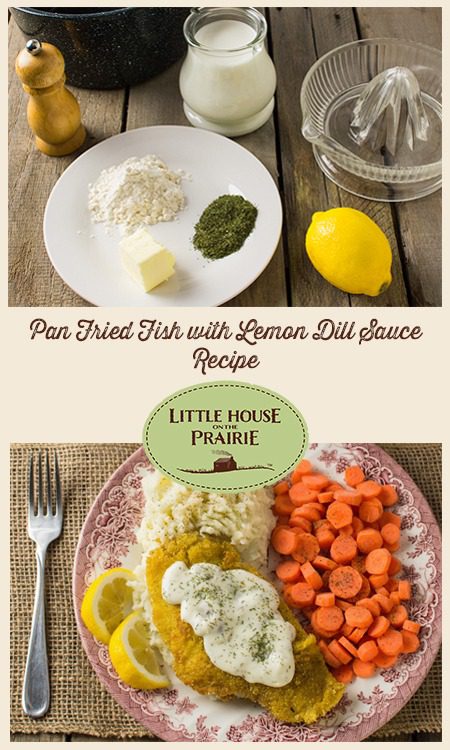 In On the Banks of Plum Creek, Pa and Laura build a fish trap and place it beneath a waterfall to catch fish coming over the falls. The trap is a success and they bring home several fish. Pa teaches Laura how to clean the fish and Ma shows her how to cook them.
Laura goes fishing often throughout the Little House on the Prairie books and in the "Little House on the Praire" TV Series. Not only is fishing a fun way to spend the day after chores are finished, but a good trip provides enough fish to feed the family for dinner.
In Laura's day, nothing would go to waste. After cleaning, the fish heads and bones may have been used to make a flavorful fish stock for soup or stew and then buried along with the entrails in the kitchen garden as fertilizer.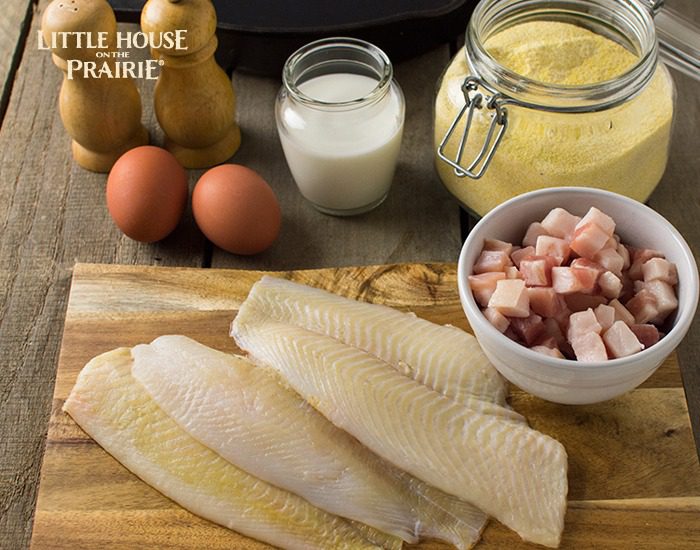 This recipe is adapted from the "Fried Fish" recipe in The Little House Cookbook with a few modern twists including the addition of lemon and the expansion of the variety of fish you can use.
Lemons were considered an exotic fruit in the pioneer days and were not a common cooking ingredient. Lemons were usually reserved for special occasions since the perishable citrus fruit had to be shipped from California or Florida. Instead, pioneer cooks probably used homemade apple cider vinegar to add a splash of acidity to their foods. Or they may have relied on lemon balm or lemon verbena herbs grown in the kitchen garden to provide a lemon flavor to meals.
Pan-Fried Fish with Lemon Dill Sauce
The original "Fried Fish" recipe from The Little House Cookbook calls for "pan fish." Pan fish are often referred to as any kind of fish that fits in a common frying pan. Chances are the catch of the day would vary depending on which fish were biting. I imagine Laura returned home with several small trout from the brooks and streams near their home. Larger rivers and ponds would offer catfish, perch, and pickerel. This recipe works well with any type of white-fleshed fish fillets that you can find at your local fish market or grocery store, including trout, haddock, striped bass, snapper, tilapia, perch, sole, or cod.
Consider serving with mashed potatoes and Little House Creamed Carrots.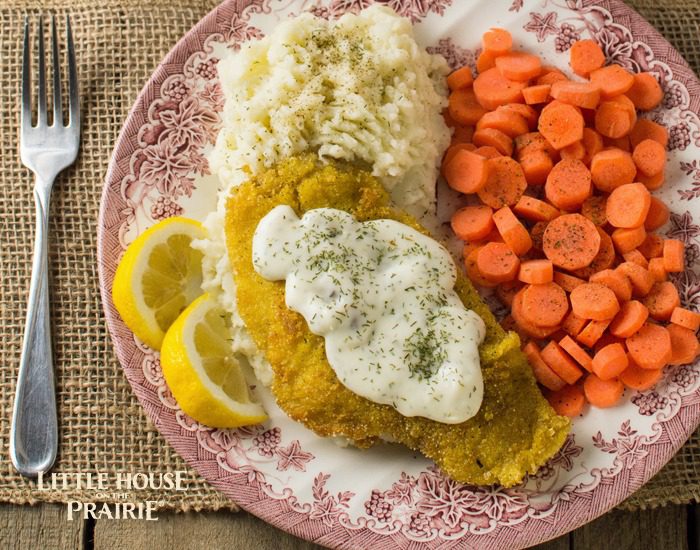 Ingredients for Pan-Fried Fish
1/4 pound of salt pork, cut into 1/4 inch pieces
2 pounds fish fillets
2 large eggs
4 tablespoons milk
1 1/2 cups

 

fine cornmeal
1/8 teaspoon

 

salt
1/8 teaspoon

 

pepper
Ingredients For the Lemon Dill Fish Sauce
2 tablespoons

 

butter
2 tablespoons

 

all-purpose flour
1 cup milk
1 tablespoons fresh lemon juice
1 tablespoons fresh dill, chopped (or 2 teaspoons dried dill)
1/8 teaspoon

 

pepper
Directions for Little House Inspired Pan-Fried Fish Recipe:
Step One
Thaw fish, if frozen. Rinse and pat dry with a clean kitchen towel. Cut into serving sized pieces.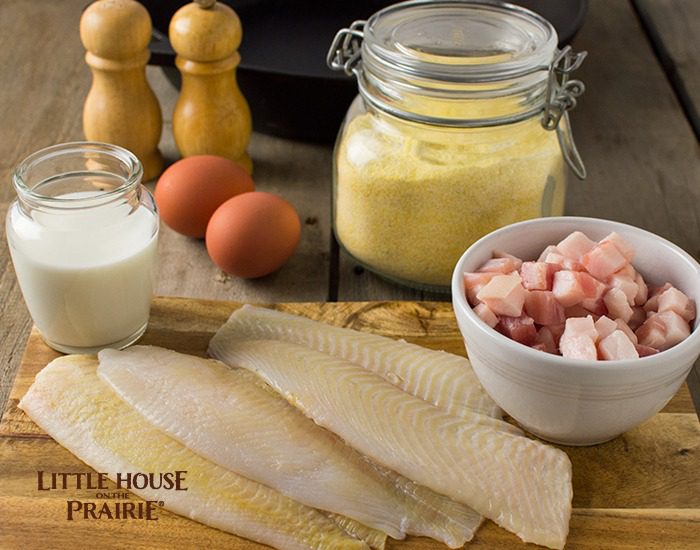 Step Two
Combine the eggs and milk in a shallow pan. In another shallow pan, combine cornmeal, salt, and pepper. Dip fish into the egg mixture, then coat the fish with the cornmeal mixture. Place the breaded fish on a plate and set aside.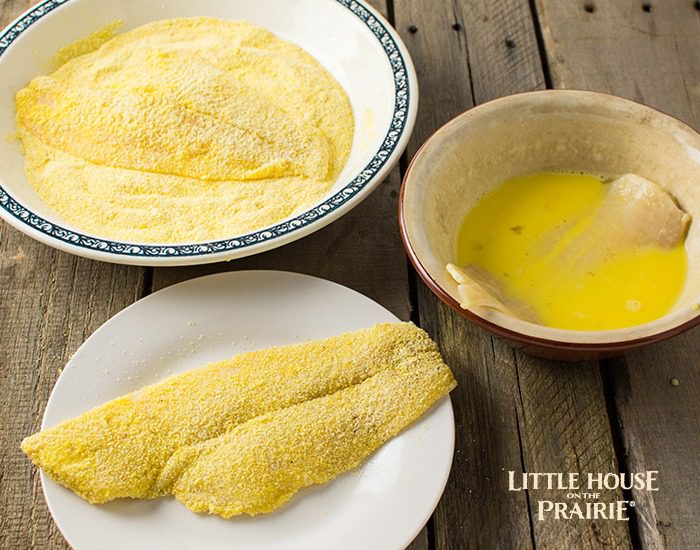 Step Three
In a large skillet over medium heat, fry the salt pork until crisp. Remove the pork from the pan.
Step Four
Add the breaded fish fillets to the skillet and fry until golden and the fish flakes easily with a fork, about 3-4 minutes each side for 1/2-inch thick fillets, or 5-6 minutes for 1-inch thick fillets. Remove the fish fillets from the pan, drain on paper towels, and keep warm until ready to serve.
Step Five
To make the lemon-dill sauce, melt the butter in a small saucepan over medium heat. Add the flour and stir to blend. Add milk and stir until sauce is thickened – about 1-2 minutes. Remove the saucepan from the heat and add lemon juice, dill, and pepper. Stir to combine and serve over the fish.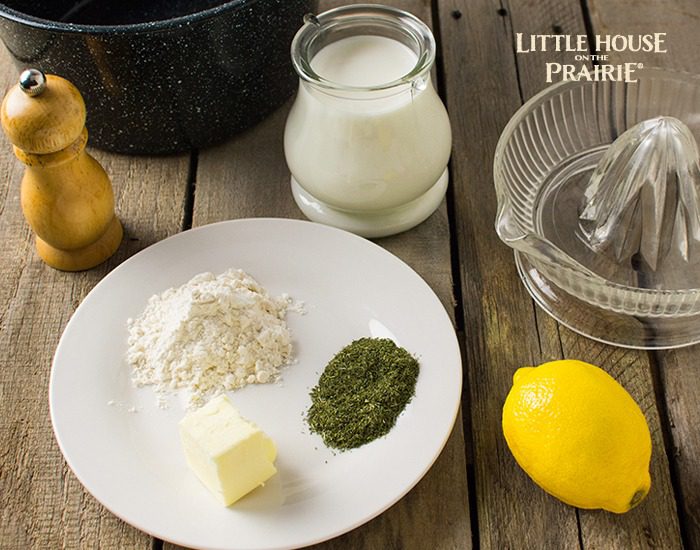 Do you like to fish? What are your favorite fish to catch? 
We hope you enjoy this recipe and share your feedback with us. Please subscribe to the free Little House on the Prairie newsletter for the latest recipes, DIYs, and Laura Ingalls Wilder fan information.
This recipe is adapted from the "Fried Fish" recipe in The Little House Cookbook: Frontier Foods from Laura Ingalls Wilder's Classic Stories by Barbara M. Walker (New York: Harper & Row, 1979). Read a review of this cookbook by clicking here.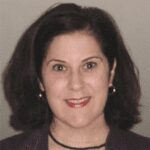 Rachel is the creator of Grow a Good Life, a homesteading and gardening blog filled with ideas for simple living. She writes about vegetable gardening, food preservation, keeping backyard chickens, and shares cooked from scratch, real food and garden to table recipes. Rachel hopes to inspire everyone to Grow a Good Life.