"She understood the meaning of hardship and struggle, of joy and work, of shyness and bravery. She was never overcome by drabness or squalor. She never glamorized anything; yet she saw the loveliness in everything."
~ Illustrator Garth Williams about Laura Ingalls Wilder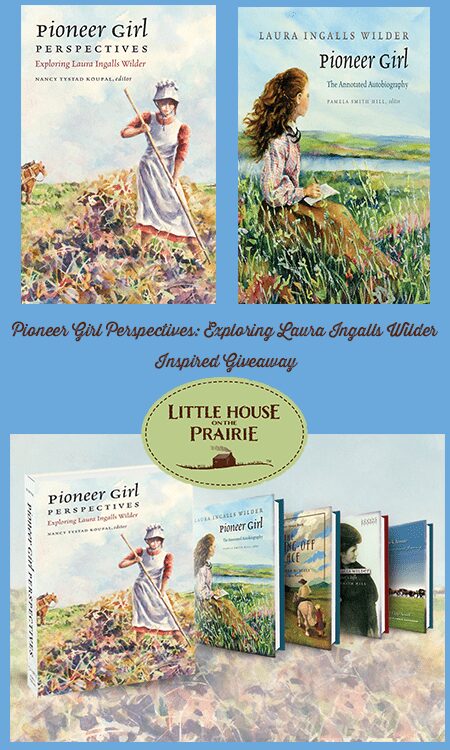 In 1930 Laura Ingalls Wilder finished her autobiography, Pioneer Girl, at the age of 63. Throughout the next several years she drew from this over-arching work to create a series of children's books known collectively as the Little House books. With the help of her daughter Rose Wilder Lane, the books were shaped into a historical fiction that has drawn fans for decades.
Recently, South Dakota Historical Society Press published the acclaimed Pioneer Girl: The Annotated Autobiography edited by Pamela Smith Hill, which brought the original manuscript Laura wrote to life. And now, finally, a definitive work exploring the importance of Laura Ingalls Wilder's work, Pioneer Girl Perspectives is a collection of informative essays to bring new depth to her stories.
About the Giveaway
One Copy of Pioneer Girl Perspectives: Exploring Laura Ingalls Wilder – Edited by Nancy Tystad Koupal, this book is a collection of expert and relevant voices lending insight to Laura Ingalls Wilder's stories.
One Copy of Pioneer Girl: The Annotated Autobiography – Expertly annotated by Pamela Smith Hill, Pioneer Girl is a published copy of Laura Ingalls Wilder's original manuscript.
One Copy of Laura Ingalls Wilder: A Writer's Life – Thoroughly researched and beautifully written by Pamela Smith Hill, this biography is a fascinating look at how Wilder's life and writing career intersected.
One Copy of The Jumping Off Place – by Marian Hurd McNeely and illustrated by William Siegel, this 1930 Newbery Honor Book is a tale of adventure, resilience, and triumph over adversity.
One Copy of Circling Back Home: A Plainswoman's Journey – by Darcy Lipp-Adorc, this engaging book highlights one woman's journey to reconnect with her family's heritage of endurance.
One DVD of the "Little House on the Prairie: The Legacy of Laura Ingalls Wilder" documentary – Learn more about Laura Ingalls Wilder in this insightful hour-long documentary directed by Dean Butler.
Enter the Giveaway – October 4 to 18, 2017
Use your Facebook account or name and email so your entries count. Giveaway is open to U.S. residents, 18 years of age and older, can log into the Rafflecopter giveaway widget below.
The first entry is the newsletter sign up – confirm your subscription to unlock the other, optional entry methods. The giveaway will run from October 4 to 18, 2017. Winners will be contacted via email once their entry authenticity is confirmed.