Our articles about recently-released books are great resources for readers interested in Laura Ingalls Wilder and her Little House books. Here is a brief overview about Pioneer Girl: The Revised Texts.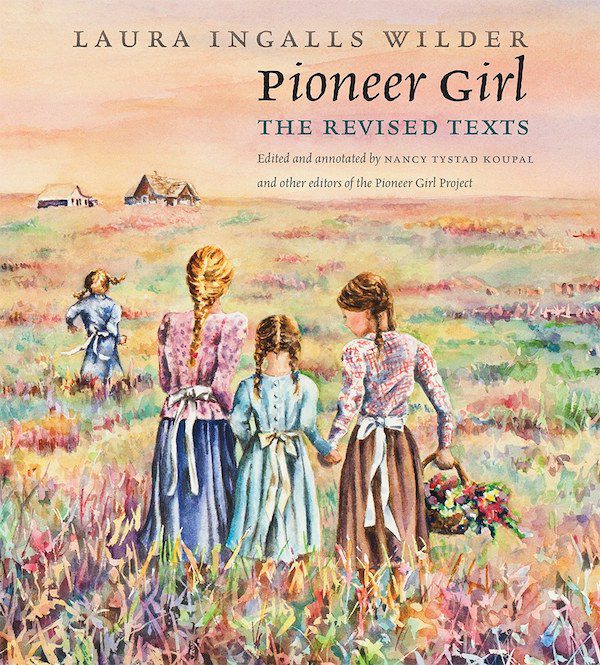 Author: Laura Ingalls Wilder
Editor: Nancy Tystad Koupal
Publisher: South Dakota State Hist Society Pr; Annotated edition (October 15, 2021)
Synopsis:
Pioneer Girl: The Revised Texts presents three typescripts of Wilder's original Pioneer Girl manuscript in an examination of the process through which she and her daughter, Rose Wilder Lane, transformed her autobiography into the much-loved Little House series. As the women polished the narrative from draft to draft, a picture emerges of the working relationship between the women, of the lives they lived, and of the literary works they created. Editor Nancy Tystad Koupal and other editors of the Pioneer Girl Project provide a meticulous study of the Wilder/Lane partnership as Wilder's autobiography undergoes revision, and the women redevelop and expand portions of it into Wilder's successful children's and young adult novels and into Lane's bestselling adult novels in the 1930s. The three revised texts of Pioneer Girl, set side by side, showcase the intertwined processes of writing and editing and the contributions of writer and editor.
In background essays and annotations, Koupal and her team of editors provide historical context and explore how Wilder or Lane changed and reused the material. Wilder and Lane's partnership has been the subject of longstanding speculation, but Pioneer Girl: The Revised Texts is the first work to explore the women's relationship by examining the evolution of surviving manuscripts. Showcasing differences in the texts and offering numerous additional documents and handwritten emendations, the editors create a rich resource for scholars to use in assessing the editorial and writing principles, choices, and reasoning that Lane employed to shape the manuscripts for publication.
Readers can follow along as Wilder grows into a novelist that "no depression could stop." The New York Times bestseller, Pioneer Girl: The Annotated Autobiography (2014), edited by Pamela Smith Hill, gave readers access to Wilder's original account for the first time, but that book only scratched the surface of available textual and archival materials. Ultimately, the editors of Pioneer Girl: The Revised Texts employ the rich resource of letters between Wilder and her publisher and between Wilder and Lane, along with rough drafts and false starts of the Little House books, to inform scholars and readers about the original manuscript's metamorphosis into novels and about the intriguing editorial relationship between Wilder and Lane. Pioneer Girl: The Revised Texts deepens our understanding of Laura Ingalls Wilder and the process through which she would ultimately become an icon of young adult literature.
About the Author: Laura Ingalls Wilder
Laura Ingalls Wilder finished her autobiography, Pioneer Girl, in 1930 when she was sixty-three years old. Throughout the 1930s and into the early 1940s, Wilder utilized her original manuscript to write a successful series of books for young readers. Wilder died in Mansfield, Missouri, at ninety years of age on February 10, 1957.
About the Editor: Nancy Tystad Koupal
Nancy Tystad Koupal is director and editor-in-chief of the Pioneer Girl Project. She received an M.A. in English from Morehead State University in Kentucky and did postgraduate work in American literature at the University of Wisconsin, Madison. She founded the South Dakota Historical Society Press in 1997. Koupal is also the editor of Pioneer Girl Perspectives (Pierre: South Dakota Historical Society Press, 2017) and Our Landlady (Lincoln: University of Nebraska Press, 1996), a collection of L. Frank Baum's satirical newspaper columns.
Pick up your own copy of Pioneer Girl: The Revised Texts here.
Check out our Recommended Reading for Adults and Recommended Reading for Children & Young Adults for more great books and be sure to subscribe to our newsletter for information and recommendations about interesting reading and activities.