Our Recommended Reading for Children & Young Adults and Recommended Reading for Adults articles have been popular resources for readers interested in Laura Ingalls Wilder and Little House on the Prairie. Here is a brief overview of Searching for Laura Ingalls.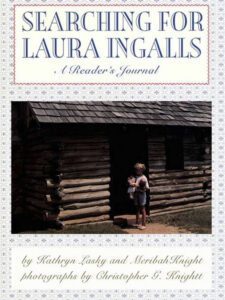 Authors: Kathryn Lasky and Meribah Knight
Publisher: StarWalk Kids Media (October 28, 2012)
Synopsis:
Like millions of other young fans of Laura Ingalls Wilder's Little House series, Meribah Knight dreamed of visiting the places Laura described so vividly in the books. For Meribah, her dream came true when she and her family made a pilgrimage to the beloved sites – the big woods, the banks of Plum Creek, the little town on the prairie – places that had changed, but were still magically familiar. With text by Meribah and her mother, Newberry Honor author Kathryn Lasky, and full-color photographs by her father, Christopher G. Knight, the record of the family's memorable journey is a must-read for anyone planning a similar trip…and for everyone who wants an up-close-and-personal look at the settings of America's most cherished pioneer saga.
About the Authors: Kathryn Lasky and Meribah Knight
Kathryn Lasky is the Newbery Honor author of over one hundred fiction and non-fiction books for children and young adults. Her books range from critically acclaimed nonfiction titles such as Beyond the Burning Time and True North to the wildly popular Guardians of Ga'hoole fantasy series about owls. Her first book, I Have Four Names for My Grandfather, was published while she was teaching.  There is no difference whether she is writing about a fictional character, such as in The Journal of Augustus Pelletier: The Lewis and Clark Expedition, 1804, for the My Name is America series, or a real character, such as in Elizabeth I: Red Rose of the House of Tudor, England, 1544, for the Royal Diaries series. "My responsibility as an author is to write with authenticity and accuracy and it does not vary whether the character is real or fictional," states Lasky.  Kathryn Lasky lives with her husband in Cambridge, Massachusetts.
Meribah Knight is a freelance journalist based in Nashville. As an 8-year-old she co-authored a book about her childhood literary heroine, Laura Ingalls Wilder, titled Searching for Laura Ingalls. She considers it one of her greatest accomplishments.  A native of Cambridge, Massachussets, Meribah has a Masters of Journalism from Northwestern University and a BA from New York University, graduating magna cum laude. She was an adjunct lecturer at Northwestern University's Medill School of Journalism and currently teaches reporting at Middle Tennessee State University. She lives in Nashville with her fiancé and their three cats.
Pick up your own copy of Searching for Laura Ingalls here.
Check out our Recommended Reading for Adults and Recommended Reading for Children & Young Adults for more great books.