Our Recommended Reading for Children & Young Adults and Recommended Reading for Adults articles have been popular resources for readers interested in Laura Ingalls Wilder and Little House on the Prairie. Here is a brief overview of The Little House Cookbook: Frontier Foods from Laura Ingalls Wilder's Classic Stories.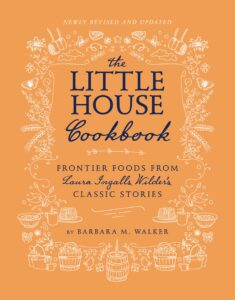 Author: Barbara Walker
Illustrator: Garth Williams
Publisher: HarperCollins (September 18, 2018)
Synopsis:
Laura Ingalls Wilder grew up on the prairie, where food was something one worked for, cooking was a big part of daily life, and mealtime was a chance to gather with family and give thanks. By watching Pa hunt and farm and by helping Ma prepare the food, Laura learned the pleasures that come from a family working together. Laura also experienced the joy that comes from sharing food, made with love and care, with family and friends.
Here are over 100 unique recipes celebrating the foods and cooking techniques of Laura's pioneer childhood. Taken from dishes described in the beloved Little House books, these recipes were carefully researched by Barbara M. Walker and tested in her own kitchen. From pancake men and pumpkin pie to vanity cakes and ice cream, these recipes give adults and children alike the chance to experience a taste of Laura's childhood, reminding us of the connection between the food on the table and the work involved in getting it there.
About the Author: Barbara Walker
Barbara Walker discovered the Little House series when her daughter, Anna, was four and fond of serial stories and kitchen craft. What began as pleasant diversion – recreating frontier food – became serious study for the author after a family trip west by way of some Little House sites. Eight years of intermittent reading, writing, and testing produced The Little House Cookbook.
Anna is now married and has her own little house. Barbara Walker still writes on a variety of subjects from the home she shares with her husband outside Ossining, New York. She regrets the disappearance of lard piecrust, hard cheese, and sausage from her diet, but finds solace in making bread from her original sourdough starter.
About the Illustrator: Garth Williams
Garth Williams' classic illustrations for the Little House books caused Laura to remark that she "and her folks live again in these pictures." Garth Williams also illustrated Stuart Little, Charlotte's Web, and almost one hundred other books.
We invite you to pick up your own copy of The Little House Cookbook here.
Check out our Recommended Reading for Adults and Recommended Reading for Children & Young Adults for more interesting books.