Our Recommended Reading for Children & Young Adults and Recommended Reading for Adults articles have been popular resources for readers interested in Laura Ingalls Wilder and Little House on the Prairie. Here is a brief overview of The Story of Art Smith.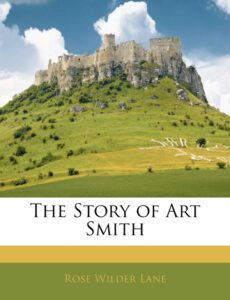 Authors: Rose Wilder Lane and Art Smith
Publisher: Nabu Press (February 4, 2010 )
Synopsis:
The story of how Art Smith, an early American aviator, became an international celebrity at the San Francisco Exposition is included in his autobiography, The Story of Art Smith, a souvenir booklet edited by Rose Wilder Lane. The booklet, published in 1915, is subtitled The Autobiography of the Boy Aviator, and it appeared as a serial in the San Francisco Bulletin.
About the Authors: Rose Wilder Lane and Art Smith
Rose Wilder Lane (1886-1968), was a prolific fiction writer, biographer and political theorist, as well as the daughter of Laura Ingalls Wilder, author of the Little House series of children's books. Lane's skillful editing and publishing connections assisted her mother in making the transition from rural Ozark journalist to world-renowned children's author. Lane had left her parent's impoverished Missouri farm at the age of 17 and soon began to make her mark on the world. After a stint as a Western Union telegrapher, she sold real estate in California and later began a successful career as a reporter for the San Francisco Bulletin. Her 1918 divorce from Gillette Lane, after several years of separation, officially ended a relationship that had never recovered from the death of an infant son around 1910. She never remarried. After her divorce, Lane continued to carve out a successful career as a writer of novels, short stories, biographies and tales of her extensive world travels. Her work as a war correspondent dated from post-WWI Europe to a tour of Vietnam in 1965 (when she was nearly 80 years old). She was a well-known literary figure of her day. Later in life, Lane's writing focused on her increasing political conservatism, her distaste of Communism, Socialism and any other form of government that denied the freedom of the individual. She is widely regarded as one of the leading figures behind what has grown into the American Libertarian Party. Among her many works are Free Land, Young Pioneers, Diverging Roads, and Give Me Liberty.
Arthur Roy Smith (1890-1926), a pilot and early flying enthusiast, was born in Fort Wayne, Indiana. In 1910, with $1,800 borrowed from his parents after they mortgaged their house, he built his first plane and crashed it on the first flight. With parts salvaged from the crash he built his second plane which he successfully flew and went on to become world famous as a stunt and test pilot. During the 1915 Panama-Pacific International Exposition in San Francisco, Art was asked to replace Lincoln Beachey, the official stunt flyer, after he died in a crash during the exposition. During World War I he unsuccessfully tried to enlist in the Army Air Corps, but was turned down possibly due to his being too short (5 feet 3 inches). It could also have been from the numerous broken bones he had sustained in previous crashes. He did serve as a civilian instructor and test pilot during the conflict. After the war he flew as an overnight mail carrier for the United States Post Office. It was during one of these flights that he died in a crash, the second mail service pilot to die on duty.
Pick up your own copy of The Story of Art Smith here.
Check out our Recommended Reading for Adults and Recommended Reading for Children & Young Adults for more great books.