Our Recommended Reading for Children & Young Adults and Recommended Reading for Adults articles have been popular resources for readers interested in Laura Ingalls Wilder and Little House on the Prairie. Here is a brief overview of Who Was Laura Ingalls Wilder?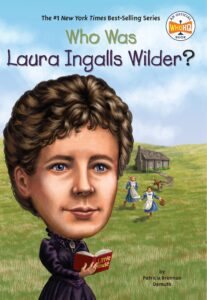 Author: Patricia Brennan Demuth
Illustrator: Tim Foley
Publisher: Grosset & Dunlap (December 26, 2013)
Synopsis:
Laura Ingalls Wilder's Little House books, based on her own childhood and later life, are still beloved classics almost a century after she began writing them. Now young readers will see just how similar Laura's true-life story was to her books. Born in 1867 in the "Big Woods" in Wisconsin, Laura experienced both the hardship and the adventure of living on the frontier. Her life and times are captured in engaging text and 80 black-and-white illustrations.
About the Author: Patricia Brennan Demuth
Patricia Brennan Demuth is a published author of children's books and young adult books. Some her published credits include: Way Down Deep: Strange Ocean Creatures, An All Aboard Reading Station Stop 3 Collection: Extreme Nature, Snakes, and Look! My Tooth Is Loose!
About the Illustrator: Tim Foley
Tim Foley was born in Flint, Michigan in 1962, spent most of his school years in the nearby town of Durand, Michigan, and attended college at the Kendall School of Art in Grand Rapids, Michigan. Over the past quarter century, his clients have included national and international magazines, book publishers and advertising agencies, such as The Wall Street Journal, Cricket Magazine, Barrons, New York Newsday, LA Weekly, Penguin Books, Alfred Hitchcock's Mystery Magazine and the Chronicle of Higher Education. Aside from drawing pictures, he is also a musician and songwriter.
Pick up your own copy of Who Was Laura Ingalls Wilder? here.
Check out our Recommended Reading for Adults and Recommended Reading for Children & Young Adults for more great books.