Author and historian William Anderson was introduced to the Wilder books in elementary school, as were millions of other American children. Today, he is one of the foremost historians of the Ingalls family and his groundbreaking research has resulted in many books, which we have detailed below. Anderson also serves as a director of the Laura Ingalls Wilder Home and Museum in Mansfield, Missouri, and is a board member of the Wilder Home Association which runs the museum.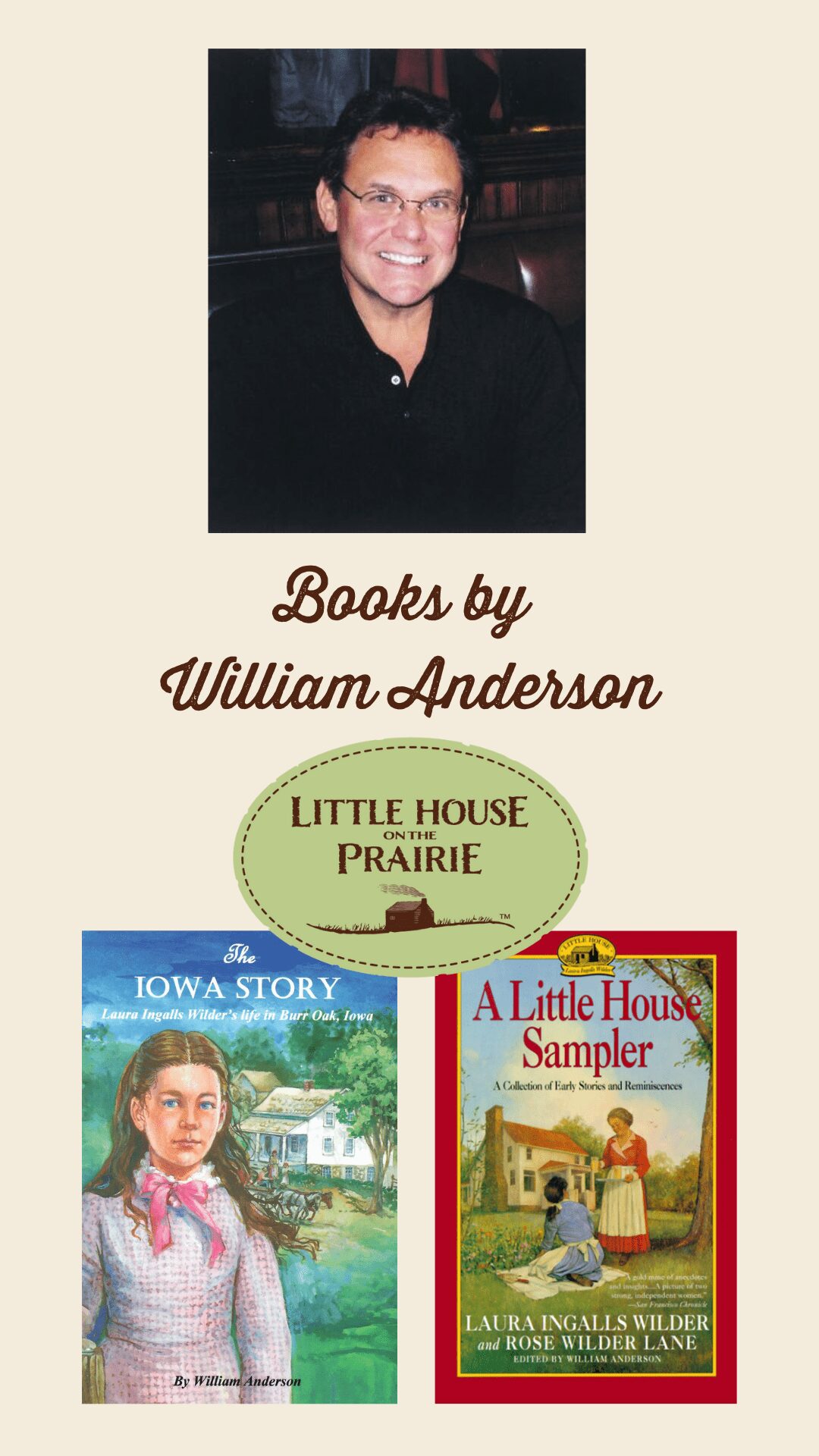 See the full list of publications by William Anderson below in order by most recent.
The Selected Letters of Laura Ingalls Wilder (2016) is a fresh look at the adult life of the author in her own words. Gathered from museums, archives and personal collections, the letters span over sixty years of Wilder's life, from 1894–1956, and shed new light on her day-to-day life.
The Little House Guidebook (2007) features beautiful photographs (by Leslie A. Kelly) of the houses and sites featured in the Little House series. Detailed information on how they were founded and directions for how to get to them are included, as well as where to stay and what to do when you get there.
Pioneer Girl: The Story of Laura Ingalls Wilder (2000) uses a picture book format with simple text and beautiful paintings (by Dan Andreasen) to introduce Laura's stories to younger readers.
Musical Memories of Laura Ingalls Wilder (History Alive Through Music) (1999) brings the well-loved stories of Laura Ingalls Wilder to life as you listen to and read the stories behind the songs. These were the songs that were a part of life for the Ingalls family and thousands of other pioneering families. Includes full-color photos (by Leslie A. Kelly) throughout.
Edited by William Anderson, A Little House Sampler (1995) is a charming collection of early stories and reminiscences by Laura Ingalls Wilder, along with essays and writings from her daughter, Rose Wilder Lane, who was an award-winning writer.
Laura Ingalls Wilder Country (1995) takes you on an enchanting tour of the real world of the well-loved author through hundreds of photos, many in full color, visiting the people and places who inspired her classic books.
All through her life, Laura saved mementos of her past, including early writings, letters, drawings, and photographs, which have been lovingly preserved in private and public collections across the country. Laura's Album, A Remembrance Scrapbook (1998) gathers these mementos in one incredible volume, painting the fascinating true story of this remarkable pioneer woman's life.
A Little House Reader: A Collection of Writings by Laura Ingalls Wilder (1998) pieces together a unique medley of Laura Ingalls Wilder's writings from the time before her Little House books. These writings, culled mostly from fragile and yellowed pieces of paper, offer a window into Laura's day-to-day life and experiences, giving us a richer understanding of the woman and writer.
Laura Ingalls Wilder: A Biography (1992, reprinted 2007) is an account that chronicles the real events in Laura's life that inspired her to write her stories and also describes her life after the last Little House book ends.
Little House Country: A Photo Guide to the Home Sites of Laura Ingalls Wilder (1989, reprinted 2000) with text by William Anderson and photos by Leslie A. Kelly. This book contains more than 100 photos and paintings telling the story of the Ingalls' travels and the home sites about which Laura wrote her famous books.
Laura Ingalls Wilder: Pioneer and Author (1988) is a biography of the famous author written for junior readers.
The Walnut Grove Story of Laura Ingalls Wilder (1987) and Laura Ingalls Wilder: The Iowa Story (1989) tell the behind-the-scenes stories of Laura's life in Minnesota and Iowa.
Horn Book's Laura Ingalls Wilder: Articles About and By Laura Ingalls Wilder, Garth Williams, and the Little House Books (1987) is a collection of articles originally published in The Horn Book Magazine, a publication for librarians, teachers, parents, and booksellers. The book is illustrated with black & white photographs and drawings.
Wilder In The West: Eliza Jane's Story of a Lady Homesteader (1971, reprinted 2004) is a first-person account of the life of Eliza Jane Wilder, Laura Ingalls Wilder's sister-in-law. Together with biographical information, William Anderson also reprints Eliza's short autobiography detailing her triumphs and losses as a homesteader in the Dakota Territory.
The Story of the Ingalls (1971) and The Story of the Wilders (1974) uncovers some of the unwritten stories of the Ingalls and Wilder families, filling in the gaps in the famous Little House books.