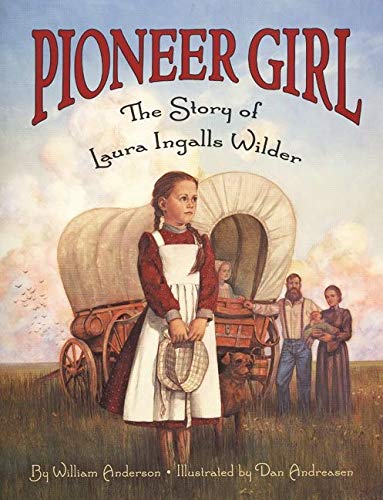 Author: William Anderson
Illustrator: Dan Andreasen
Publisher: HarperCollins (February 2, 2000)
Synopsis:
The pioneer spirit lives on… readers around the world know and love the little girl born in the Big Woods of Wisconsin and raised in covered wagons and on wide open prairies. Now Little House fans can learn more about "Half-pint" in this picture-book biography of Laura Ingalls Wilder, the remarkable story of the pioneer girl who would one day immortalize her adventures in the beloved Little House books. With a simple, glowing text by noted historian and Little House scholar William Anderson, and glorious paintings by Dan Andreasen, Pioneer Girl is a very special portrait of a writer whose classic books and pioneer adventures have made her one of the most popular literary figures in America.
About the Author: William Anderson
William Anderson (born 1952) is an American author, historian and lecturer. He is a specialist in the subject of Laura Ingalls Wilder and her times. His interest in the American frontier began after reading Little House on the Prairie. He is a director of the Laura Ingalls Wilder Home and Museum in Mansfield, Missouri, and he lives and works as a teacher in Michigan. He has received many recognitions for his writings, including the Western History Association's Billington Award, the Robinson award of the South Dakota State Historical Society, National Endowment for the Humanities awards and National Council of Social Studies.
About the Illustrator: Dan Andreasen
Dan Andreasen has illustrated many well-loved books for children, including River Boy: The Story of Mark Twain and Pioneer Girl: The Story of Laura Ingalls Wilder, both by William Anderson. He lives with his family in Medina, Ohio.
Pick up your own copy of Pioneer Girl: The Story of Laura Ingalls Wilder here.
Check out our Recommended Reading for Adults and Recommended Reading for Children & Young Adults for more great books.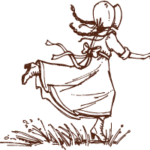 The editors of the Little House on the Prairie® website are pleased to bring you interesting articles, interviews, fan features, videos, and much more.