The adventures of the Ingalls family continue in Season 5 of "Little House on the Prairie". The original episodes of season 5 aired from September 11, 1978 to March 19, 1979. Due to economic problems, the Ingalls, Olesons and Garveys leave Walnut Grove and settle in Winoka for a time. However, they find that the hustle and bustle of the town just isn't for them. They leave Winoka to find Walnut Grove in poor shape and vow to restore it. Season 5 also brings us the budding relationship between Mary and Adam, introduces us to Hester-Sue Terhune, and so much more!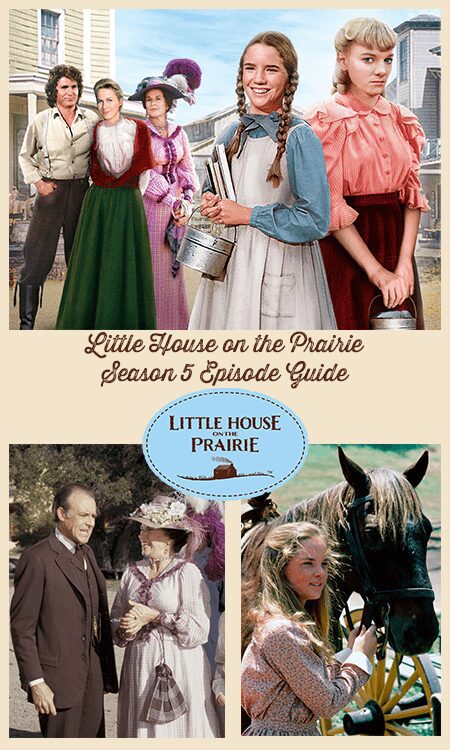 For the first time since their original TV broadcast, all twenty-four Season 5 episodes are presented complete and uncut and newly restored and remastered for optimal picture and sound quality! In this ultimate Season 5 episode guide, you'll relive all of the heartwarming adventures and learn some new facts along the way. Some of our favorite facts and tidbits came from Melissa Gilbert's memoir and Alison Arngrim's autobiography. Below is a complete index with links to the Season 5 episodes:
Season 5, Episode 1 – As Long as We're Together (Part 1)



Buy Now!

Description:
Poor financial conditions influence the Ingalls family to move to Winoka when Mary goes there to teach at the Blind School. They meet Albert, an orphan to whom Charles forms an attachment, even though Laura catches him stealing from the hotel that Charles manages.
Fun Fact!
When Charles leaves Mary at the school with Adam after they arrive in Winoka, he leaves without his hat. However, when he closes the door and is outside again, the hat on his head.
Did you know?
Matthew Laborteaux makes his first appearance in the series as Albert Quinn, but it's not his first appearance on the show. As many fans know, he portrayed Charles Ingalls as a child in flashback sequences in "Journey in the Spring" (Season 3) and "I Remember, I Remember" (Season 4) .
More Trivia!
This is the first appearance of Wendi and Brenda Turnbaugh as baby Grace. They continued to share the role up through Season 8, which is when they "retired from Hollywood and started kindergarten."
Season 5, Episode 2 – As Long as We're Together (Part 2)



Buy Now!

Description:
While Mary is going to teach at the Blind School in Winoka, and since they can't make a living in Walnut Grove, the rest of the Ingalls family goes to Winoka, too. Charles gets a job managing a hotel and Caroline runs the kitchen and dining room. They make the acquaintance of an orphan, Albert, who befriends the Ingalls.
Fun Fact!
Did you notice Melissa Gilbert's face when Harriet says, "Oh, what a funny little cake!" She looks as if she is about to laugh, even though it would make more sense for her to appear insulted by this comment? Then, a few seconds later, Caroline says, "Don't worry, Mrs. Oleson, you won't have to be quiet for long," and Laura bursts out laughing. It seems as though she was holding that in for a long time, all throughout the scene.
Did you know?
Albert attempts to steal a kerosene lamp, which Charles later buys for him. But did you notice that Albert doesn't steal (and Charles doesn't buy) any kerosene to actually light the lamp?
More Trivia!
The moment right after Harlan makes a horribly condescending comment about Mary to Charles, he "punches" Harlan in the face, but you can see his fist doesn't make contact. Also, there is a sound of a punch, but it came about half a second late.
Season 5, Episode 3 – The Winoka Warriors



Buy Now!

Description:
Trying to convince Tom Carlin, blinded by a childhood bout with the measles, that he can lead a productive life, Adam Kendall battles Tom's bitter, skeptical father and is unexpectedly aided by the underdog Winoka Warriors, who have just lost their star player to a rival football team.
Fun Fact!
When the kids are playing the football game in Winoka, did you know that they are using the Walnut Grove sets? You can tell because the future blind school is visible on the right side of the screen.
Did you know?
Notice that Albert is wearing a BAND-AID® at the table while eating breakfast with Charles, but the BAND-AID® was actually not invented until 1920 by Johnson & Johnson employee Earle Dickson for his wife Josephine.
More Trivia!
When playing football in the 1800s, in order to score you had to get a touchdown (6 points) or safety (2 points). The final score of the football game in this episode is 26-24. The score of the game is 24-24 until the last play, when Albert makes it into the end zone, and the referee declares the play as a touchdown. The scorekeeper then adds two points to the scoreboard when he should have added six to make the final score 30-24.
Season 5, Episode 4 – The Man Inside



Buy Now!

Description:
Laura befriends a classmate named Amelia Bevins, who is ashamed of her obese father. When the man realizes how much pain he is causing his wife and daughter, he leaves them temporarily for a "business trip" that will change their family forever.
Fun Fact!
It seems as though Pa and Ma are now used to the noise and dangers of city life. Right after Laura goes up to bed, a succession of three loud (nearby) gunshots can be heard. Pa and Ma don't even flinch, let alone run upstairs to check on the children. Caroline just makes a joke about all the noise and goes on sipping her coffee casually.
Did you know?
When Laura goes to Amelia's house to work on their essays, you can tell that the scene is filmed in the space that serves as the Ingalls' hotel rooms. Additionally, if you look at the wall behind Amelia's desk and to the left, there's a huge gap in the wall, and the two pieces of wood trim on them don't line up. The gap in the wall is a goof because all walls at that time were plastered; there wouldn't have been gaps (as with drywall) of any kind.
More Trivia!
In the first school scene, where Laura accidentally starts reading the wrong thing because she is chatting with Amelia, notice Melissa Gilbert (Laura) is trying very hard not to laugh, and Matthew Laborteaux (Albert) is cracking up right behind her. There really isn't a reason for Laura to be laughing, though, so you can tell that these two kids are probably cracking up about something else in the middle of filming.
Season 5, Episode 5 – There's No Place Like Home (Part 1)



Buy Now!

Description:
Caroline talks to Mary and Mary convinces Charles that he should not have to stay in Winoka if he is unhappy. So, the Ingalls decide to return to Walnut Grove. They invite Albert to join them. The children at the blind school give them a horseshoe to hang over their door and sing them home with the song about a horseshoe. The Garveys and the Olesons return home too.
Fun Fact!
The hats the firemen wore in this episode were made of plastic, however, fully synthetic plastic had not been invented yet.
Did you know?
This episode features the second instance on the show where Nels Oleson gets drunk. The first time is during Season 4's "Castoffs."
More Trivia!
The character Nellie Oleson was ranked #3 in TV Guide's list of "TV's 10 Biggest Brats" (March 27 , 2005 issue).
Season 5, Episode 6 – There's No Place Like Home (Part 2)



Buy Now!

Description:
The Ingalls, Garveys, Olsens, and Albert get back to Walnut Grove to find it run down and in shabby condition. Lars Hansen, who founded Walnut Grove over 50 years ago, has suffered a stroke, and is much like the town – on its last leg. The Ingalls and the Garveys go to the farms around town to let everyone know of their plans to restore the town to its former glory.
Fun Fact!
The Garvey and Ingalls families are meeting at 6:00 AM to leave Winoka. It's clear, though, that this scene was filmed near high noon. The sun is glaring, there are hardly any shadows on the ground, people look sweaty, and the town is bustling.
Did you know?
The camera captures quite a few candid moments from Wendi and/or Brenda Turnbaugh (baby Grace) in the outdoor dinner scene with the Ingalls and Garvey families. First, Grace starts crying randomly in the middle of the prayer, but she quickly settles down, and then we get an adorable close-up shot of her nodding off to sleep in her high chair.
More Trivia!
The flag shown outside the church at the end of the episode is inaccurate for the time period. It has too many stars on it, reflecting states that had not yet been added as part of the US.
Season 5, Episode 7 – Fagine


Buy Now!

Description:
Laura Ingalls becomes jealous of the extra attention her father pays to new family member, Albert, especially after the boy is given a new calf to raise for the county fair, and asked to call Charles "Pa".
Fun Fact!
We have seen Laura and Pa have multiple heart-to-heart conversations by the lake. This happened in Season 1's "The Love of Johnny Johnson", Season 2's "At the End of the Rainbow," and now this episode.
Did you know?
In the scene where Laura is in the Olsen's parlor, preparing to apologize to Nellie, She's supposed to be on the verge of tears. But as Allison Arngrim sits there whining, with a steak laying over her eye, it looks more like Melissa Gilbert is trying not to smile.
More Trivia!
When Michael Landon is chasing the boy at the carnival, the shadows of the crew can be seen on the bottom of the frame as he is running.
Season 5, Episode 8 – Harriet's Happenings


Buy Now!

Description:
When Harriet Oleson's cousin Sterling Murdock comes to town, he brings his newspaper business with him. Everyone is initially excited about this, but trouble ensues when Murdock gives gossipmonger Harriet her own column – and allows her the freedom to write whatever she wants.
Fun Fact!
Michael Landon's daughter, Leslie, has an uncredited role in this episode. She is sitting behind and to the left of Doc Baker in the final scene in the church. She has several speaking roles throughout the series, but this time, she is just an extra.
Did you know?
When Sterling gets off his wagon, he mistakes Mrs. Foster for Harriet. This is actually not a big surprise because Ruth Foster is Katherine MacGregor's stunt double.
More Trivia!
When Harriet finds out that Mrs. Garvey has chosen Eric over Nellie for a spelling contest, Harriet says, "Ugh, that Allison Garvey betrayed me!" It is clear that she says Allison, but Mrs. Garvey's name is actually Alice.
Season 5, Episode 9 – The Wedding



Buy Now!

Description:
Adam proposes to Mary, and they plan a wedding in Winoka. Charles and Caroline cannot afford to send the whole family to the event, so they are forced to make the trip by themselves. All seems to be going great until Mary, who fears that she and her Adam can never be proper parents, calls the whole thing off.
Fun Fact!
Mary and Adam get married on August 15, and Adam says he has known Mary for about a year. Yet, only a little over a month has passed by since they celebrated the 4th of July in "There's No Place Like Home, Part 1." Prior to that, he had only known Mary for a few months.
Did you know?
In this episode, Michelle Downey (Susan Goodspeed) repeatedly screams out "I'm here! I'm here!" when Adam and Mary are looking for her. She says it over and over in a tone that may leave many viewers irritated. Lindsay and Sidney Greenbush (Carrie) made themselves famous by doing something similar in Season 5's "Godsister."
More Trivia!
In this episode, Charles reminisces about when Caroline was "pregnant with Laura." The word "pregnant" was not used in mixed company back in the pioneer days because it was considered inappropriate. In fact, using that word in public didn't become more common and acceptable until the 1950s.
Season 5, Episode 10 – Men Will Be Boys



Buy Now!

Description:
While their fathers secretly trail them, young Albert Ingalls and Andy Garvey set off to prove their mettle as men by accepting a challenge to live by their wits during a week-long, overland walk from Walnut Grove to Sleepy Eye and back.
Fun Fact!
Near the end of the episode, when the boys are spending their final night in the woods, it looks to be dusk while they're under the tree. When they run from the vagrant man, it looks like it's in the middle of the day, with the sun shining. When Charles and Jonathan reach the boys' campsite, it looks like dusk again, and you can hear the crickets, but the sky is clear blue.
Did you know?
The story that Albert and Andy use to get to stay at the boarding house for free is the same story that Laura and Albert use to get money for their grandpa to publish a book in "Author! Author! (Season 6)"
More Trivia!
When the vagrant mountain man chases Albert and Andy away, the food he steals from them appears to be a roasted chicken. Did you ever wonder how would they have gotten this out in the middle of the woods? Even if the boarding house matron sent something along, meat would not have lasted that long in their backpacks.
Season 5, Episode 11 – The Cheaters



Buy Now!

Description:
Now that she is the new teacher in Walnut Grove, Alice Garvey begins to worry about her son Andy, who is her weakest student. Alice reluctantly agrees to let Nellie Oleson tutor him, but this ends up being a grave mistake.
Fun Fact!
Did you notice during the first part of the exam, the chalkboard on the side of the schoolhouse does not have the columns of test scores on it? In the next clip of Laura looking at Andy and catching him cheating, the scores are back on the board.
Did you know?
Look really closely in the scene where Andy and Nellie are acknowledged for getting the highest test scores. The camera gets a close-up of Albert smiling and clapping for them. Then look at the final scene of the episode, where Albert receives the highest score on the final exam. They show another close-up of Albert smiling and clapping, which is the exact same shot from the scene previously shown.
More Trivia!
In the scene where Andy is at the kitchen table copying the test questions, the viewer can clearly see a set of glass salt and pepper shakers with shiny chrome tops on the table. These props are clearly out of place. Such shiny chrome lids weren't even readily available until the 1940s. Before that, lids were pewter or punched tin, which had a dull, non-reflective surface. Salt in particular, was almost always kept in a salt pig (a container the size of a lidless sugar bowl), because of the large quantities used on a daily basis.
Season 5, Episode 12 – Blind Journey (Part 1)



Buy Now!

Description:
The building that houses the school for the blind is being turned into a Hotel, so Adam and Mary are forced to move their school elsewhere. Miraculously, there is a place in Walnut Grove that can belong to them, but with no money for transportation, they must all make the journey by foot.
Fun Fact!
Caroline makes a comment to Charles that if Mr. Hanson were still alive, the whole issue with Joe Kagen would be resolved by now, and Harriet Oleson wouldn't be getting away with manipulating the situation. However, if you will recall, Mr. Hanson was never able to overtake Harriet before. Really, nobody was, and she almost always got her way, like in "The Voice of Tinker Jones" (Season 1) and "Castoffs" (Season 4).
Did you know?
Linwood Boomer, who played Mary's husband Adam Kendall, was a script writer with several credits to his name. He is most famous for creating the hit T.V. show, Malcolm in the Middle (2000).
Favorite Quote!
"Reverend Robert Alden: Congratulations, Nels! You'll get your reward in Heaven.
Nels Oleson: Well I hope your right, Reverend. Because it's gonna be hell on earth when I get home."
Season 5, Episode 13 – Blind Journey (Part 2)



Buy Now!

Description:
As the journey from the last episode continues, a woman by the name of Hester Sue Terhoun is prepared to help teach at the new school, and she quickly gets into Joe Kagen's good graces – but not Harriet Oleson's. Meanwhile, Adam reveals a dark secret about himself, and issues concerning racism affect everyone.
Fun Fact!
Watch for the scene where Albert holds Pa's pipe in his mouth and gets so sick, he actually turns green. It makes the viewer wonder why he would even want to smoke a pipe in "May We Make Them Proud" (Season 6), an event that led to the fire at the blind school and caused the death of two people. He must not have learned his lesson the first time.
Did you know?
Mary's husband, Adam Kendall (who didn't exist in real-life) went blind from a head injury, then regained his eyesight from another head injury. He then studied law, passed the bar in the top 1%, then later practiced law in Walnut Grove.
Favorite Quote!
"Nels Oleson: [after unloading the ridiculously huge plaque his wife ordered] Oh, I think I hurt myself this time.
Jonathan Garvey: You want me to get doc Baker?
Nels Oleson: [holding his side in pain] I wish Harriet was here.
Jonathan Garvey: You miss her that much?
Nels Oleson: [Angrily] I'd kill her!"
Season 5, Episode 14 – The Godsister



Buy Now!

Description:
Charles and Jonathan take a job on a telephone crew that is working in southern Minnesota, which requires them to be away from home for several weeks. As they gain success and earn more money than expected, they must decide if the job is worth keeping for the long term. Back in Walnut Grove, little Carrie, who misses her father and craves attention, creates an imaginary friend to pass the time.
Fun Fact!
E.J. André, who played the angel, was also in "His Father's Son", "Going Home" (Season 2), and "Gold Country, Parts 1 and 2" (Season 3). Later he plays James and Cassandra's Uncle Jed in "The Lost Ones" (Season 7) and "Uncle Jed" (Season 8). In total, he played five different characters and was in seven episodes.
Did you know?
The giant berries for Carrie's dream sequences are made by tying red balloons together and putting a dash of juice behind them. Lindsay and Sidney Greenbush dip the balloons in the juice, smear it on their faces, and then say their lines, so it looks like they are eating them.
More Trivia!
In the final scene, Charles calls Carrie his "best girl." He also uses the same words to describe young Laura in "The Love of Johnny Johnson" (Season 1).
Season 5, Episode 15 – The Craftsman



Buy Now!

Description:
Lonely after his grown son moves back east to start a life of his own, a widowed old craftsman named Isaac Singerman hires Albert Ingalls as his apprentice. As the two work together and become close friends, Albert faces one of the greatest challenges of his young life when he is harassed by classmates for spending time with Mr. Singerman who is Jewish.
Fun Fact!
This is one of the few episodes when someone else but Laura does the voice over at the end of the episode. In this case, it is Albert.
Did you know?
Pa gives Laura a harsh lecture over dinner about prejudices against Jews (and others). Michael Landon, whose real name was Eugene Orowitz, certainly may have been speaking from the heart. In interviews, he often talks about being the only Jewish child in school, and getting beat up because of it.
Favorite Quote!
"Laura Ingalls: I don't see why you have to spend so much time with that old man.
Albert Quinn Ingalls: Well, I like him. That's why.
Laura Ingalls: You seem to be the only one that does. Nobody likes Jews!
Charles Ingalls: Half-Pint, what kind of talk is that?
Laura Ingalls: Well, it's true. And I get made fun of too, just because I'm his sister.
Charles Ingalls: So then rather than being made fun of, you go along with the rest of them that dislikes someone just because they're a Jew.
Laura Ingalls: I don't dislike him…
Charles Ingalls: Half-pint, if you don't stand up to people… bigots… then you're no better than they are. Worse, in fact, because you know that it's wrong and you allow them to think that you feel the same way they do."
Season 5, Episode 16 – Blind Man's Bluff



Buy Now!

Description:
Laura Ingalls is horrified to witness the fall from a tree that blinds her friend, Jordan Harrison, while he's performing a circus stunt. But when she finds out that Jordan's sight has returned, Laura must decide whether it's right when he asks her to keep it a secret, especially after Jordan tells her that his parents' concern for him appears to have brought them back from the brink of divorce.
Fun Fact!
This is the second time that Laura, who feels responsible for an accident involving a classmate, tries to make up for it by helping them with their schooling. She also does this when Nellie becomes paralyzed in Season 3's "Bunny."
Did you know?
For the second time this season, Laura is begged to keep a secret when she finds out something immoral that a friend is doing behind their parents' backs. She does the same thing with Andy Garvey five episodes earlier, in "The Cheaters."
More Trivia!
In 1979 when "Little House on the Prairie" was still on the air, Melissa Gilbert won an Emmy for Producing a TV movie version of "The Miracle Worker". Still a teenager at the time, she was one of the youngest people to win a producing award from the Academy of Television Arts and Sciences.
Season 5, Episode 17 – Dance with Me



Buy Now!

Description:
Returning home from a business trip, Charles and Jonathan run into an old friend, Toby Noe. He has no money and no job. Charles invited him to live with them temporarily in Walnut Grove. Trouble ensues when Toby becomes obsessed with Amanda Cooper, a spinster who has no interest in him. Laura wants to attend a dance with a classmate named Jason, but has a hard time expressing her feelings to him.
Fun Fact!
In this episode, Laura is interested in a classmate named Jason. In Season 2's "The Talking Machine," and at the beginning of Season 3, Laura has a thing for a different boy at school, who is also named Jason (a.k.a. the scientist).
Did you know?
Watch closely when the conductor, Charles, and Jonathan start chasing the man under the whiskey crate (Toby Noe). At first, when we get a shot of the conductor chasing him and Charles and Jonathan laughing as they follow behind them, you can clearly see that the conductor is within arm's reach of Toby, so he should have easily been able to grab onto the crate and stop him. However, in the very next shot, the conductor is a significant distance behind Toby as he's chasing him.
More Trivia!
In this episode, Laura has a peanut butter sandwich that she gives to Ned. Peanut butter wasn't introduced until 1890 when Laura was 23 years old.
Season 5, Episode 18 – The Sound of Children



Buy Now!

Description:
Adam and Mary are expecting their first child. Mary, who knows that Adam has a strained relationship with his father, secretly writes a letter to the man. Thomas Kendall arrives in Walnut Grove for a visit and desires to be closer to his son and grandchild. Meanwhile, Albert Ingalls is smitten with Miss Bennett, a beautiful young woman who is substituting for Mrs. Garvey at school.
Fun Fact!
A little girl named Holly pursues Albert in this episode, but she looks awfully young for him (think Laura and Johnny Johnson back in Season 1), and then we don't see her again after this episode as this character. She returns in Season 8's "Gambini the Great," playing a girl named Amy, and that time, it is Albert pursuing her as she played "hard-to-get."
Did you know?
Miss Elliot is the third and final irregular teacher in Walnut Grove, who only steps in as a substitute for one episode. The only other teachers to do this were Caroline in Season 1's "School Mom," then the coldhearted Mr. Applewood in Season 2's "Troublemaker."
More Trivia!
When Adam and his father step outside to talk, young blind student Eli is out there by himself, picking flowers. Since all the other children are in class, why wouldn't he be, too? Do you think this a goof or meant to be just a little something for background for the scene?
Season 5, Episode 19 – The Lake Kezia Monster



Buy Now!

Description:
Kezia, an eccentric lady, lives happily in her house outside of Walnut Grove, but when she neglects to pay her taxes, the property is put up for auction. Harriet Oleson, flaunting her wealth, purchases it as a "summer home". She moves into the house with her kids and allows Kezia to stay, only if she agrees to work as a maid. Laura, Albert, and Andy hatch a plan to help Kazia reclaim her home.
Fun Fact!
In this episode, it is implied that Laura, Albert, and Andy sneak out of their houses in the middle of the night several times, without their parents ever knowing about it. This would have been difficult considering the size of their homes back then.
Did you know?
The "Loch Ness Monster" is cited throughout this episode. Though a creature of some sort has reportedly been seen off and on in Loch Ness, Scotland, since 565 A.D., the term "Loch Ness Monster" wasn't coined until 1933. This nickname was not in use at all in the 1880s.
More Trivia!
Nellie is supposed to be terrified when she, her mother, and Willie see the "monster" at the end of the episode, but it is obvious that Alison Arngrim (Nellie) is holding back profuse laughter all the way through. Arngrim has credited this as "one of the most fun and exciting episodes to film."
Season 5, Episode 20 – Barn Burner



Buy Now!

Description:
Trouble erupts when a local farmer, who is hateful and bigoted, refuses to set a fair price for wheat since black farmers would be entitled to the same price. The whole thing escalates when the farmer assaults Jonathan's young son and is later accused of setting fire to the Garveys' barn.
Fun Fact!
If you look closely at the Larrabee house in this episode compared to the one in "The Craftsman," it looks like a somewhat different place. The porch rails are on the opposite side, and the barn is situated more in front of the house.
Did you know?
Mrs. Larrabee tells her husband that she's leaving him in part due to the poor influence he is having on their sons. We see an example of that in "The Craftsman," when the Larrabee boys beat up Albert for working with an elderly Jewish man.
More Trivia!
The judge in this episode seems to be in a big hurry to get Larabee's trial over with, even telling jury foreman Charles Ingalls, "Hurry up; I have pressing matters elsewhere." If he is in such a hurry to see justice done, why doesn't he hold a trial by judge rather that by jury. It was a perfectly legal option at that time, and would have saved precious time otherwise "wasted" on jury deliberation.
Season 5, Episode 21 – The Enchanted Cottage



Buy Now!

Description:
Mary begins to see a bright light every time she stands in front of a window. The possibility of regaining her vision is there, but she and Charles must pay a visit to Mary's eye specialist in Sleepy Eye to get a definite answer. While they are away, Laura and Albert start working on a surprise project for Mary, and the Ingalls family becomes concerned about Adam's recent strange behavior.
Fun Fact!
Look carefully on the right side of the screen in the scene where Laura and Albert are painting Mary's house. There are a couple of moments where you can clearly see one of the microphones come into view of the camera and then go out again.
Did you know?
Did you know purple and pink paint to cover a house is out of place in this era? Paint with color wasn't readily available or widely used, until the 1930s, with the exception of in ornate buildings like hotels and churches. In the 1800s wallpaper was the wall cover of choice; in fact, it was a status symbol.
More Trivia!
In the opening scene, Mary is quizzing her class about historical dates. As the children are answering her out loud, you can hear at least two of the boys shout answers like "1903." This is obviously impossible, given the fact that the show was set in the 1800s.
Season 5, Episode 22 – Someone Please Love Me



Buy Now!

Description:
While out of town for some business on the purchase of new horses for his farm, Charles spends increasing amounts of time with the Harpers. The family patriarch is an emotionally unstable man who uses alcohol to cope with the death of his oldest son. His wife and remaining two children find solace in Charles' kind friendship, and he soon feels obligates to help them heal somehow.
Fun Fact!
This is really the first time that Charles openly mentions his son Charles Jr's death from Season 1. He talks about it very briefly in Season 4's "A Most Precious Gift," but this time, he initiates it and lets out his true feelings about what happened to his son.
Favorite Quote!
"Gargan: I've never met the man but he has a reputation for fair dealing. That's why I don't trust him.
Charles Ingalls: Why not?
Gargan: Well, folks with good reputations can cheat from you a lot easier than folks with bad reputations. You understand?
Charles Ingalls: Sort of, yeah."
Favorite Quote!
"Gargan: Sandy, get movin'. We've got a lot of work today.
Sandy: You want it right or you want it quick?
Gargan: You want to get paid, or you want to get fired?"
Season 5, Episode 23 – Mortal Mission



Buy Now!

Description:
Determined to make it through the winter season, a pair of men earn money by selling tainted meat to the Walnut Grove community. Several townspeople later become infected with anthrax, including Laura, Albert, Adam, Alice, and Nels. The victims are confined to the blind school, and with time running out to help them, Charles and Jonathon go out to retrieve some medicine.
Fun Fact!
When Caroline brings a sick Andy to Doc Baker at the blind school, they put him in a chair, and Caroline leaves to go get her children and Alice. Doc Baker is seen unbuttoning Andy's coat from the top to the bottom. But when it zooms in on Hester Sue, then back to Doc Baker, you see him unbuttoning Andy's coat from top to bottom again.
Did you know?
When Mr. Oleson is bringing the medicine to the blind school, two men come out of the school with a cot with what is suppose to be one of the dead people that they are carrying out. But when they walk by Mr. Oleson's wagon, you can see one of the men holding the cot reach up to hold his hat as a gust of wind comes. When he does this, he lets go of one side of the cot and it tips completely sideways, yet a body does not fall off, making it clear that nobody was actually on it.
More Trivia!
Charles and Jonathan arrive home from their out-of-town trip to find a note stating their families are at the blind school, sick with anthrax, yet Doc Baker has not officially diagnosed the illness and doesn't until a few scenes later, as he looks under his microscope.
Season 5, Episode 24 – Odyssey



Buy Now!

Description:
A 12-year-old boy named Dylan has leukemia and has only been given a few weeks to live. His only dream is to see the Pacific Ocean, and when his overprotective mother is too afraid to take him, Laura and Albert decide to help him get there.
Fun Fact!
Laura and Albert run away in this episode to help their friend Dylan. Laura and Albert each ran away one time before this – Laura in Season 1's "The Lord is My Shepherd," and Albert in Season 5's "Fagin."
Did you know?
Although Dylan was not told he had leukemia, during the train ride to San Fransisco, he made reference to Albert that he had the disease.
More Trivia!
In one of the scenes from this episode, Charles tells Laura that his one wish is to live long enough to see his children grow up, be happy, and have their own families. This is especially sad to look back on, since Michael Landon died of cancer before all his kids had a chance to grow up.
What is your favorite episode from this season? Please share your thoughts and stories with us. And be sure to subscribe to our free newsletter for all the latest show information!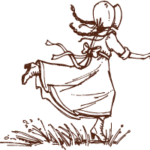 The editors of the Little House on the Prairie® website are pleased to bring you interesting articles, interviews, fan features, videos, and much more.