A glossy white cloth covered the table. On it was a beautiful sugar-white cake and tall glasses… 'Is your lemonade sweet enough?' Mrs. Oleson asked. So Laura knew that it was lemonade in the glasses. She had never tasted anything like it.
—On the Banks of Plum Creek
Lemonade is a timeless beverage that even little Laura Ingalls enjoyed during special occasions. Laura tasted lemonade for the first time at Nellie Oleson's party and remembers how it was both sweet and sour. Later, she tried it at the Fourth of July celebration as described in the book, Little Town on the Prairie. The lemonade had just been mixed with fresh cold water from the well and the barrel was almost full. Pa filled the dipper from the barrel and gave it to Carrie then Laura. They couldn't believe how delicious it tasted!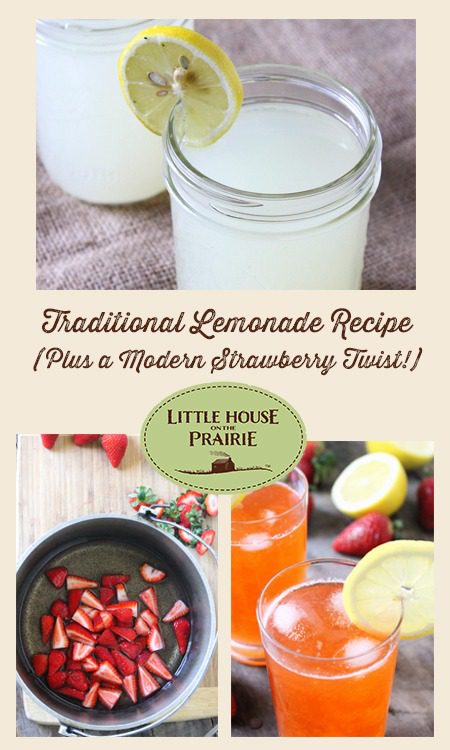 Today, most of us have enjoyed lemonade at some point in our lives and even more likely on a hot summer's day as Laura did. It's the perfect combination of sweet and tart flavor that creates a delicious, refreshing drink. Not to mention how simple of a recipe it is—just lemons, sugar, water, and ice! You can mix it up easily for any party occasion but it's a must-have for a Little House on the Prairie themed party!
Traditional lemonade is super easy to make and can be ready in less than 10 minutes, depending on your lemon-squeezing skills. Squeezing the lemons by hand is not only more fun if you're having young children help, but it's also more efficient. With your hands, you can make sure you're getting the maximum amount of juice out of the lemon.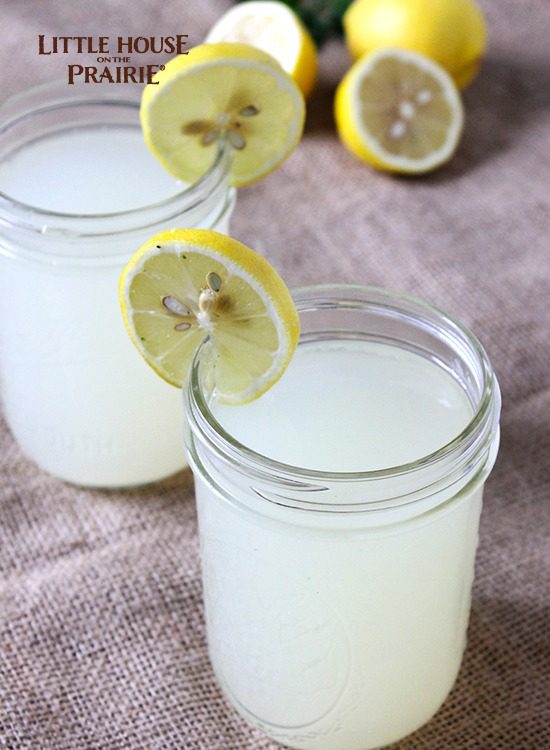 Old-Fashioned Lemonade Recipe Inspired By Little House on the Prairie
When life gives you lemons, make lemonade! I usually already have a couple of lemons in the fruit basket, so when I want a sip of something refreshing, I whip up a batch of ice-cold lemonade. You can use lemons from a farmer's market or pick up a few lemons from your local grocery store.
Ingredients for Traditional Lemonade (Serves 4-6):
½ cup sugar
1 cup hot tap water
2 lemons
2 cups cold water
12 ice cubes
lemon slices, for serving
Directions for Traditional Lemonade:
In a pitcher, combine the sugar and hot tap water. Stir until all of the sugar is dissolved.
Slice the lemons in half and squeeze the lemons with your hands or a citrus juicer, until you have ½ cup of lemon juice.
Add the lemon juice, cold water, and ice to the pitcher. Stir to combine.
To serve, cut a slit in the lemon slices and attach them to the side of drinking glasses. Pour in the lemonade.
A Modern Take on Traditional Lemonade: Strawberry Lemonade Recipe
Sometimes you just want something a little fancier than classic lemonade. So what better way to dress it up than to add a little bit of fresh strawberry syrup to the mix?
The addition of the strawberry syrup does put this lemonade on the sweeter side of the spectrum, so if you find it is too sweet, simply add in a little more lemon juice and give it a good stir to combine.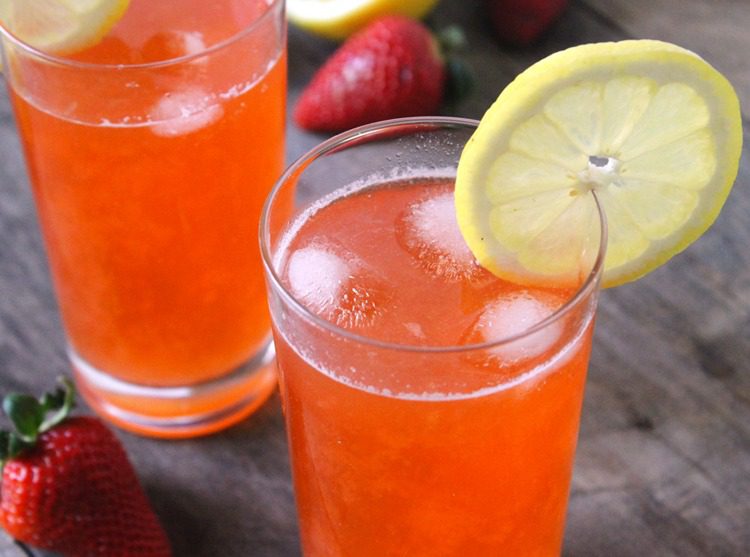 I've always been fond of the taste of strawberries, so I thought, why not add the flavor of strawberries to my favorite summertime beverage?
Ingredients for Strawberry Lemonade (Serves 4-6):
½ cup sugar
½ cup water
1 cup quartered strawberries
1 batch of old-fashioned lemonade (recipe above)(Decrease sugar if you want a less sweet blend.)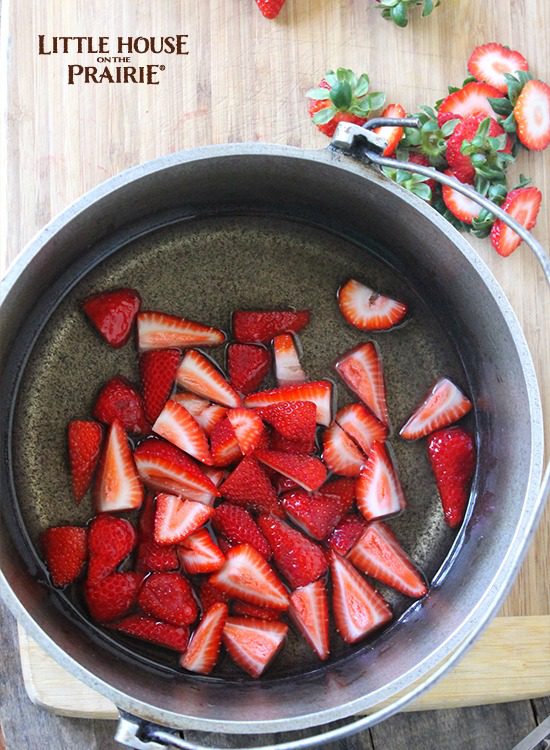 Instructions to Make Summery Strawberry Lemonade:
In a heavy-bottomed pot, combine the sugar and water. Heat the mixture over medium heat until the sugar is fully dissolved.
Add in the quartered strawberries and stir to combine. Bring the mixture to a boil, then reduce the heat to medium-low and let simmer for 10 minutes, or until the strawberries are soft and the mixture is thick.
Remove the pan from the heat. Using a slotted spoon, scoop all of the strawberries out of the syrup and run them through a fine-mesh strainer.
Pour the strawberry syrup into the lemonade and stir for one minute to combine. Garnish as desired and serve.
Note: The pulp that remains from the straining process can be used as strawberry jam. I like to store it in a jar in the fridge, and I love spreading it on toast or using it for peanut butter & jam sandwiches.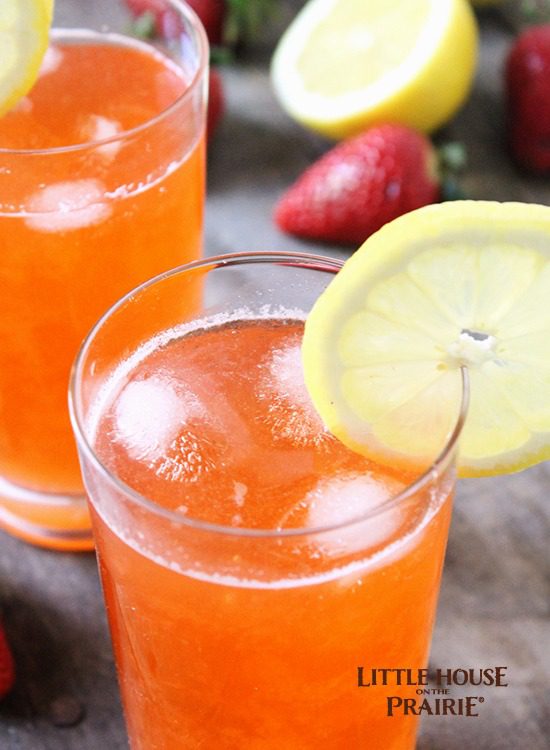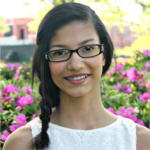 Writer of the food blog, Natural Chow, Margaret Anne is a green-thumbed Christian striving to live a healthy lifestyle and teach others about eating and living naturally. She understands the importance of inexpensive meals, family time, health, having fun, and making foods that are good for your body. See her contributions to Little House on the Prairie below.