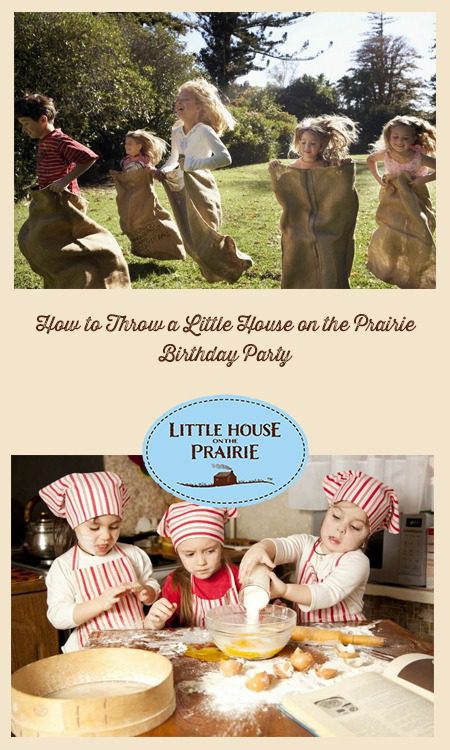 When my kids expressed interest in putting on a Little House on the Prairie party, I couldn't help but be excited myself. I instantly came up with more than a few birthday party ideas to match the theme. I grew up watching Michael Landon, who played Pa, raise a family through a different time in history. "Little House on the Prairie" is a timeless show that almost any child can enjoy. Have everyone bring their official Laura Ingalls dolls and accessories by The Queen's Treasures for a fun doll-themed birthday party. Here are our Little House on the Prairie birthday party theme ideas.
Invitations for a Little House on the Prairie Party
A Little House on the Prairie birthday party invitation will get your guests excited to take part in your celebration. The party starts from the moment your guests, young or old, receive their invitations. Here are some creative invitation ideas.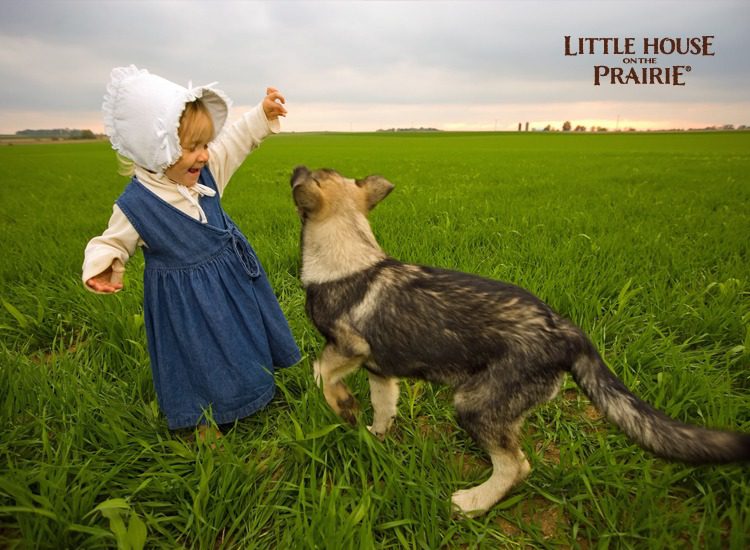 Slates and Chalk Boards. Slates and chalk boards were an essential tool in schooling back in Laura's day. A homemade mini chalk board would be a fun way to deliver party news. Remind your guests to bring their chalk board to their party so they can partake in a special activity.
In Person. In the olden days, family and town get-togethers were often coordinated by word of mouth. If saddling up and trotting on over via horse is not an option, you can still stop by using your vehicle for a quick visit and a verbal invitation while you are out and about. This is a fantastic way to save money and throw a Little House on the Prairie party on a budget.
Send a Telegram. Did you know that you can still send hand-delivered telegrams? A quick internet search should help you find a service in your area. What a fun way to set the mood!
Old-Fashioned Letter. Giving your guests tangible invitations to hang on their refrigerators may be greatly appreciated. It is fantastic that at almost any craft store you can find old parchment paper in the scrapbook aisle. Making invitations together with your kids can be so fun and it is especially easy and fun to attach an old-fashioned candy stick with the invitation. You might even use your own ink and envelopes! Here is a great sample of text for invitations:
Herd up the cattle, milk the cow
Then put on your Sunday best
______________ is turning ___
and it is your attendance that we request!
Join us to celebrate at _____ strikes past noon
We will all congregate at ________________________. We hope to see you there soon.
It's time to celebrate, prairie style. Be prepared to hop, skip, and run.
Brush up on Little House on the Prairie trivia and be prepared for some good old fashioned fun.
Don't forget to RSVP, so we'll know you will be here.
We want to have enough corn bread, candy, and old fashioned lemonade.
Decorations For a Little House on the Prairie Party
Set the mood of the party with some old-fashioned décor and setting. The good news is you don't need to spend money on store bought paper streamers because you can make your own paper banners! The following are just a few of the things we used to set the stage for our Little House on the Prairie birthday party.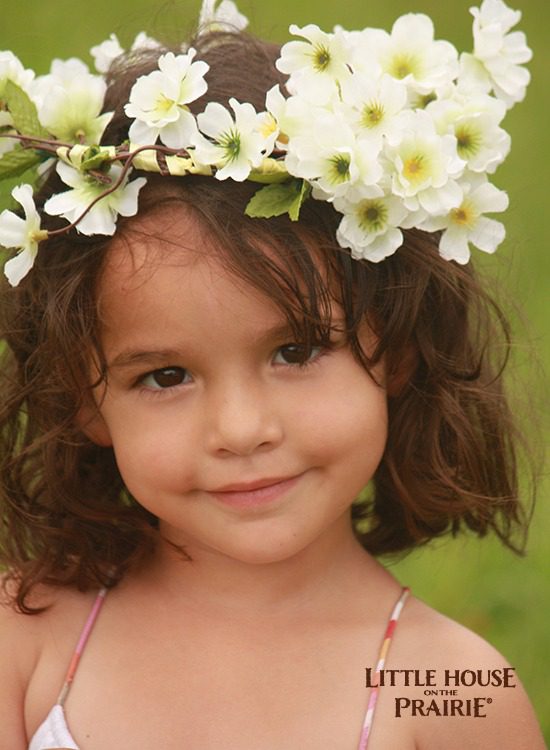 For the simplest décor, host your party outside for an old-fashioned picnic on a grassy space for your own prairie!
Little House on the Prairie Party Activities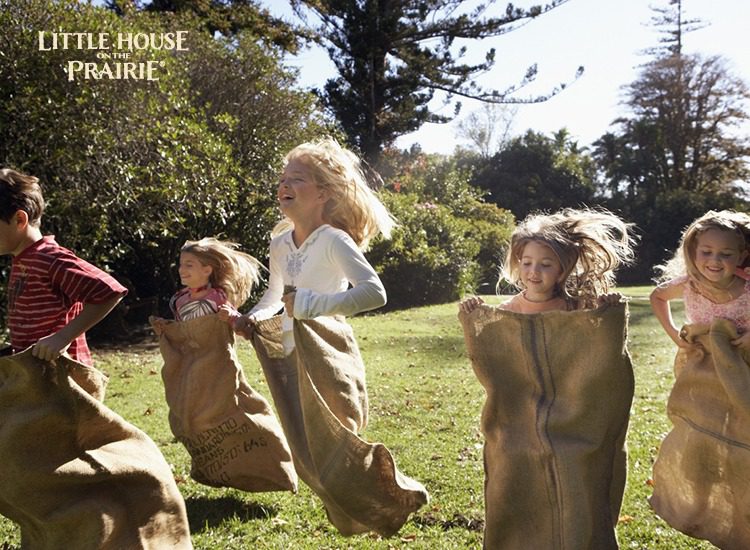 What is a party without food and games? Little House on the Prairie games can be easy to explain and set up. In the show, they often participated in many of the games below in town celebrations.
Potato Sack Races
3 legged races
Balance a book on your head while walking (Mary did this often)
See a full list of games pioneer children played for more ideas!
Here are some Little House on the Prairie craft ideas to use if running and jumping aren't your speed.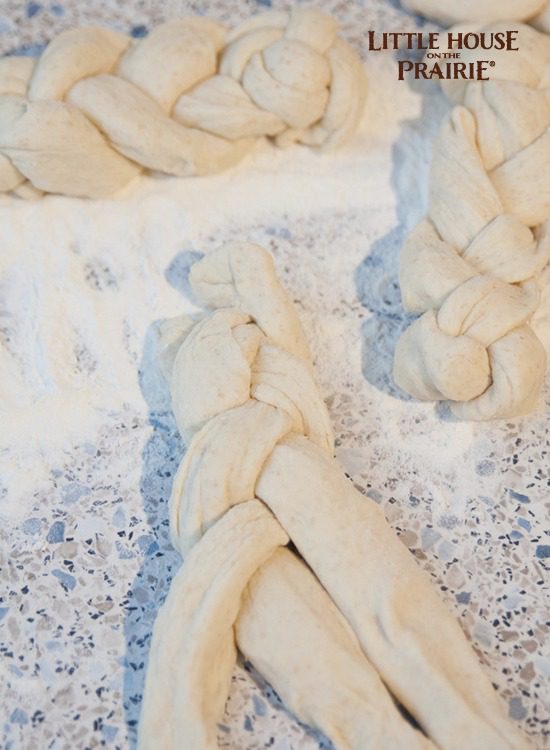 Making homemade braided bread. This is a double activity because they can be served as a menu item, as well.
If you want to stick to fabric crafts, braid a rug instead of bread to give the kids a cute place mat to take home!
Candle making. This can be a messy craft and should be saved for older kids with direct adult supervision.
Make hair accessories or hair wreaths using flowers.
Make suspenders.
Turn play time into meal time with this homemade butter-making activity. Great for a group of kids who can pass the jar back and forth!
Make popsicle log cabin birdhouses.
Make stick framed art with paint using coffee grinds.
Create old-fashioned bead or button jewelry pieces, just as Laura and Mary did!
Make patriotic popsicle stick flags using the stars for that time period. Remember that during the Centennial celebration in Season 2, Episode 20, Laura and Mary made their flag with fewer stars because we didn't have 50 states yet!
Little House on the Prairie Inspired Party Food
At most parties, food is part of the celebration. Little House on the Prairie was set in simpler times, which makes planning a Little House on the Prairie menu low stress. Food doesn't have to be over the top, but a good meal can still be provided.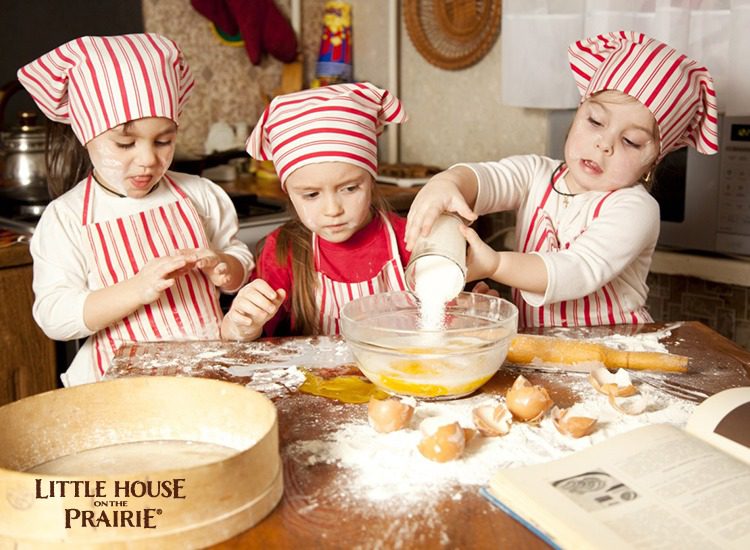 Party Favors for Your Little House Party
Goodie bags can be fun to take home. It is a great way for your guests to remember your party. Some of the crafts can double as a party favor. Here are some more favor ideas.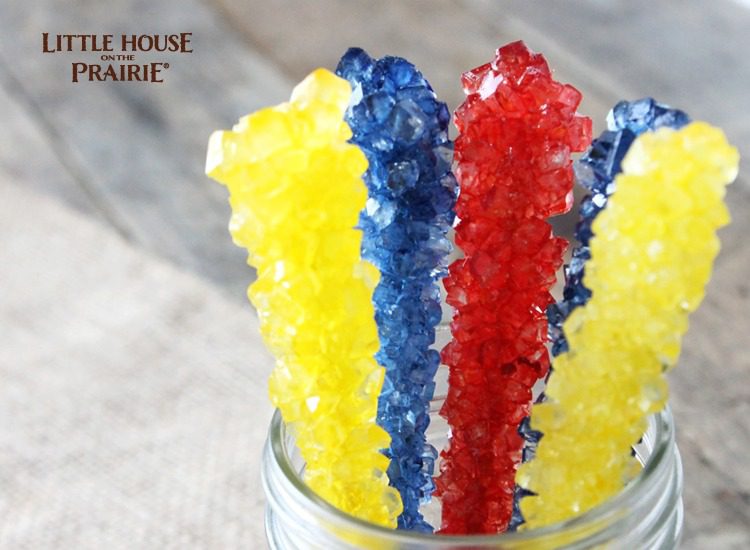 Have you ever thrown a Little House on the Prairie Themed Party? Tell us about it in the comments or share your story, photos, and videos with us through the submission form. And please subscribe to our Little House on the Prairie newsletter for all the recent posts and fun activities.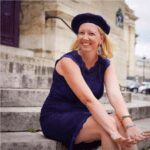 Elizabeth Norton secretly had a crush on Michael Landon in her younger years. Her husband of 12 years is a city boy and is amused by this fact. She is mom to 3 children, 2 dogs (including #HappyPup), 1 cat, and 10 chickens. You can follow her adventures on her own 5-acre prairie in Cape May, New Jersey on her blog and social media channels.