Our articles about recently-released books are great resources for readers interested in Laura Ingalls Wilder and her Little House books. Here is a brief overview about Pioneer Girl: The Path into Fiction.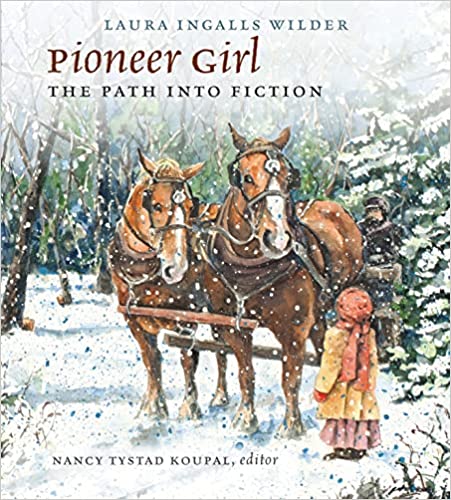 Author: Laura Ingalls Wilder
Editor: Nancy Tystad Koupal
Publisher: South Dakota State Hist Society Pr; Annotated edition (May, 2023)
Synopsis:
When Laura Ingalls Wilder wrote her autobiography, Pioneer Girl, she had no idea that children across the United States would be reading about and falling in love with Laura Ingalls and her family just two years later. Pioneer Girl: The Path into Fiction traces the evolution of Wilder's matter-of-fact memoir of her girlhood in Wisconsin into a bestselling novel for children. Along the way, editor Nancy Tystad Koupal discloses previously unknown aspects of this story as she examines the various drafts of Little House in the Big Woods.
The third volume in the Pioneer Girl Project series, Pioneer Girl: The Path into Fiction follows Wilder as she steps away from autobiography and into the world of fiction. Wilder handed her memoir over to her daughter, novelist, and journalist Rose Wilder Lane, for editing, but when the revised versions of Pioneer Girl failed to attract a publisher, Lane reframed the Wisconsin portion of her mother's autobiography as juvenile fiction. The resulting twenty-one-page picture-book manuscript, "When Grandma Was a Little Girl," featured Pa's well-honed tales in the cozy Ingalls home in 1870s Wisconsin. This manuscript captured the attention of a New York publisher, who wanted more words―15,000 more words―about pioneer life for readers aged eight to ten. Accepting the challenge, Wilder returned to Pioneer Girl for additional material. As she wrote, she created multiple drafts and a completed manuscript for Lane to edit and type.
Collecting all the unpublished drafts in Pioneer Girl: The Path into Fiction, editor Koupal documents Wilder's process and explores the roles of authors, editors, and agents in the crafting of children's fiction. Koupal reveals that as Wilder continued down the path, she came to understand that writing novels freed her to restructure events, create stronger, combined characters, and fit truth into the space between fact and fiction. The succession of manuscript drafts that paved the way from the original Pioneer Girl to the publication of Little House in the Big Woods reveals the strengths of Wilder as an author and Lane as an editor and agent. The relationship brought forth the best efforts of both women and created a childhood classic.
About the Author: Laura Ingalls Wilder
Laura Ingalls Wilder finished her autobiography, Pioneer Girl, in 1930 when she was sixty-three years old. Throughout the 1930s and into the early 1940s, Wilder utilized her original manuscript to write a successful series of books for young readers. Wilder died in Mansfield, Missouri, at ninety years of age on February 10, 1957.
About the Editor: Nancy Tystad Koupal
Nancy Tystad Koupal is director and editor-in-chief of the Pioneer Girl Project. She received an M.A. in English from Morehead State University in Kentucky and did postgraduate work in American literature at the University of Wisconsin, Madison. She founded the South Dakota Historical Society Press in 1997. Koupal is also the editor of Pioneer Girl Perspectives (Pierre: South Dakota Historical Society Press, 2017) and Our Landlady (Lincoln: University of Nebraska Press, 1996), a collection of L. Frank Baum's satirical newspaper columns.
Pick up your own copy of Pioneer Girl: The Path into Fiction here.
Check out our Recommended Reading for Adults and Recommended Reading for Children & Young Adults for more great books and be sure to subscribe to our newsletter for information and recommendations about interesting reading and activities.