In the early 1990s, HarperCollins Publishers launched the My First Little House Books program to introduce toddlers and young children to the world of Laura Ingalls Wilder. They began a search for an illustrator who had a similar style to that of the beloved illustrator, Garth Williams.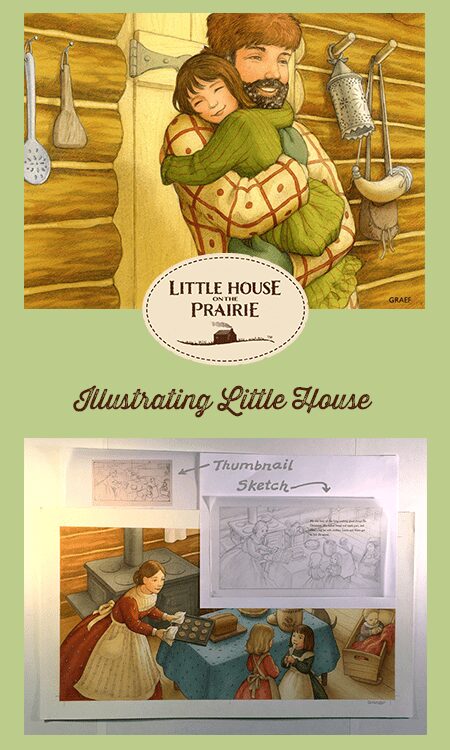 My illustration agent, Merial Cornell, was showing art portfolios to the HarperCollins creative director at the time when he noticed my work. I was asked to do a sample piece to see if it was the right fit. It was, and two double-page spreads were requested. After these were approved, I was offered a contract for eight picture books based on Laura Ingalls Wilder's writings. All of this was very exciting, as you can imagine!
I lived in Milwaukee at the time and flew to New York to meet with the editors, art directors, and my agent to discuss the vision and details of the program. It was a wonderful experience to be a part of such an amazing creative team.
Approximately one year later, after we had illustrated a couple of the picture books, HarperCollins approached us about expanding the program to include paper dolls, board books, baby books, chapter books and other items. I became a creative consultant/director for the next five years, art directing another 35 books. I went to New York for meetings every four months to brainstorm and discuss the particulars of the program.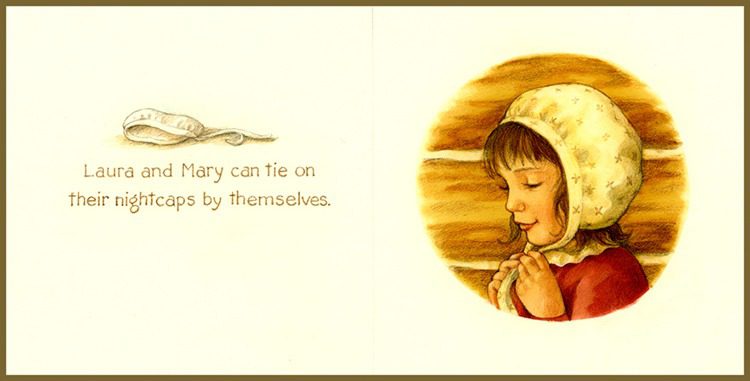 I worked with illustrators Doris Ettlinger, Jody Wheeler and Cathy Holly to create a cohesive look for the program. Doris worked extensively on picture books, chapter books, board books, covers and other items. Jody Wheeler worked primarily on the Farmer Boy picture books. Cathy Holly was instrumental in helping me at my Milwaukee studio. She cut friskets, airbrushed, sketched, cut boards and did many other duties. It was so much fun to work with other illustrators!
During this time, I illustrated many of the books in the program and others for HarperCollins, including The Nutcracker and My Favorite Things. My two children were the primary models in My Favorite Things and my sister modeled as the mother in the book. My daughter, Maggie, would sometimes model as Laura for the Little House books. Friends and neighbors were the models for Santa Comes to Little House (out-of-print), the only one of the picture books that was painted in a more realistic style.
I also illustrated The Martha Years novels, Little House in the Highlands, The Far Side of the Loch, Down to the Bonny Glen, and Beyond Heather Hills. These novels were based on Laura Ingalls Wilder's grandmother's childhood in Scotland.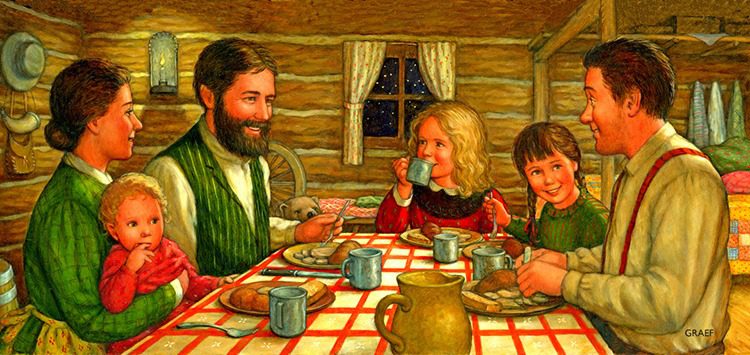 Research was one of my favorite parts of the Little House experience. I have visited all of the Laura Ingalls Wilder locations and met so many people who were passionate about Laura and her life. I traveled with my two young children (at the time) and my sister, to many of the Little House homesites. There is something magical about being in the exact place where Laura stood! We also stopped at all of the train museums along the way.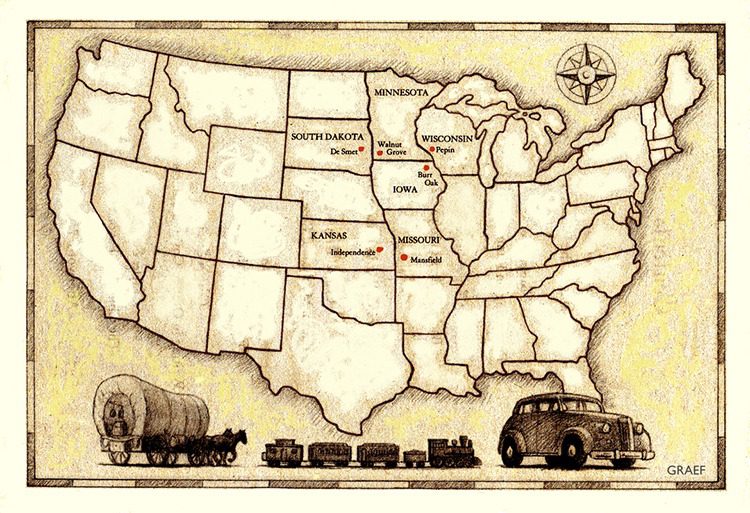 Illustrating a Little House book starts with Laura's words, of course. We all have images that come to mind while reading. My job is to capture those pictures to tell the story. Small thumbnail sketches read like a storyboard for a movie. I try to make sure that images move back and forth between close-up and far away while keeping in mind the emotion of the words.
Step One:
The thumbnail sketches are drawn on thick tracing paper called vellum. After the general design is scribbled, I place it under another piece of vellum to clean it up. Here are all of the thumbnails for Going to Town.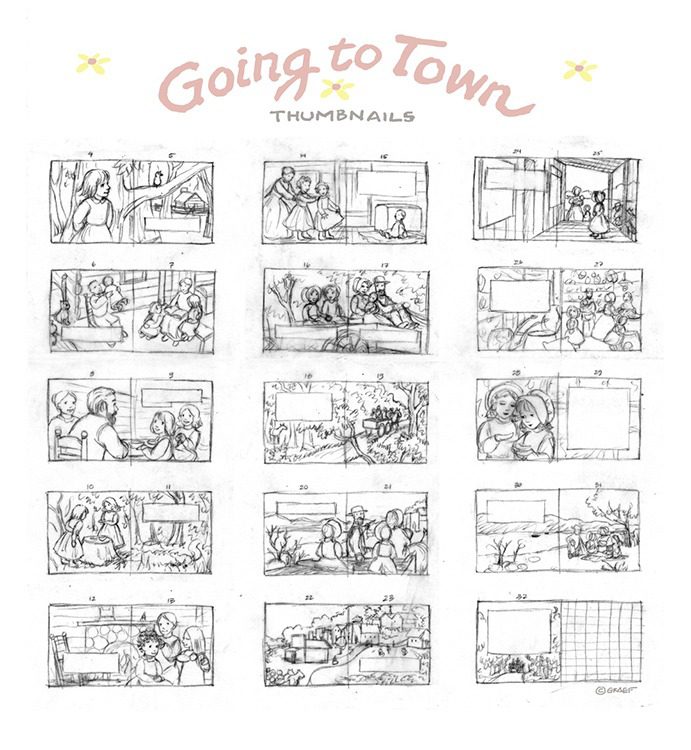 Step Two:
The editor looks at all of the thumbnail sketches for feedback. Here is the preliminary thumbnail for the wagon ride in the picture book, Prairie Day.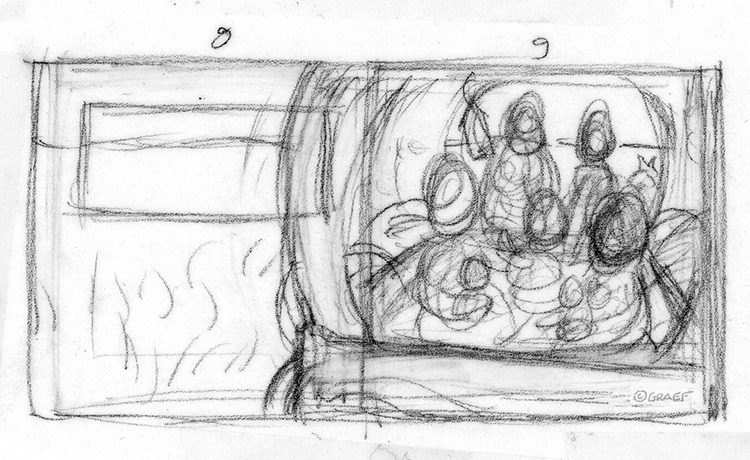 And here's the final thumbnail.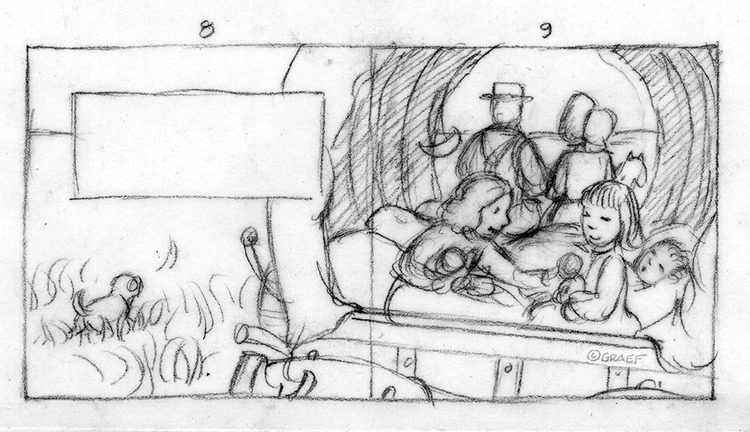 Step Three:
Once the thumbnail is approved, I move on to a larger sketch. This is the point where most of the research is done and photos are taken for reference. Again, I will re-sketch a number of times to keep refining and adding more details to the sketch.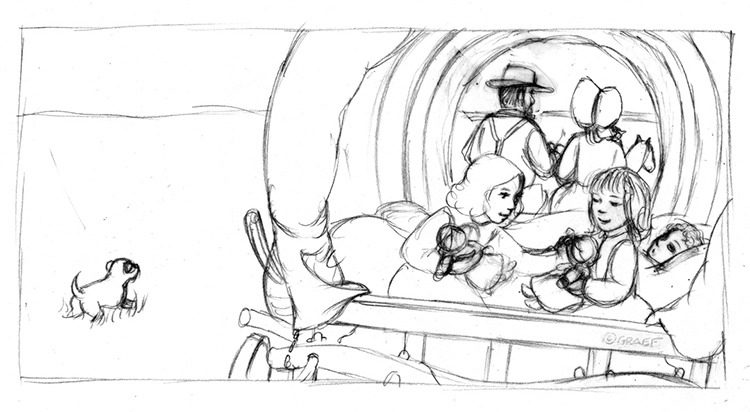 Here is the final sketch that is sent to the editor for approval.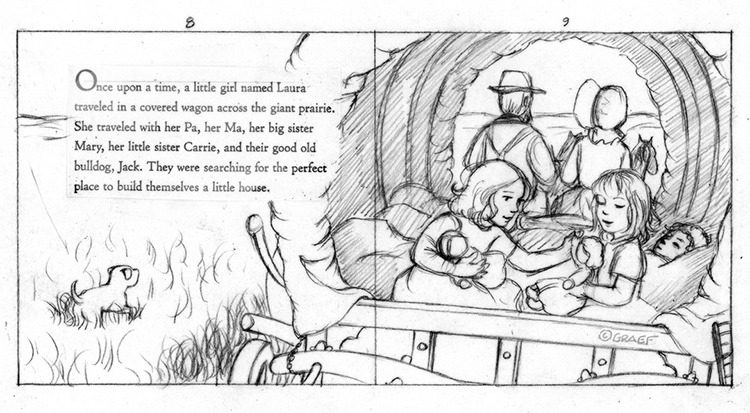 Step Five:
Colored pencil, watercolor, and gouache are used for detailing. This is the part that takes up the most time. And here is the final wagon ride illustration!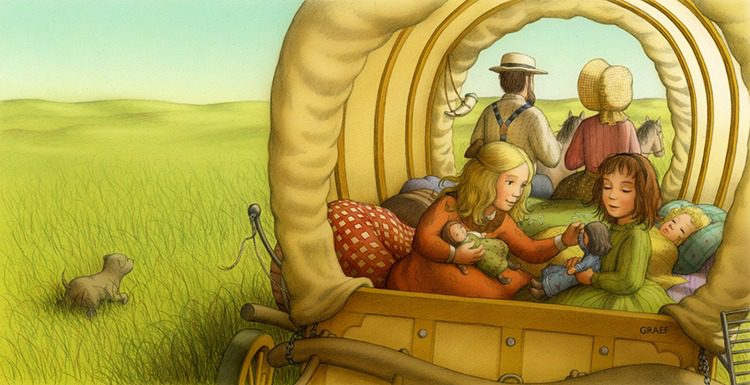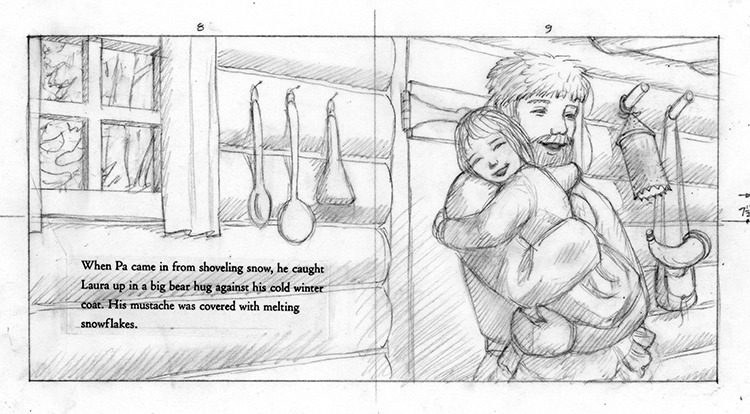 It has been so nice to revisit my Laura years with you!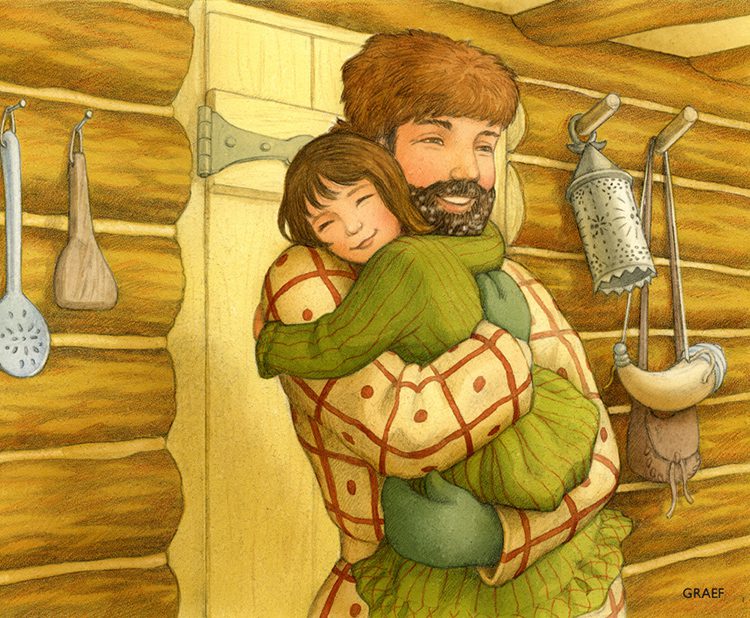 We think you will enjoy all of the Little House books that Renee Graef illustrated.
My First Little House Books
Little House: The Martha Years
Comments from the Website Editors
These beautiful illustrations bring Laura's stories to life for young children. For more great book selections, please see our recommended reading lists for children and adults.
You may also be interested in Renée's newest book, Thèrése Makes a Tapestry, published by Getty Publications.
Do you have a story to share about what Laura and her stories have meant to you? Share them with us here and be sure to subscribe to our newsletter for future exclusive stories!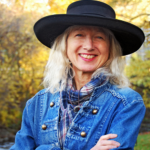 Renée Graef is an award-winning illustrator of over 80 books for children, including many of the "My First Little House Books" by Laura Ingalls Wilder and the "Kirsten" series in the American Girl collection. Renée worked as creative director for the "Little House" program at HarperCollins for five years and enjoyed traveling to the Laura Ingalls Wilder sites. Her works include a tapestry book for the Getty Museum and books for Mount Rushmore. Her latest book is "Everybody's Tree" by Barbara Joosse.