Thanksgiving dinner was good. Pa had shot a wild goose for it. Ma had to stew the goose because there was no fireplace, and no oven in the little stove. But she made dumplings in the gravy. There were corn dodgers and mashed potatoes. There were butter, and milk, and stewed dried plums. And three grains of parched corn lay beside each tin plate.
At the first Thanksgiving dinner the poor Pilgrims had had nothing to eat but three parched grains of corn. Then the Indians came and brought them turkeys, so the Pilgrims were thankful.
Now, after they had eaten their good, big Thanksgiving dinner, Laura and Mary could eat their grains of corn and remember the Pilgrims. Parched corn was good. It crackled and crunched, and its taste was sweet and brown.
—On the Banks of Plum Creek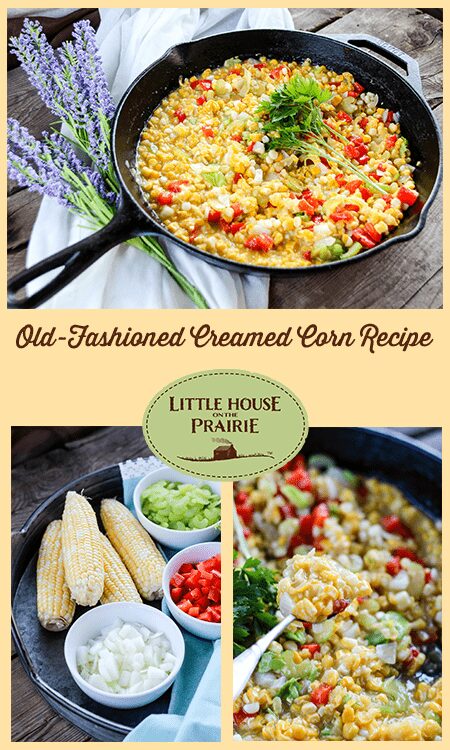 HOMEMADE SWEET PARCHED CREAMED CORN
Have you ever tasted parched corn before? Back in Laura Ingalls' day, parched corn was considered a fancy side dish served during the holidays, such as Thanksgiving. From what I've gathered, parched corn is fried in a skillet with a bit of lard until it's softened. It sounds like an alternative version of corn on the cob. I decided to modernize the parched corn recipe with corn on the cob to make homemade sweet corn. 
The Ingalls had to use corn for a variety of meals.  They did not have the luxury of having sweet corn at a BBQ party like we enjoy today. You can read about the different ways they grew and used corn, including how to make your own corn cob doll (like Laura had). And of course, the famous johnny-cake recipe with cornmeal. 
With my homemade sweet corn recipe listed below, I decided to mix a little bit of the old with the new to create this crowd pleaser!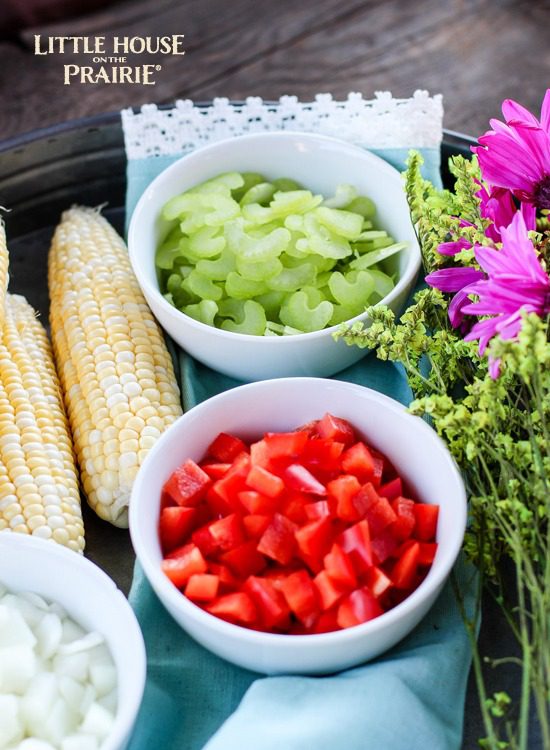 INGREDIENTS for Inspired Sweet Creamed Corn:
1/2 cup celery leaves, chopped
1 tbsp unsalted

 

butter
1 tbsp

 

extra virgin olive oil
1 red pepper, chopped
1 medium onion
2 cloves of garlic, minced
2 cans of cream corn
3 celery ribs, thinly sliced
4 cobs of sweet corn cut from the cob
black pepper to taste
sea salt to taste
Sprig of cilantro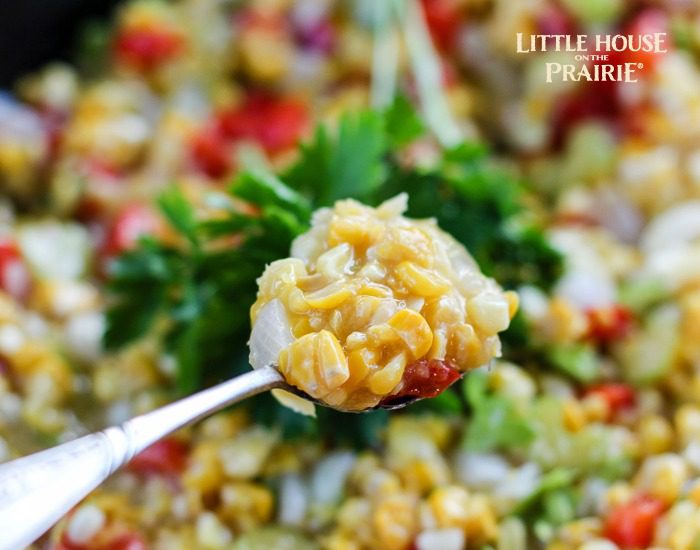 DIRECTIONS for Sweet Creamed Corn Recipe:
Step One. Chop the celery leaves, red pepper, onion, celery ribs and set aside.
Step Two. Heat two cans of creamed corn in a saucepan, and set aside.
Step Three. Place the corn on a cutting board. Cut down the side of the cob to remove the kernels. Then continue to rotate and cut until all of the kernels are removed. Place the kernels in a bowl and set aside.
Step Four. In a large cast iron skillet over medium-high heat, add extra virgin oil.
Step Five. When the oil is hot, sauté the celery, red peppers, onions, sweet corn kernels, and garlic.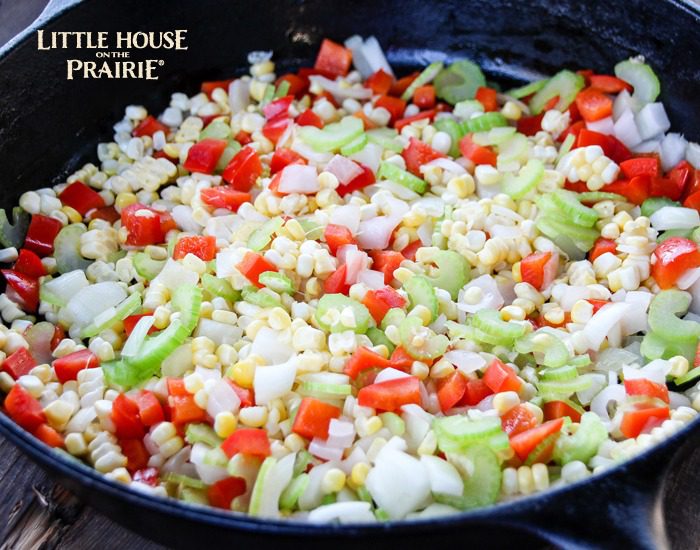 Step Six. Cook until the onions become translucent.
Step Seven. Mix the cream corn, 1 tbsp of butter, with the sautéed veggies, mix well.
Step Eight. Season with black pepper and sea salt, and top with a sprig of cilantro.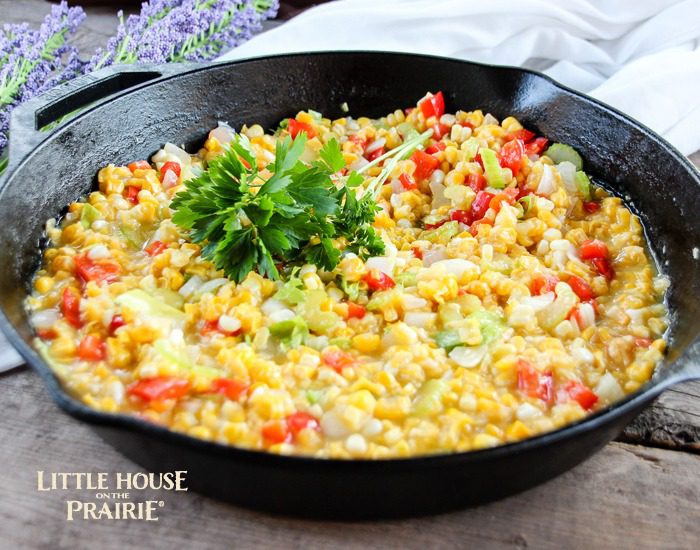 With just a few fresh ingredients, this simple farm-to-table dish would have been perfect for the Ingalls family, and most certainly will be a crowd-pleaser this summer at your BBQ party.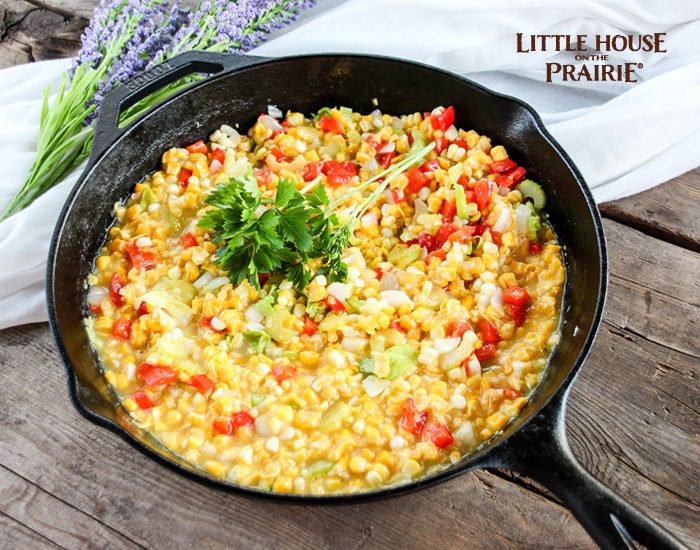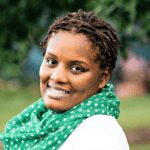 Tatanisha plays a Super-Fun Mom to three active & handsome boys. A Foodie at heart and Wife to an awesome Chef.
When she's not blogging about ways to save money or about autism, she loves to travel and try new food. You can find her creating new tablescapes over at A Worthey Read, as well as saving you money on A Mitten Full of Savings.