Little did she know when she was writing her books, but author Laura Ingalls Wilder's writing legacy has fascinated readers of all ages. This specially curated list should help you find the perfect book for your Little House fan, no matter their age.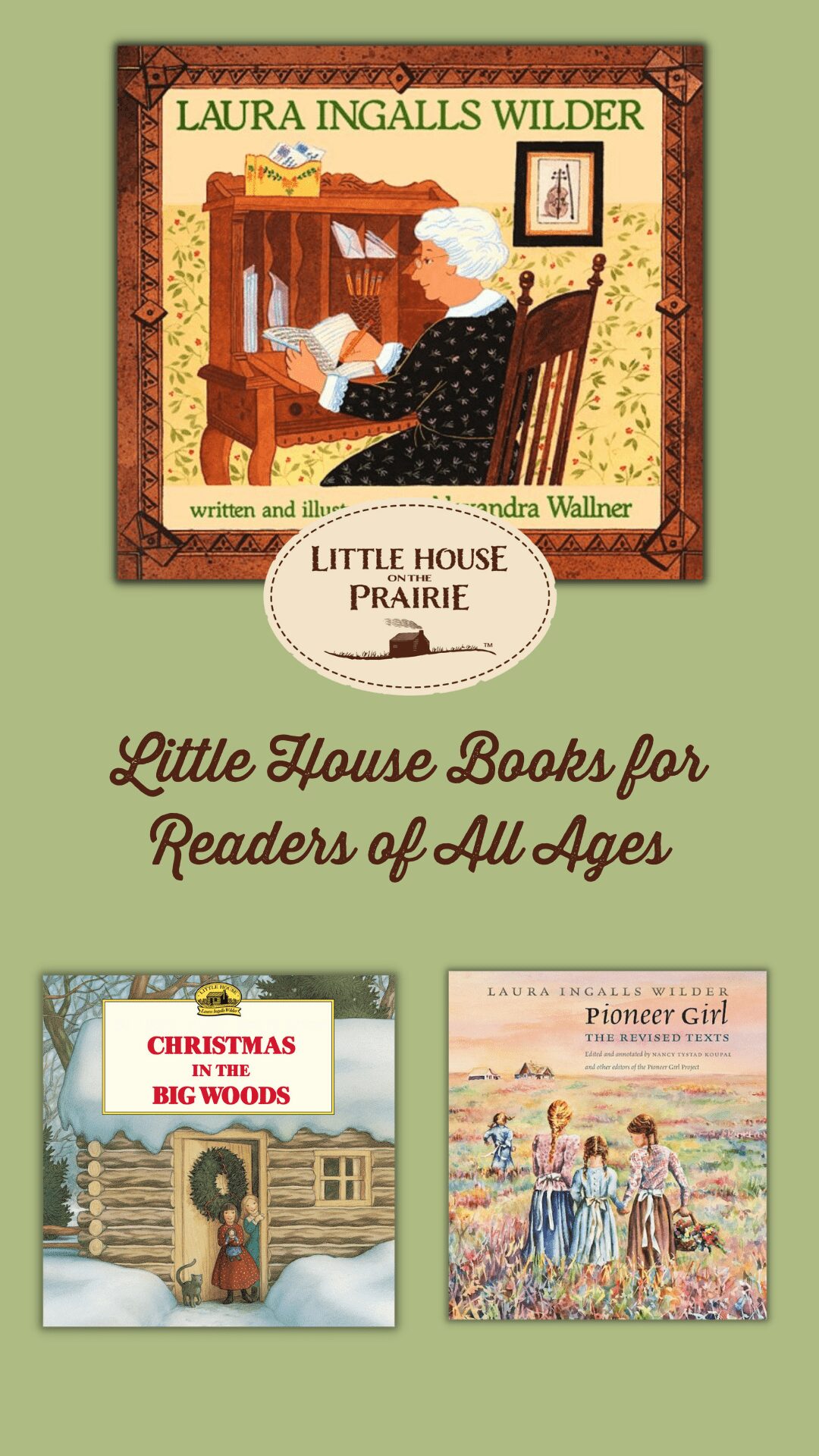 Pre-Reading and Picture Books
My First Little House Board Books: The very youngest readers can share in the Little House adventures with these four board books! In Hello, Laura!, visit Laura in her little house on the prairie. Join Laura as she helps Ma plant a vegetable garden in Laura's Garden and Pa build a door for the little house in Laura Helps Pa. And even bedtime is fun as Laura goes to sleep to the sound of Pa's fiddle in Bedtime for Laura. These sturdy new My First Little House board books are the perfect introduction to the world's favorite pioneer adventure.
Happy Birthday Laura / Merry Christmas Laura: These colorful books illustrated by Renée Graef feature an easy-to-press button that plays music just right for the occasion: Pa's rendition of 'Pop! Goes the Weasel' for Laura's birthday and the whole family's holiday chorus of 'We Wish You a Merry Christmas.'
Early Readers (Pre-School to Grade 2)
My First Little House Books
With these illustrated adaptations from the beloved Little House series, the youngest readers can share in the joy of Laura Ingalls Wilder's beloved classics. The My First Little House books are an excellent choice for children aged 4-6. The Little House Picture Book Treasury contains several of the books, but you can also get them individually.
Christmas in the Big Woods: Christmas has come to the Big Woods of Wisconsin! Laura and her family are excited to celebrate. When Laura's cousins, aunt, and uncle arrive, they spend their time together eating sweets, playing in the snow, and reading. Their holiday celebrations are full of simple joys.
Dance at Grandpa's: Laura, Pa, Ma, Mary, and baby Carrie are going to a party at Grandpa and Grandma's house! There's music, dancing, yummy food, and great company. It's the best party Laura's ever been to!
The Deer in the Wood: Laura and her sister Mary miss Pa when he goes into the woods to find food for their family. When he comes home, he tells them a very special story.
A Farmer Boy Birthday: One special day is Almanzo's birthday. He gets to stay home from school, and even better, Father gives him a yoke for his calves, Star and Bright, and a beautiful hand-sled.
Going to Town: One spring day Pa has a wonderful surprise—he is taking the family on a trip into town! Laura is very excited, for she has never been to a town, and this special visit is everything she imagined and more.
Going West: It's a fond good-bye to the Big Woods as Laura and her family pack up the covered wagon and begin their journey westward to the prairie.
A Little House Birthday: Join the Ingalls family as they celebrate little Laura's fifth birthday in the Big Woods of Wisconsin. There are special presents from everyone, and that night Laura falls asleep to the merry music of Pa's fiddle. It's a Little House birthday to remember!
A Little Prairie House: Laura, Pa, Ma, Mary, and baby Carrie have traveled from the Big Woods to the prairie in their covered wagon, driving through tall grass until they found just the right spot for their new home. With the help of their kind neighbor, Mr. Edwards, Pa builds a snug little house for the family in the middle of the wide-open prairie.
Prairie Day: Laura and her family are journeying across the flat Kansas prairie to find a new home. There are gophers and rabbits to play with in the daytime, and a cozy camp awaits at night.
Sugar Snow: Laura is delighted when a soft, thick snow falls in late spring in the Big Woods of Wisconsin. A late snow helps the trees make more sap for maple syrup, and maple syrup means sweet sugar cakes and sticky fingers for Laura!
Summertime in the Big Woods: The winter is finally over, and now it is summertime. Laura and Mary are busy all day helping Ma in the garden and playing outside.
Winter Days in the Big Woods: Winter has come to the Big Woods! Laura and Mary help Ma with chores around the house. When the frost comes, they draw pictures in their windows.
Winter on the Farm: Winter has come to the Wilder family farm in upstate New York. Almanzo goes through his afternoon barn chores, and then sits down to eat a hearty farm supper with his family.
Other Books for Early Readers
Laura Ingalls Wilder: Written and illustrated by Laura Ingalls Wilder, this early reader book provides a colorful biography of the famous writer.

A Little House Coloring Book: A beautifully designed coloring book featuring classic artwork by Garth Williams and quotes from all nine original Little House books. Perfect for at-home creative time.
Laura Ingalls Wilder (Real People): Pam Walker has written an easy-to-read biography about the pioneer life of the author of the "Little House" books.
My Little House Sticker Book: Beautifully illustrated by Renée Graef, this book includes two fully laminated spreads showing the Little House in the Big Woods, another laminated spread showing the yard outside, thirty reusable stickers of the Little House characters, and a brief story about Laura and Mary.
Grades 3-5
The elementary grades are the perfect time to introduce the actual writings of Laura Ingalls Wilder. The nine Little House books have been cherished by generations of readers as both a unique glimpse into America's frontier history and a heartwarming, unforgettable story. The original book series is best suited for children from grade 3-5.
Little House in the Big Woods: Told from four-year-old Laura's point of view, this story begins in 1871 in a little log cabin on the edge of the Big Woods of Wisconsin.
Farmer Boy: While Laura grows up in a little house on the prairie, Almanzo Wilder is living on a big farm in New York State working with his brother and sisters help with the summer planting and fall harvest. Time for fun comes when the jolly tin peddler visits, or best of all, when the fair comes to town.
Little House on the Prairie: The adventures continue for Laura Ingalls and her family as they leave their little house in the Big Woods of Wisconsin and set out for Kansas. Sometimes pioneer life is hard, but Laura and her folks are always busy and happy in their new little house.
On the Banks of Plum Creek: The adventures of Laura Ingalls and her family continue as they leave their little house on the prairie and travel in their covered wagon to Minnesota, settling in a little house made of sod beside the banks of beautiful Plum Creek.
By the Shores of Silver Lake: The Ingalls family move from Plum Creek to the wilderness of the unsettled Dakota Territory. Pa puts up the first building in what will soon be a brand-new town on the beautiful shores of Silver Lake. The Ingalls' covered-wagon travels are finally over.
The Long Winter: Pa, Ma, Laura, Mary, Carrie, and little Grace bravely face the hard winter of 1880-81 in their little house in the Dakota Territory. Blizzards cover the little town with snow, cutting off all supplies from the outside. Young Almanzo Wilder and a friend make a dangerous trip across the prairie to find some wheat.
Little Town on the Prairie: Laura is growing up, and she goes to her first evening social. Mary is at last able to go to a college for the blind. Best of all, Almanzo Wilder asks permission to walk home from church with Laura. And Laura, now fifteen years old, receives her certificate to teach school.
These Happy Golden Years: Fifteen-year-old Laura lives apart from her family for the first time, teaching school in a claim shanty twelve miles from home. During school vacations Laura has fun with her singing lessons, going on sleigh rides, and best of all, helping Almanzo Wilder drive his new buggy. Friendship soon turns to love for Laura and Almanzo in the romantic conclusion of this Little House book.
The First Four Years: Laura Ingalls Wilder is beginning life with her new husband, Almanzo, in their own little house. Laura is a young pioneer wife now, and must work hard with Almanzo, farming the land around their home on the South Dakota prairie. Soon their baby daughter, Rose, is born and so Laura Ingalls Wilder's adventure as a little pioneer girl ends, and her new life as a wife and mother begins.
Other Books for Elementary Readers
Pioneer Girl: The Story of Laura Ingalls Wilder: With a simple, glowing text by noted historian and Little House scholar William Anderson, and glorious paintings by Dan Andreasen, Pioneer Girl is a very special portrait of a writer whose classic books and pioneer adventures have made her one of the most popular literary figures in America.
A Little House Christmas: Holiday Stories From the Little House Books: This lavish gift book gathers together five of Laura's classic Christmas stories from Little House in the Big Woods, Little Houes on the Prairie, and On the Banks of Plum Creek, and is illustrated with gently colorized versions of Garth Williams' original art.
The Adventures of Laura and Jack: Jack travels with Laura and her pioneer family all the way from the Big Woods of Wisconsin to the West. He protects them from wolves, cattle that go astray, and sometimes even a friendly neighbor. And he can always help Laura find her way home.
Pioneer Sisters: Laura Ingalls doesn't have many neighbors on the frontier, but she always has her sisters to keep her company. Even if they sometimes don't get along, Mary and Carrie are Laura's best friends in the world—and together they share all kinds of adventures!
Animal Adventures: Laura Ingalls and her family are surrounded by all kinds of wild animals. From bears and panthers to badgers and deer, Laura always manages to find herself caught up in a new animal adventure.
Laura and Nellie: Laura loves living on a farm, playing in Plum Creek, and wearing her homemade dresses. She's a country girl, through and through. But Nellie is a town girl. Her dad is a shopkeeper and she wears store-bought dresses. Laura is proud to be a country girl, but Nellie teases her for it. Can they put aside their differences and become friends?
Christmas Stories: For Laura Ingalls, Christmas means good things to eat, visits from friends, and special gifts to give and receive. As Laura grows up, every Christmas is better than the one before.
School Days: The Ingalls family has settled near town, and it's finally time for Laura and her sister Mary to start school. Laura wants to stay home and play, but Ma says she should be learning to read instead of running wild. Laura soon realizes she can learn and have fun at school, and she especially loves having new friends to play with at recess.
Who Was Laura Ingalls Wilder? This biography for young readers from author Patricia Brennan Demuth will help readers to see how true to life the Little House books were.
Grade 6-8 (Mid-Grade)
On the Way Home: In 1894, Laura, Almanzo, and their daughter, Rose, packed their belongings into their covered wagon and set out on a journey from De Smet, South Dakota, to Mansfield, Missouri.  During their journey, Laura kept a detailed diary of events: the cities they passed through, the travelers they encountered on the way, the changing countryside and the trials of an often difficult voyage.
West from Home: This book is a collection of letters sent from Laura to her husband Almanzo when she was sent to San Fransisco to write about the World's Fair in 1915. The missives detail her train trip and vividly record the sights of her journey and her destination. During the trip, she visited her daughter Rose, who had already left home and landed in San Fransisco.
Rose Wilder Lane: Her Story: This fictionalized description traces the early heartaches of Rose Wilder Lane as she leaves home to become a telegrapher in California, following her first love, who she hoped to marry.
The Rose Wilder Lane Series
Published after the death of Rose Wilder Lane, the series traces Laura's daughter Rose, starting with a childhood move away from the Ingalls farmstead to Missouri and following Rose as she becomes independent and leaves home.
Little House on Rocky Ridge: Tracing the journey of Rose from the drought-stricken Midwest to the lush green valleys of Missouri, the family seeks the promise of a new home and a new life for the Wilders.
Little Farm in the Ozarks finds Rose and her parents settling in at Rocky Ridge Farm. Rose feels out of place as the new girl in her class but gradually gains confidence, and Rocky Ridge truly becomes her home.
In the Land of the Big Red Apple: Rose, now eight going on nine, is beginning to settle into her new life in Missouri. Her father is building their farmhouse and she dreams of the day they'll have their own bright crop to harvest. But before that can happen, she has a fierce ice storm to contend with and her first real Christmas in the Ozarks to enjoy.
On the Other Side of the Hill: Continuing the story, the young Wilder family struggles to overcome a series of natural disasters that beset their little farm. A small cyclone doesn't cause much damage, nor does a fire, but the family realizes that things will be tight if they stay on the farm.
Hard times on the farm force Rose and her family to move to the town of Mansfield, a Little Town in the Ozarks. Life in town is so different from living on Rocky Ridge Farm that Rose wonders if she will ever learn to like the hustle and bustle of town life.
New Dawn on Rocky Ridge, is a time of new beginnings, and a big year for thirteen-year-old Rose Wilder and her family as they witness the turn of the century and, after years of hard work, experience their first apple harvest out on Rocky Ridge Farm. And as her feelings for Paul grow stronger, there are even signs of romance in the air for Rose.
Rose Wilder when she leaves Rocky Ridge Farm and moves to Louisiana to live with her aunt Eliza Jane On the Banks of the Bayou. Rose is sixteen now, and she thrives in a city brimming with excitement and adventure. Rose even finds herself becoming an independent young woman with her own ideas, ambitions, and dreams.
Rose leaves Rocky Ridge Farm to become a Bachelor Girl in the big city. First, she heads to Kansas City to learn how to be a telegrapher, then on to San Francisco. Her dream is to work for a year or two, save a little money, and then marry Paul Cooley, her childhood sweetheart. But the big city has all sorts of surprises in store for Rose, and she finds that she's destined to travel a road she never even imagined.
Biographies for Mid-Grade Readers
Laura Ingalls Wilder Young at Heart: Perfect for the mid-grade reader, this biography from author Jill Wheeler traces the life of Laura Ingalls Wilder.
Little Author in the Big Woods: This biography from author Yona Zeldis McDonough, complete with charming illustrations, points out the differences between the fictional series as well as the many similarities.
Laura Ingalls Wilder: The Iowa Story: The two years that Laura Ingalls Wilder and her family lived in Burr Oak Iowa was not part of the "Little House" series. Here William Anderson, leading Wilder historian and biographer tells that part of Laura's life, and why it wasn't included in the Little House series.
Inside Laura's Little House: Experience life as it was in the little log cabin through this treasury from Carolyn Strom Collins and Christina Wyss Eriksson. Find out what it was really like to homestead land, cook over an open fire, and build a prairie cabin. Make Mary's and Laura's star headbands, cook Ma's stewed blackberries, and plant your own prairie garden. You can even sing the songs that the Ingallses sang to the sound of Pa's fiddle!
Upper Grade Books (High School and Beyond)
Young Pioneers: Written by Laura's daughter Rose, this book depicts just how treacherous life could be living in isolation while trying to hold onto a land claim. A young couple face deprivation, fire, locusts, wolves, endless series of blizzards but in the end their determination to persevere saves the day.
Pioneer Girl: The Annotated Autobiography: builds on Wilder's work by adding valuable context and explores her growth as a writer. Author of an award-winning Laura Ingalls Wilder biography, editor Pamela Smith Hill offers new insights into Wilder's life and times.
The World of Little House: This keepsake volume from authors Carolyn Strom Collins and Christina Wyss Eriksson discusses how her real life was different from her stories, and it also focuses on her adult life and how she came to write the Little House series.
Books by William Anderson
There are several books by author William Anderson that will give teen readers more insight into Laura's life. Laura Ingalls Wilder: A Biography provides an insightful behind-the-scenes account chronicle of the real events in Laura's life that inspired her to write her stories and also describes her life after the last Little House book ends.
A Little House Reader: A Collection of Writings by Laura Ingalls Wilder: pieces together Laura's life after the books. The collection gathers precious samples of Laura's early essays and poems, as well as that of her parents, sisters and daughter.
William's books The Story of the Ingalls, The Story of the Wilders and Wilder in the West, also give more insight into the Laura and her family outside of the series.