You know, an animal is no different than a person. It needs to be with someone who loves it.
—Season 3, Episode 2 "Bunny"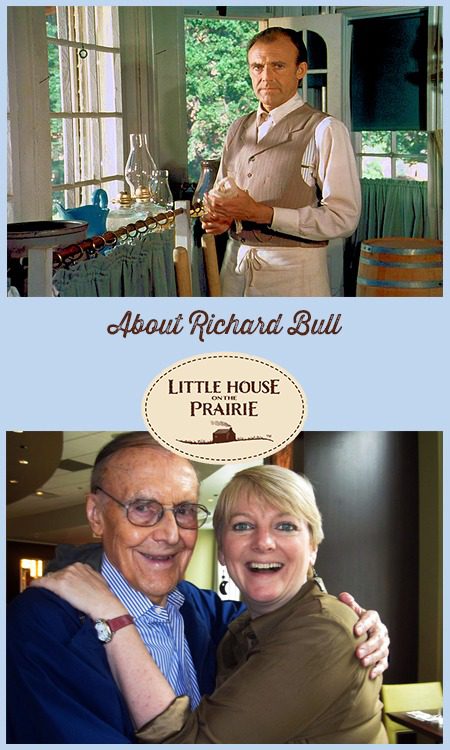 RICHARD BULL'S EARLY YEARS
Richard Bull was born June 26, 1924 in Zion, Illinois about 50 miles north of Chicago. His family eventually moved to Chicago, which was great for Richard because "I was a movie nut. In the beginning, I was allowed to see one movie a week, but after we moved to Chicago I went two or three times a week. I couldn't get enough."[1]
Richard fell into acting by accident. "I never gave a serious consideration about becoming an actor. As a senior in high school, I decided to study music, but a friend suggested we attend the Goodman Theater School. In two weeks the friend dropped out, but I was hooked."[2] There was a three-year interruption when he served as a radio operator for the Army Air Corps, but when he was discharged in 1946 he resumed his acting studies at the Goodman.
While at the Goodman he met the love of his life, Barbara Collentine, a talented actress in her own right and in January 1948 they became engaged.[3] For the next 66 years, they often appeared together on stage and occasionally on screen until his death in 2014. The summer of 1948 both Richard and Barbara were acting in summer stock theatre at Bella Itkin's Lake Zurich Playhouse. It was here that Richard played "Petruchio" opposite Geraldine Page as "Katherine" in William Shakespeare's "The Taming of the Shrew." [4] After three years working in Chicago and another seven years trying to break into the acting world in New York, the couple made a career decision and moved to Los Angeles.
EARLY CAREER IN LOS ANGELES
After moving to Los Angeles, Richard and Barbara became very active in theatre, often appearing in two or three stage productions a year, sometimes separately, but usually together. As Richard's film and television commitments began to consume more of his attention he could not devote as much time to the theatre, but he never lost his love for the stage. He believed, "The theater keeps you alive as an actor." [5]
Over the span of his acting career Richard appeared in 32 films and TV movies, such as "The Satan Bug", "The Stalking Moon", "The Andromeda Strain", and "High Plains Drifter". He also appeared in 86 television series, including "Gunsmoke", "I Spy", "Mannix", "Mission: Impossible", "My Three Sons", "Peyton Place", "The Fugitive", "The Man from U.N.C.L.E.", "The Streets of San Francisco", "The Virginian", and of course "Little House on the Prairie".
Richard's television career began to take off in 1965 when he was cast as the Seaview Doctor in "Voyage to the Bottom of the Sea" and appeared in 27 episodes of that series with Richard Basehart.
Richard Bull crossed paths with Michael Landon on the set of "Bonanza" when he played a rancher caught in a vicious range war.
AS NELS OLESON ON "LITTLE HOUSE ON THE PRAIRIE"
If you were on trial, you would want Nels Oleson as your judge. His good judgment and sense of fairness are the glue which holds the Oleson family together. When possible, he avoids conflict with Harriet, his domineering wife, but when it is time to rein her in or smooth the waters with someone she has offended, he does so firmly and gracefully.
He loves his daughter, Nellie, and son, Willie, but if and when they need to be disciplined he does not shirk from his responsibility, no matter how painful it may be for him to carry it out. In fact, one of the moments where Nels puts his foot down with Nellie made our top ten countdown list.
As Richard once remarked, "I sometimes feel sorry for Nels Oleson. I couldn't take some of the things he does."[7]. As audience members, we could also feel sorry for what the actor playing Nels Oleson had to endure in portraying the role. Read about Alison Arngrim's memories from the show here.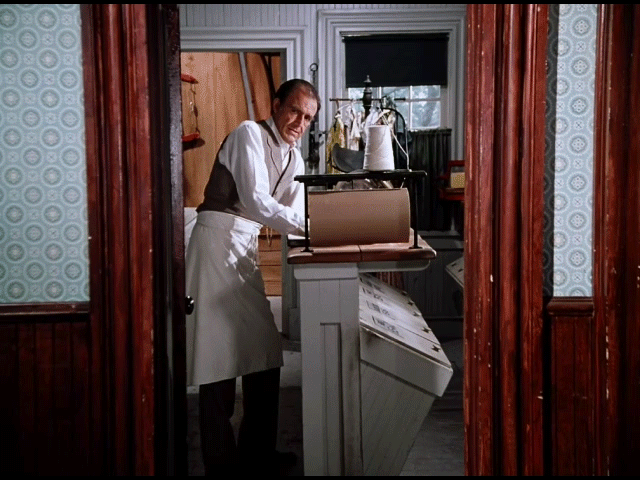 Richard enjoyed working on "Little House on the Prairie":"…this series is especially nice. It is about as steady a job as one could get as an actor, and the company is a joy to work with." [8] He especially respected working with Michael Landon. "As a director and a producer, Mike knows what he wants and he gets it. But, as an actor, he gives to other actors, and, as a director, he understands actors' problems since he's an actor himself." [9]
Michael Landon had a firm idea of what he wanted the character of Nels Oleson to be. "When we began the series Michael Landon told me he didn't want Oleson to be a stupid character, and neither did I. He's a man who can function quite normally when he is with other people. It's merely when she's around [Mrs. Oleson], I don't seem to function as well." [10]
He truly understood the values which "Little House on the Prairie" stood for and how the series made people feel better about themselves when watching it. "The series has been criticized for being 'too good,' but I think its idealism is a good antidote to life as we have to live it." [11]
LIFE AFTER "LITTLE HOUSE ON THE PRAIRIE"
After "Little House on the Prairie" came to an end, Richard continued his acting career, appearing in popular series such as "Knots Landing", "Hill Street Blues", and "Designing Women". He also reunited with Victor French and Michael Landon in several episodes of "Highway to Heaven". Richard and Barbara appeared together in the 2000 release of "A Day In A Life", a story of five seniors coping with retirement and advancing age.
After this time frame, Richard and Barbara moved back to Chicago. He continued acting and appeared in the 2003 Steppenwolf Theatre Company production of "Man from Nebraska". After several years in Chicago, Richard and Barbara moved back to California in 2012 where they took up residence in the Motion Picture & Television Fund retirement home.
Richard Bull passed away due to complications of pneumonia on February 3, 2014. [12]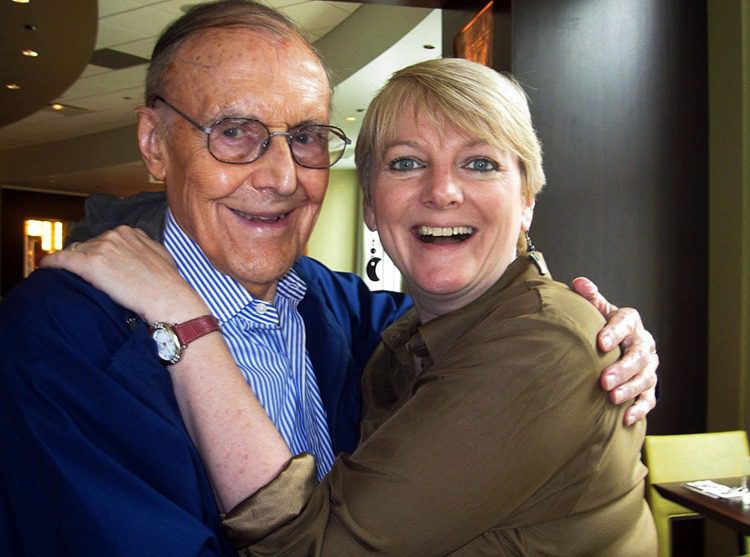 As Alison Arngrim told Variety Magazine, "Today we lost my TV 'Pa,' the wonderful Richard Bull. In real life, he was just as kind, intelligent, thoughtful and reasonable as you'd expect Nels Oleson to be. I am so grateful that I was able to spend time with him and his wife Bobbie (actress Barbara Collentine) over the last year. I am truly very touched by the overwhelming — and worldwide — outpouring of love for Richard Bull." [13]
Recommendations from the Website Editors
A number of the cast members from "Little House on the Prairie" have written about their experiences. Below are links to our website articles about them, as well as to their books, which make entertaining reading and inspired gifts for fans of the television series.
Melissa Anderson
Alison Arngrim
Melissa Francis
Melissa Gilbert
Karen Grassle
Wendi Lou Lee
Ketty Lester
Charlotte Stewart
For information about Laura Ingalls Wilder whose novels inspired the TV series, please visit our Recommended Reading lists for children and young adults and adults. You may also be interested in a documentary film about Laura Ingalls Wilder.
We invite you to subscribe to the free Little House on the Prairie newsletter for all the exclusive interviews and events.
REFERENCES
[1] Elsner, Carmen. "Actor Richard Bull enjoys the friendliness of Madison." The Wisconsin State Journal23 September 1975: section 3, page 3
[2] Elsner, Carmen. "Actor Richard Bull enjoys the friendliness of Madison." The Wisconsin State Journal23 September 1975: section 3, page 3
[3]"Betrothed" The Wisconsin State Journal25 January 1948: section 3, page 17
[4] "Lake Zurich presents classic comedy, 'Taming of the Shrew'." Arlington Heights Herald23 July 1948: volume 21, number 48, section 3, page 20
[5] Scott, Vernon (UPI). "Stage couple like the simple life." The Wisconsin State Journal3 July 1979: section 2, page 7
[6] Richard Bull: Internet Movie Data Base (IMDB.com)
[7] Scott, Vernon (UPI). "Stage couple like the simple life." The Wisconsin State Journal3 July 1979: section 2, page 7
[8] Elsner, Carmen. "Actor Richard Bull enjoys the friendliness of Madison." The Wisconsin State Journal23 September 1975: section 3, page 3
[9] Anderson, Nancy. "Accents spoil show says Richard Bull." Valley Morning Star9 July 1976: page B7
[10] "Hen-pecked Bull finds happiness"." The Chanute Tribune 24 July 1976: page 3A
[11] Elsner, Carmen. "Actor Richard Bull enjoys the friendliness of Madison." The Wisconsin State Journal23 September 1975: section 3, page 3
[12] Langer, Emily. "Richard Bull, television character actor, dies at 89." The Washington Post 14 February 2014: obituary section
[13] Khatchatourian, Maane. "Richard Bull, 'Little House on the Prairie' Star, Dies at 89". Variety Magazine 4 February 2014